A Judge Just Denied Britney Spears' Request To Remove Her Father From Conservatorship
An inquiry looking into the singer's testimony last week has also been requested.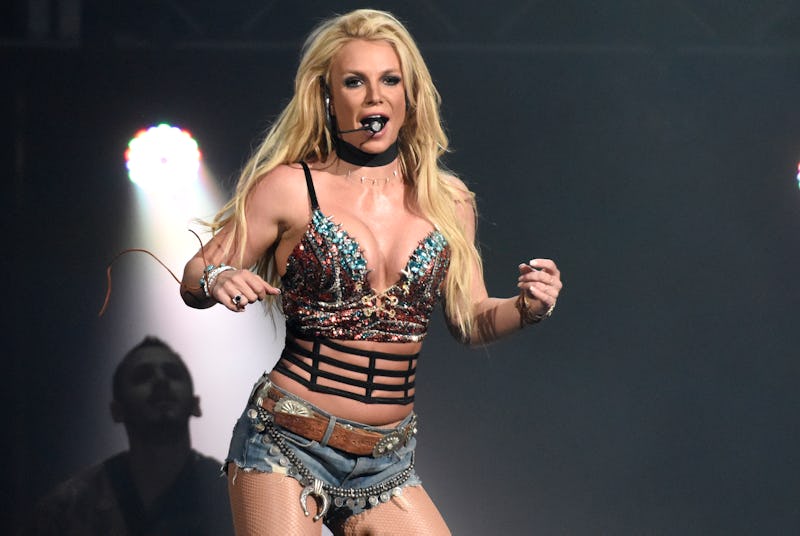 Tim Mosenfelder/Archive Photos/Getty Images
A judge has denied Britney Spears' request to have her father, Jamie Spears, removed from her conservatorship. This ruling is not in response to the 39-year-old's recent testimony in court, but a request filed last November by Britney's lawyer, Samuel Ingham.
At the time, Ingham requested that Jamie be removed as sole conservator of the pop star's finances and estate, appointing private wealth and management firm the Bessemer Trust in his place. According to the Guardian, court papers suggest that Jamie is now a co-conservator to his daughter's estate, alongside the Bessemer Trust. However, on July 1, Bessemer Trust pulled out of Spears' conservatorship due to the controversy surrounding it. According to TMZ, the financial institution also no longer wanted to work with Jamie.
In a separate development, Jamie's lawyers have requested an inquiry into the singer's testimony: "Either the allegations will be shown to be true, in which case corrective action must be taken, or they will be shown to be false, in which case the conservatorship can continue its course," the statement read. "It is not acceptable for Conservators or the Court to do nothing in response to Ms Spears' testimony."
Jamie, who has overseen his daughter's finances and estate for 13 years, stepped down as her personal conservator in September 2019. Since then, Jodi Montgomery has been the singer's temporary caregiver. Jamie's lawyers said he had "no intention" of returning as his daughter's personal conservator, but said he was "concerned" about her well-being.
The singer spoke briefly of her current personal conservator when she spoke to the court, suggesting that even Montgomery was taking it "too far" with her: "They have me going to therapy twice a week and a psychiatrist," Spears said. "I've never in the past had to see a therapist more than once a week. It takes too much out of me going to this."
In response to Jamie's concerns and Spears' comments, Montgomery's attorney also issued a statement on June 30, saying that Montgomery "has tirelessly acted in Britney's best interests with the approval of her doctors and oversight of the court." The statement went on to explain that she and Spears' medical team "have had one primary goal – to assist and encourage Britney in her path to no longer needing a conservatorship of the person."
The attorney also stated that Montgomery will present a "comprehensive Care Plan to the court setting forth a plan of termination of the conservatorship for Britney" and will support the singer through the process.
Per BBC News, the Los Angeles court system has also ended a scheme which allows members of the press to listen to court proceedings remotely after audio of Spears' testimony was recorded and leaked online.