Britney Spears' Conservator Jodi Montgomery Fired Back At Jamie Spears' Claims
Montgomery's mission is to "assist and encourage Britney in her path to no longer needing a conservatorship."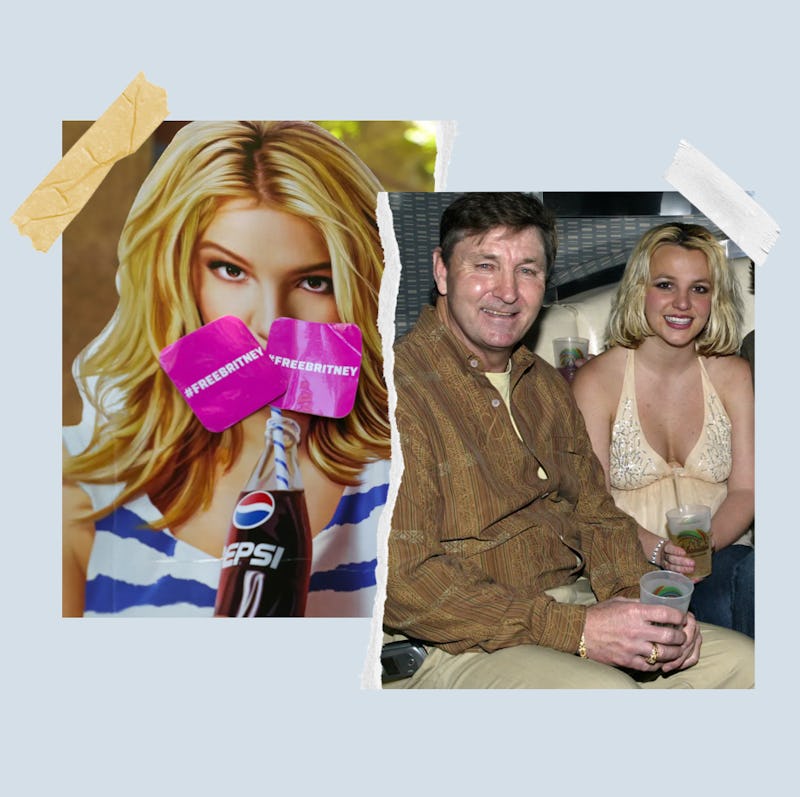 Rich Fury/Chris Farina/Corbis Entertainment/Getty Images
According to Britney Spears, her father is not that innocent in terms of her conservatorship, but he's trying to dismiss that. On June 28, a week after the singer broke her silence on her longtime conservatorship in court, Jamie Spears called for an investigation into his daughter's abuse claims against him, The New York Times reported.
On June 23, Spears had spoken out against her conservatorship in a landmark court hearing, claiming it has become "abusive," especially after she was allegedly held in a mental health facility and put on lithium against her will in 2019. In her testimony, Spears said she was forced to embark on a 2018 tour when she wanted a break after her four-year Las Vegas residency Piece of Me, and is currently being forced to wear an IUD that prevents her from getting pregnant. "I've lied and told the whole world, 'I'm OK, and I'm happy'," she said. "I'm not happy. I'm so angry. It's insane. And I'm depressed. I cry every day."
In court filings, Jamie's lawyers requested an evidentiary hearing, writing that it's "critical that the Court confirm whether or not Ms. Spears's testimony was accurate in order to determine what corrective actions, if any, need to be taken." Jamie also pushed back on his daughter's claims about the control he had on her, questioning her current personal conservator Jodi Montgomery, who has been "fully in charge of Ms. Spears' day-to-day personal care and medical treatment" since September 2019, and sharing his "concern" that she "does not reflect Ms. Spears' wishes." "Mr. Spears has no intention of seeking to be appointed as Conservator of the Person of his daughter," his lawyer wrote. "However, Mr. Spears is concerned about the management and care of his daughter."
Montgomery fired back at Jamie's claims on June 30, calling herself "a tireless advocate" for Spears and explaining that "unlike family members who serve as conservators," she is required to follow a Code of Ethics as an independent licensed fiduciary. "If Britney wants any issue brought up to the court, Ms. Montgomery is and has always been ready, willing, and able to do so," Montgomery's attorney Lauriann Wright said in a statement, as reported by PEOPLE, adding that her mission as conservator was to "assist and encourage Britney in her path to no longer needing a conservatorship of the person."
Wright clarified that Jamie remains in charge of Spears' estate and must approve all expenses. "Ms. Montgomery has advocated on Britney's behalf for any expenditures that Britney has requested as well as for expenditures recommended by Britney's medical team," she said. "Not every requested expenditure has been approved." She also dismissed Spears' claims that she's forbidden to get pregnant. "Britney's choice to marry and to start a family have never been impacted by the conservatorship while Ms. Montgomery has been the conservator of the person," she wrote.
Jamie, in fact, stepped down as his daughter's primary conservator in August 2019 after an alleged physical altercation with her teenage son Sean Preston, with Montgomery stepping in as her temporary conservator. In March 2021, Spears petitioned for the resignation of her father as conservator of both her person and estate, requesting to instate Montgomery permanently. Months prior, Spears also asked that he step down as conservator of her estate, which was denied by the court. Instead, the judge instated Bessemer Trust, an independent financial judiciary recommended by Spears, to handle the estate alongside her father.
It's worth noting that Spears did not accuse Montgomery of anything specific, but noted that she was starting to gain too much control over personal and medical matters, like her father did. "Yes, even Jodi is starting to kind of take it too far with me," she remarked. Instead, most allegations of abuse were directed at Jamie, with Spears specifically accusing him of relishing his power and comparing her involuntary hospital stay to sex trafficking. "The control he had over someone as powerful as me," she said, "he loved the control to hurt his own daughter 100,000%. He loved it."
Jamie's lawyers asked the court to investigate her claims and even suggested that the conservatorship can possibly continue as is, writing that "either the allegations will be shown to be true, in which case corrective action must be taken, or they will be shown to be false, in which case the conservatorship can continue its course." Most stars, #FreeBritney activists, and even Spears' ex-boyfriend Justin Timberlake will likely disagree with that sentiment. However, they also acknowledged that "it is not acceptable for Conservators or the Court to do nothing in response to Ms. Spears' testimony."
This article was originally published on