Justin Bieber Says It's "Getting Harder To Eat" After His Facial Paralysis Reveal
"This is pretty serious, as you can see."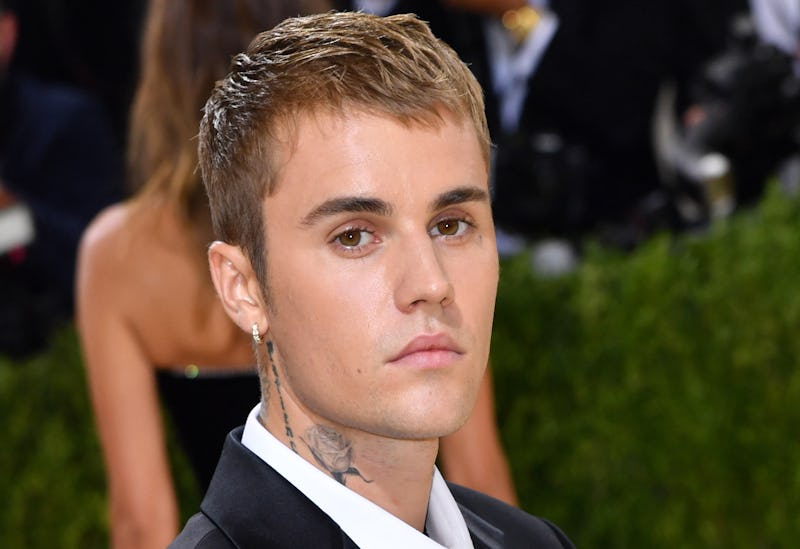 ANGELA WEISS/AFP/Getty Images
After pausing his Justice World Tour due to a worsening undisclosed "sickness" on June 7, Justin Bieber updated fans on "what's been going on" with his health, days later. In a nearly three-minute Instagram video, Bieber shared on June 10 that he had been diagnosed with Ramsay Hunt syndrome, which he described as stemming from a virus that attacked the nerves in his face and ear, ultimately causing partial facial paralysis. In the video, the Grammy winner demonstrated that one eye would not blink, one nostril would not move, and that he couldn't smile on one side of his face. "This is pretty serious, as you can see," Bieber said.
According to the Mayo Clinic, Ramsay Hunt syndrome is a rare neurological disorder that occurs when a shingles outbreak (i.e. from the same highly contagious virus that causes chickenpox) affects the facial nerve near one ear. After a case of chickenpox clears, the virus continues to live in one's nerves and may reactivate, even years later. In addition to a painful shingles rash, Ramsay Hunt syndrome can cause hearing loss in the affected ear, in addition to facial paralysis.
The research tracks with Bieber's explanation that he's "just physically, obviously, not capable" of performing music right now. "Obviously my body's telling me I got to slow down, and I hope you guys understand," he added to fans who might be "frustrated" by the latest round of concert cancellations. For now, he'll be using his downtime to "just rest and relax" so that he can "get back to 100%" and do "what [he] was born to do."
"I'm going to get better," the "Peaches" singer asserted, explaining that he's been "doing all these facial exercises" to get his face "back to normal" as well. "And it will go back to normal. ... We don't know how much time it's going to be, but it's going to be OK."
Indeed, the prognosis for Ramsay Hunt syndrome is fairly good, per New York City's Mount Sinai Hospital, provided that it's caught early enough. "If there is not much damage to the nerve, you should get better completely within a few weeks," the hospital's website states, though cautioning that some with the illness "may not fully recover, even after several months," if the damage is more severe. Chances of recovery are better if treatment is started within three days of the onset of symptoms, according to Mount Sinai.
After sharing his diagnosis, Bieber asked for more prayers in his Instagram stories, as his symptoms worsened. "Been getting progressively harder to eat which has been extremely frustrating," he wrote, adding a crying face emoji.
A source told People that the singer's wife, Hailey Bieber, who was hospitalized following a "mini-stroke" in March, is staying by her husband's side. "Between Hailey's health scare earlier this year and now this, it's a lot for them. Hailey is worried as well," the insider said. "Just like Justin did everything he could to take care of Hailey, she now does the same for him. They are a great team and will get through it together. Justin can't wait to recover and continue working."
Among those also sending healing vibes, of course, is Bieber's mom, Pattie Mallette, who on June 8 tweeted, in part, "‌Feel better soon. Mamas orders." After her son shared his diagnosis, she sent another Twitter message early June 11, writing that she's "praying for [a] FULL RECOVERY."
As the many other supportive messages that followed indicate, she's hardly the only one keeping Bieber in their thoughts and prayers.