Everything To Know About A Potential Kaleidoscope Season 2
Netflix has yet to renew the heist thriller.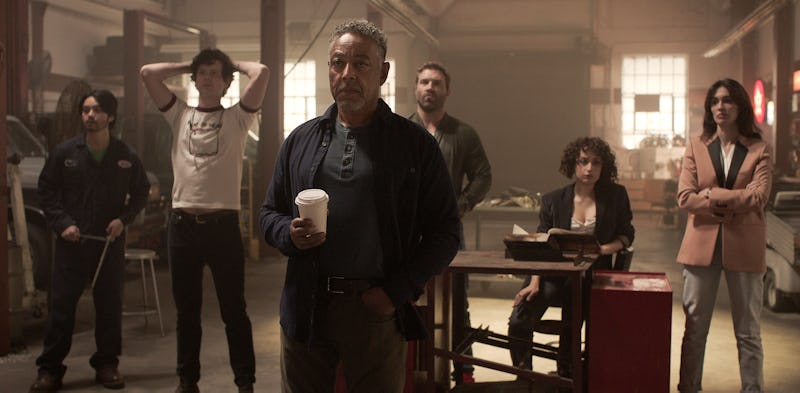 Netflix
Spanning 25 years, Netflix's Kaleidoscope anthology series draws inspiration from the story of when $70 billion in bonds were allegedly destroyed in downtown Manhattan during Hurricane Sandy in 2012. At the time, the New York Post referred to the loss from Depository Trust and Clearing Corp's (DTCC) vault, which was blamed on rising flood waters, as the "biggest mystery on Wall Street," something that sparked an idea for a series.
"It's loosely based on something that might have happened," Kaleidoscope creator Eric Garcia told Netflix's Tudum of the crime thriller. "After Hurricane Sandy, $70 billion worth of bonds got flooded in the basement of the DTCC, which is a large clearing effort that's owned by a bunch of the big banks. To my mind, I was like, 'Well, that's a perfect coverup for a heist!'"
The result is a heist series following a crew of masterful thieves who attempt to crack a seemingly unbreakable vault for the biggest payday in history. Meanwhile, each viewing experience will also be a mystery to viewers. The eight non-linear episodes are titled after colors and play in a random order, with each chapter revealing a piece of the puzzle. Five episodes take place before the heist, two episodes take place after the heist, and the finale "White" episode, which always plays last, brings the story together.
"I said, 'I think with all this batch delivery [of episodes on streaming] there's no reason you have to watch a show in order. Why can't we watch it out of order?" Garcia told the New York Post. "And heist stories, which have always been my favorite genre, are always about loyalty and who is really on whose side, and shifting identities."
Though it's too early to tell if the novel approach will pay off, here's everything we know so far about a potential Kaleidoscope Season 2.
The Kaleidoscope Season 2 Cast
Any future casting announcements remain forthcoming, but Season 1 of the anthology series stars Giancarlo Esposito (Leo Pap), Paz Vega (Ava Mercer), Rufus Sewell (Roger Salas), Tati Gabrielle (Hannah Kim), Peter Mark Kendall (Stan Loomis), Rosaline Elbay (Judy Goodwin), Jai Courtney (Bob Goodwin), Niousha Noor, Jordan Mendoza (RJ Acosta JR), Soojeong Son, and Hemky Madera.
The Kaleidoscope Season 2 Plot
Because this is an anthology mystery series, there's no telling what story the team might cover next. The title references the show's out-of-order viewing experience though, so the same non-linear approach is likely to continue.
The Kaleidoscope Season 2 Potential Premiere Date
According to Deadline, the first season of Kaleidoscope (then titled Jigsaw) was filming in Brooklyn in September 2021, with a reported wrap date six months later in March 2022. Then, another nine months passed before the series premiered on Netflix. Given that production schedule — and pending a renewal — a potential Season 2 likely wouldn't be available to stream until 2024.
This post will be updated as more Kaleidoscope Season 2 details become available.