Katie Price Has Spoken About Experiencing Sexual Assault As A Child
Speaking on Changes With Annie Macmanus, the star opened up her experiences & encouraged others to do the same if they are able.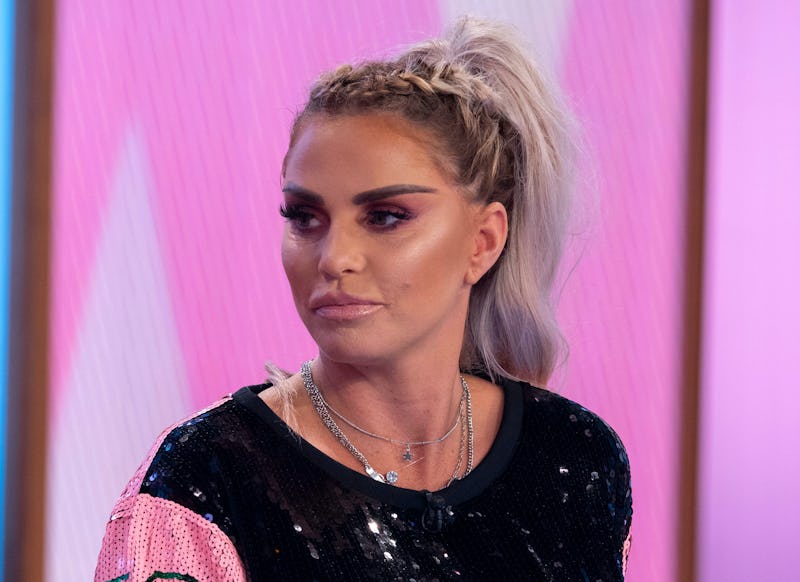 Ken McKay/ITV/Shutterstock
Trigger warning: This article contains references to sexual assault and suicidal thoughts, as do some of its outbound links.
In an incredibly open and honest interview on the podcast Changes With Annie Macmanus, Katie Price spoke about the sexual abuse she's experienced in her past including being raped at the age of seven.
Price has been under the intense media spotlight since she launched her career as a model in the 1990s. On Changes With Annie Macmanus, she told the radio presenter, "The thing that's always been wrong in my life is men. This started from an early age. I was raped as a kid, aged seven and I got involved with a photographer who ended up in prison. He took indecent photographs. I was 12."
During her interview she said that the photographer had worked with her right at the beginning of her modelling career. "He'd make these milkshakes, I never took one because I didn't like them but the police – when they came round to see my mum – [they said] that's what he did: he'd make girls drink that, drug them, and then do pictures of them," she said.
Price checked into The Priory in January 2020 after she found out that her husband at the time, Kieran Hayler, had been cheating on her. It was during her five week stay that she said she finally reflected on past trauma in her life.
Tim P. Whitby/Getty Images Entertainment/Getty Images
David Fisher/Shutterstock
During her interview with Mac, she sought to dispel the reports that she'd entered the centre for help with drug and alcohol abuse. "My sessions were for severe trauma," she said, "Now when I look back, it was my mental health. I wanted to commit suicide, I planned it and the thing that stopped it was my kids faces." After being admitted, Price was diagnosed with PTSD.
Changes With Annie Macmanus is a podcast focusing on all the changes in a person's life and Price made it clear that, over the last decade, she's faced some serious challenges. However, her final message was that, if people are struggling, then they should speak out. "If it wasn't for my children I wouldn't be here today. That's a harsh statement but it's true," she said, "They saved me. I had to go into The Priory for my children, which I know sounds like a cliche, but it's true."
The way that celebrities are treated in the media and how accessible mental health support is has been a hot topic since Meghan Markle and Prince Harry's interview with Oprah Winfrey aired. Annie Mac asked Price if she saw any similarities in her experience to Meghan Markle.
"Whether it was Meghan or anyone else sat there saying what she said, I believed her because she was saying things that were similar to me," she explained, "She was asking for help and wasn't getting it. The media was writing stuff and there's nothing you can do about it when you know the truth and no one is listening to you. And you have to go out there and put a brave face on. That's exactly what happened to me."
You can listen to Katie Price's full interview on Changes With Annie Macmanus on podcast streaming services.