This Too Hot To Handle Contestant Says She Thinks "About Sex All Day Every Day"
"It's definitely hard to go without it, that's for sure."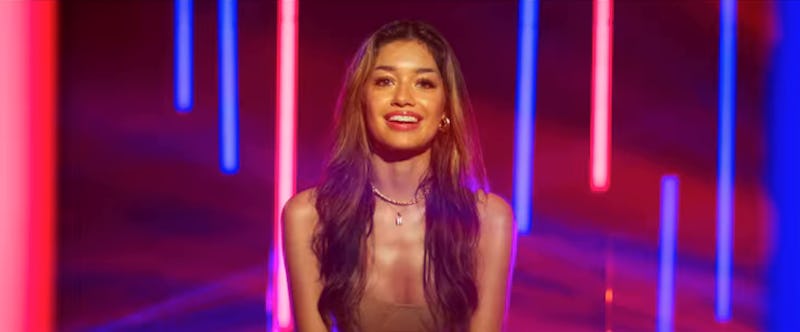 Netflix/screenshot
When it comes to "hot boys," Too Hot to Handle star Kayla Carter says she loves playing with fire. That doesn't bode well for her time on the Netflix reality series, which deducts money from the cast's $100,000 prize fund any time they engage in sexual or intimate contact. "I think about sex all day every day," Kayla says on the show. "It's definitely hard to go without it, that's for sure."
There's more to the 26-year-old Florida native, though. "I feel like people do kind of underestimate me," Kayla, who claims she's never been rejected, said in a Netflix promo. "I'm just like this super tiny, sweet girl, but, like, once they get to know me, they see how, like, spontaneous I am."
She also treats "every single day like a new day" and was "super excited to meet some cute guys" heading into the Too Hot to Handle villa. Here's everything else to know about the Filipina American.
Kayla's Job
A part-time model and part-time bartender, Kayla doesn't shy away from the perks of a job mixing drinks. She points to the fact she gets to "meet a load of new people every single day" and that "a bunch of cute guys come through" as bonuses, adding on the show that while she does get hit on "quite a lot" while working, "if they're tipping me good, that's all that matters." As far as modeling, Kayla's Instagram bio notes that she's represented by AC Talent Management, and a 2019 JMFP runway show is among her credits.
Kayla's Instagram
Kayla has said she's "happiest when hanging at the beach, tanning, and surfing," and her fewer than 50 Instagram posts share all of those things with her more than 62,000 followers. As a model, she's staged mini photo shoots in locations including Cancun, Puerto Rico, Costa Rica, Paris, and the Grand Cayman Islands. In 2017, Kayla also posted about some of the things that make her most happy: "the beach, flowers, messy hair, camping, my goofy huge family, morning coffee, late night talks, the mountains, hiking, sunrises, chocolate, fresh air."
Kayla's Family
Noting that she grew up in a "really, really strict Filipino religious household," Kayla joked on the show that her mom was "a total cock block" who wanted her to go for a "9-to-5 professional type of guy." But Kayla says she's "never been into guys like that" and has a preference for bad boys. Once she moved out of her family's home, she "went a little bit boy crazy." What does she look for in a partner? "I'm not too picky; they just have to have, like, an edge," she said.
Stay tuned to see how she handles celibacy with Too Hot To Handle's other sexy singles.