Where To Follow All The New Singles From Too Hot To Handle On Instagram
Including a real-life Magic Mike and Elle Woods.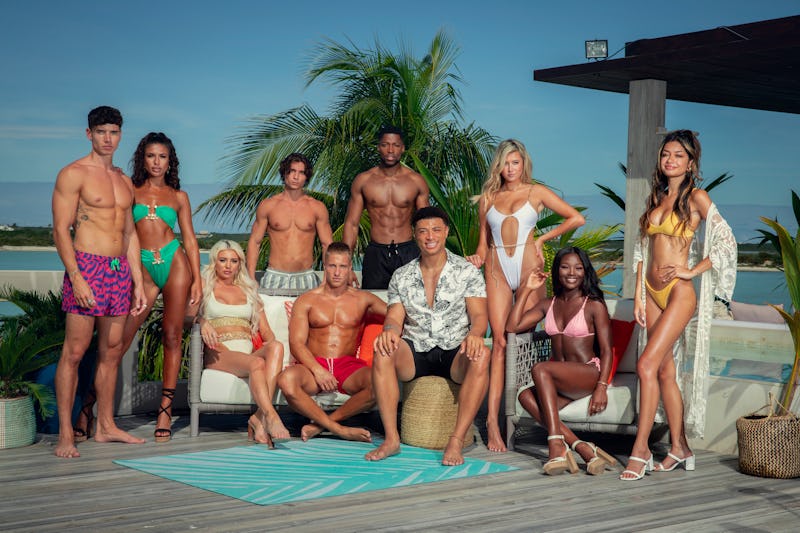 Tom Dymond/Netflix
Described as the "world's hottest no-dating dating show," Netflix's Too Hot to Handle unites a cast of sexy singles in a tropical location each season and presents them with a challenge: resist breaking the rules of no kissing, no heavy petting, and no self-gratification, or else start losing money from their collective $100,000 prize fund. Among the contestants hoping to walk away with some cash in Season 2 are international athletes, models, and personal trainers, all of whom have no idea what they're in for: Netflix has been billing the show to potential cast members as Parties in Paradise, so they won't know they're actually on Too Hot to Handle until they're already in the villa.
They used similar tactics for Season 1. "Before I even flew there, I really didn't know. I just thought it was going to be a new concept," Season 1 contestant Francesca Farago told Variety in 2020. "My theory was that it was going to be 'Influencer Island,' so I was like they're getting a bunch of influencers, they're putting us on an island and they're going to take away all of our technology…closer to right before we left when I found out I needed to be single, I was like, 'Maybe this is dating.'"
The sexual tension on the series wouldn't be nearly as effective without its impossibly attractive cast, whose Instagram accounts certainly highlight the reasons they were each chosen to be on it. Read on for where to follow all of the new Too Hot to Handle contestants ahead of Season 2's premiere on June 23.
Cam Holmes
The fact that the 24-year-old "sexy nerd from South Wales" is a personal trainer could account for the fact there are so many shirtless photos on his Instagram. In addition to working out, Cam enjoys festival season and loves Lord of the Rings. (According to Netflix, he can even do a spot-on Gollum impression, and has engaged in elf-based role play.)
Carly Lawrence
The 24-year-old Toronto-based model is a self-proclaimed "man-eater," but she's also a fun-loving party girl, model, and former competitive dancer. Carly's earliest Instagram photos show her modeling wedding dresses beginning in 2015, and her portfolio has only expanded from there. She's also traveled everywhere from Los Angeles to Miami, where she got "1964" and a butterfly tattooed on her fingers in January. Her motto: "Create and be crazy."
Chase DeMoor
Chase, 24, played college football for the Arizona Wildcats before becoming a professional athlete as part of the Houston Linemen team. Now that the most recent season has ended (with a championship win), Chase posted that he was shifting his focus to the launch of Too Hot to Handle. "The cleats are put up for now the wounds will be healed and we'll be back to football right after," he captioned a June 20 post.
Emily Miller
Emily's Instagram bio proclaims that "a little party never killed nobody," and the London resident's social media is filled with photos of her proving that statement. The 27-year-old Brit is also a multi-lingual model, so her page has plenty of professional-quality photos.
Kayla Carter
The "laidback" Filipina American model and bartender is "happiest when hanging at the beach, tanning and surfing," and she shows off plenty of that on Instagram. Based in Florida, she's taken the opportunity to have mini photo shoots while traveling everywhere from Cancun to Puerto Rico and Costa Rica. She doesn't put all the emphasis on looks, though: "You're only as beautiful as you are kind," she wrote in her IG bio.
Larissa Trownson
Dubbed by Netflix as a real-life Elle Woods from Legally Blonde, Larissa, 28, is a lawyer who poses in sexy lingerie on Instagram rather than showing off her courtroom attire. Her friends nicknamed her Tinkerbell, and, as she wrote in her IG bio, "you can be intellectual & wear a bikini too!" Netflix also noted that when Larissa isn't "immersed in the legal world, she's enjoying all the attention she gets at parties."
Marvin Anthony
Standing at 6-foot-4, 26-year-old Marvin is a French fashion model and social media influencer. Marvin also holds a masters in finance, started his own concierge business, and has played basketball "at the highest level in France," per Netflix. You'll find plenty of modeling shots — often with him holding a basketball — on Instagram. He's also extremely close to his mom, who he called, "my best friend, my sister, my everything..." in the caption of one post.
Melinda Berry
Though she hails from Brooklyn, Melinda's modeling work has taken her to locations including Tulum and Miami. The 28-year-old's Instagram bio boasts that she "built a runway she's not too short for" (according to Model Mayhem, she's 5-foot-5). But even a career in front of the camera didn't prepare her for the excitement of seeing herself on a billboard in Times Square for the first time. "I can not believe this!!" she wrote alongside a video of her seeing it for the first time.
Nathan Webb
A real-life Magic Mike, Nathan moved from the UK to Texas to work as a stripper. (He posted he was getting excited for his first summer in the U.S. in May 2016.) Now 27-years-old, he describes himself as an Englishman chasing the American dream. He currently lives with a female Rottweiler named Holly, and has a passion for country music as well as boating and water sports.
Peter Vigilante
A New Yorker by birth, Peter, 21, boasts an impressive 84.1K followers on Instagram, but he recently celebrated an even bigger TikTok milestone when he reached 2 million followers in May. "Insane how far we've come," he captioned one post, noting he's "planning so much insane stuff for the rest of 2021." (Netflix even claimed he receives 100-200 DMs a day.) Peter is also a certified personal trainer who enjoys snowboarding. He calls his mom the number one woman in his life and has a fraternal twin brother named Joseph as well as a lookalike younger brother named Gianni.
It'll be interesting to see what his — and the rest of the cast's — family members think of their time on Too Hot to Handle.