K.Flay On The Importance of LGBTQ+ Stories: "We Need More Molds Out There"
"People have very nuanced ways of existing in the world and all of them are totally OK."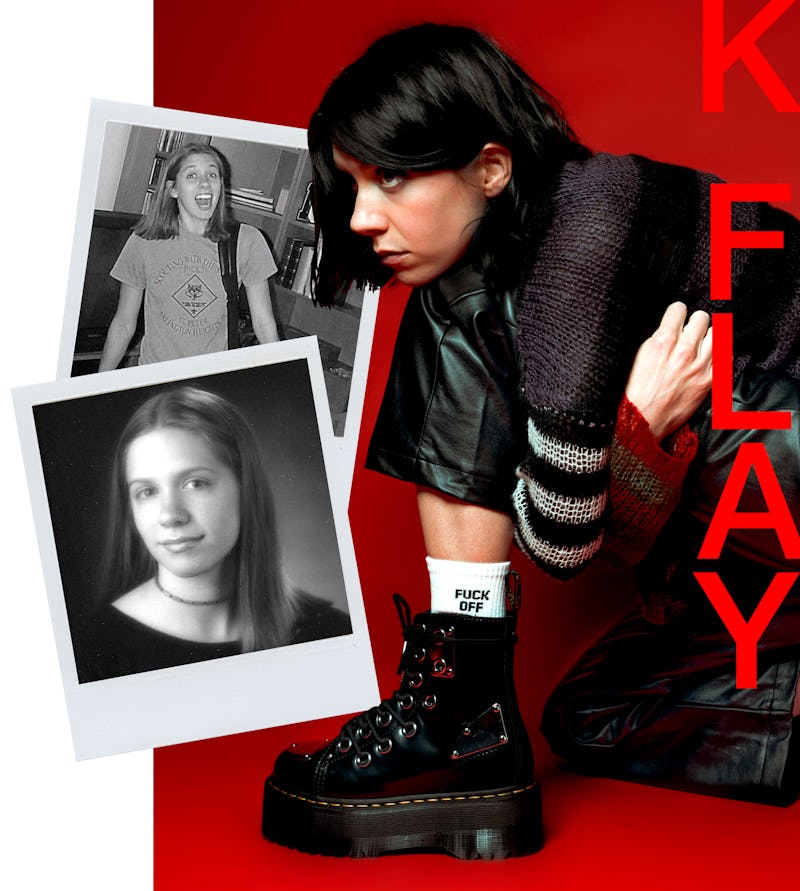 "There are so many ways to be in this world — infinite ways," K.Flay tells Bustle from her studio in Los Angeles. "I get this all the time with musical genre. Which are you? You make rock music or is it alternative rock or hip-hop? Literally, you're missing the point. It doesn't matter. The genre honestly has nothing to do with it. The genre makes you feel like you have a handle on a chaotic world, but you don't have a handle on a chaotic world. People have nuanced ways of existing in the world and all of them are totally OK."
On the topic of breaching auditory boundaries, the Grammy-nominated artist does just that on her new Inside Voices EP, which came out during Pride Month. With lead single "Four Letter Words," she acknowledges the cathartic and often necessary release that comes with saying what the f*ck needs to be said. In the dark and rebellious "TGIF," Tom Morello of Rage Against the Machine joins K.Flay, and together they throw their middle fingers up to the idea of "working for the weekend" on top of distorted guitars.
K.Flay contrasts upbeat pop-punk against lyrics about renouncing the quest for perfection on "Good Girl," asking, "How come this bad, bad world, makes all these good, good girls?" The therapy-influenced "Dating My Dad" features punk-rock mainstay Travis Barker drumming under the painfully aware refrain of "mom and dad we love em, either f*ck 'em or become 'em," as she leans into the epiphany that childhood chaos inevitably affects adult relationships. And with "My Name Isn't Katherine," K.Flay touches on the common casualties of misidentification (her name is Kristine Flaherty) and the limiting and sometimes detrimental impact of labels.
As the conversation shifts toward sexual identity, she reiterates the importance of lived experience over labels and allowing people to exist and love without the knee-jerk reaction of categorization. "I've been thinking a lot about that. The notion of narrative plenitude, that one way to judge the political and cultural power of any group is how much narrative plenitude is out there," she says. "I think similarly in terms of understanding your sexuality and being public about it and it developing over time, we need lots of stories."
K.Flay shared her story with GQ in a 2019 interview, recalling how she came out to her family: "Hey, I'm in love with a woman. This is a new experience, but I don't feel like my identity is shifting." Today, she still reflects on that moment fondly, adding that "I had a maybe less conventional coming out or the way my relationship evolved. The way I spoke about it with my friends and family didn't feel like something I've seen in a movie. It was nice to feel I could be a small voice, like, 'Hey, here's another option.'"
K.Flay Q&A
What advice would you give to your 16-year-old self?
Honestly? Keep doing you. I wouldn't do anything different. At 16, I had a really strong sense of myself and what I was interested in and I was not self-conscious, strangely. I was a pretty unselfconscious teenager, which is lucky. I'm not sure how that happened. Maybe one piece of advice I would have is to chill out a little more. I put a lot of pressure on myself for things that. I could've relaxed about in terms of school and meeting expectations.
K.Flay at 17.
K.Flay at 18.
I was beginning to understand how I wanted to exist in the world and I was starting to understand other people had different experiences of life than I did. I know you can intellectually know that, and you can read books, but that was the moment [I realized it for myself] for a variety of reasons. My biological dad had died a few years before and I joined this support group and met all these kids. Basically, I kind of understood, I have my experience, but there's a lot of other types of experiences, and I need to work that compassion empathy muscle as much as possible because it's going to apply everywhere I go. That's where I was at 16, embarking on that emotional development in a lot of ways.
It's interesting, a lot of artists I've talked to knew who they were as teenagers, but then they got distracted.
It's really interesting, and it's worthwhile to note because the world will make you dizzy. The world will confuse you. I think experiencing that confusion, which for many people happens in your 20s — that's when it did for me — can be very productive.
Where do you see yourself 16 years from now?
I'm going to be a mom. I'll probably have some middle school kids I'm trying to raise them to be good problem solvers. This is what I think the ultimate barometer of a person is, how do they troubleshoot? I'll of course be engaged with music in some capacity, I do think at that point in my life, I will probably have moved on to the second phase of my career. A lot of people think I should be some type of teacher. I love teaching and I like explaining things and I like talking. I'm interested in ideas and I like being around young people who are excited about learning. What I find is with each year passing, I grow a little bit less restless and a little bit more confident, and that's a nice feeling. I think the world kind of tells you as you grow up or as you age, you perhaps would lose confidence because it's bad to age, which I don't even understand. I mean, that's a whole 'nother conversation.
Yeah. It's like, what's the other option?
Right? It used to be that you wanted to gain wisdom. I think there's a sense of clarity and peace that comes with growing up. I anticipate I'll be even more clear-headed and more peaceful in 16 years. And if I'm not somebody please call the authorities! I think as a musician and as a songwriter, there are a lot of different ways that that can take you. I'm eager to explore that once I put out a few more records and finally get all my wildness out.
What are some of your proudest moments as a member of the LGBTQ+ community?
I think one of my proudest moments was once I had been in a relationship with a woman for about a year, we did a feature in GQ. It was a really open conversation about the importance of different types of quote-unquote coming out stories. My story isn't a coming-out story in a sense. It's just my evolution as a human that involves being in a non-heterosexual relationship and everything that entails. We talked about how it's so informative and important, to be honest about that and not to try to fit your story into a mold because we need more molds out there. Pretty much every young person I talk to, meaning 18 and under, feels every possible way about their sexuality.
Speaking of Pride, and all of the ways to experience it, how will you be celebrating this year?
I'll be working for the most part. I really put my heart and soul into [my EP] so I want to see it out in the world do as well as it can.
I think spending time with some friends doing our own smaller celebrations. I don't always love being in a huge [celebration]. I get kind of scared. Halloween scares me, and not to say Pride is like Halloween, but there's a similar type of energy where it's people dressed up, and it's kind of chaotic just for me personally as a human being. I prefer smaller gatherings. I'm about to move into a new house where I can actually have parties.
Who inspires you in the LGBTQ+ community?
A lot of people. Early on one of the first bands I listened to that I knew was part of that community was Tegan and Sara. For a lot of people in rock or indie rock adjacent, they kind of have that role. I know them now and they're super sweet, very kind people. It was cool for me to know their music [first] and then find out. Early in my career their early records really meant a lot to me and were influential so that's had an impact in a big way.
What LGBTQ+ charity do you love and why?
I am part of LOVELOUD, which is an organization started by Dan Reynolds who's the singer of Imagine Dragons and a good friend of mine. I toured with them for many years and love Dan. He was raised in the Mormon community, which has historically been discriminatory and oppressive toward LGBTQ+. Dan started this concert and then subsequent organization and they partner with The Trevor Project and other organizations. It's been really cool to see that because I think any time an organization evolves from personal experience it has a deeper resonance.
One of my friends here in LA, Madin Lopez, who's just an incredible person who's a stylist, runs a salon and runs a community advocacy organization called ProjectQ. I definitely want to give them a big shout-out because they do community outreach with youth all over the country. They built a traveling trailer and they've gone all over the United States, giving free haircuts to LGBTQ youth, helping them feel like, "Hey, I can look how I feel."