Kourtney Kardashian & Travis Barker's Relationship Timeline Started Before KUWTK
"Forever isn't long enough," recently said about their relationship.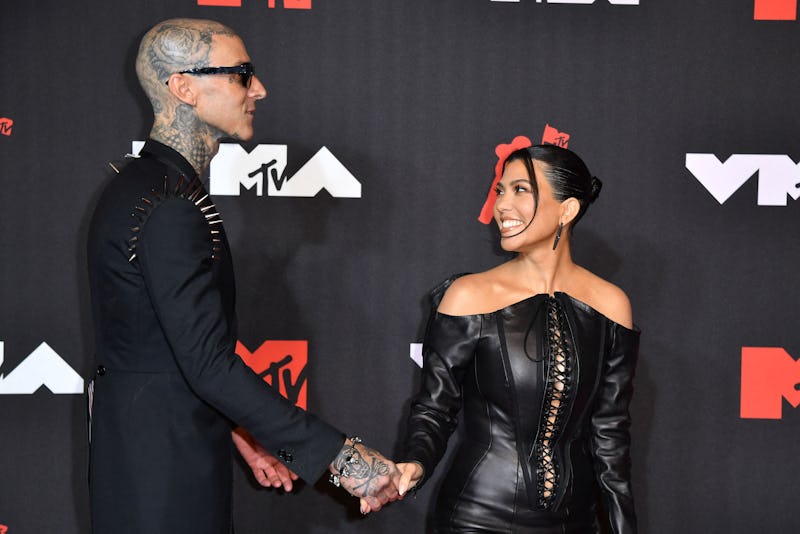 ANGELA WEISS/AFP/Getty Images
Kourtney Kardashian and Blink-182's Travis Barker's relationship was first confirmed in January 2021, with People reporting that the pair had been together for about two months. But their bond had been brewing since long before that. Before they started dating, Kourtney and Travis were friends because the two had been neighbors in Calabasas, California. After being "friends and family friends for a very long time," a romantic relationship later came to fruition. Their latest sighting together (pictured above) was at the 2021 MTV VMAs, where they shared several kisses on the red carpet (see below).
Travis was first linked to the Kardashian family in 2006; he was dating Paris Hilton while Kim Kardashian was iconically her friend and closet organizer. In fact, after appearing in his own reality show Meet The Barkers, the Blink-182 drummer apparently encouraged the family to launch Keeping Up With The Kardashians. Fast forward to 2017, when Travis revealed to ET that his family occasionally hosts dinners with Kourtney's family. He began appearing on KUWTK the same year, and his relationship with Kourtney only grew to the romantic state it's in today.
Nonetheless, the details of Kourtney and Travis' close friendship turned romantic affair can be traced in a timeline marked with charming nights out and intimate social media posts dating back to 2018. Without further ado, it's time to take a deep dive into their relationship history:
September 2018
Kourtney and Travis were spotted leaving vegan restaurant Crossroads Kitchen in 2018. Metro UK reported that Kourtney posted a pic on her Instagram Stories that appeared to be her touching a tiny plastic toy hand that was perched on one of Travis' tattooed fingers. A love story in the making.
That same month, Kourtney and Travis reportedly attended a "late-night" Hillsong church service where they both sported all-black outfits. The Daily Mail stated they took a trip to the famous church in Kourtney's Aston Martin, with her in the driver's seat and the drummer riding shotgun.
February 2019
After attending Kanye West's then-weekly Sunday Service, Travis joined Kourtney for another date night in Malibu in February 2019.
March 2019
Though they had been spotted in public on multiple occasions, Travis dispelled the chatter about a supposed relationship between them in March 2019. He told People, "Kourtney's like a dear friend. That's it… I mean, I love her to death. I love her family to death. But yeah, just friends."
January 2021
Additional news of Kourtney and Travis' rumored romance continued to gain traction at the top of 2021 when a source told E! about their "very low key" connection. "They are a really good match, and Kourtney's entire family already loves Travis. They have been neighbors and great friends for years, and it just recently turned romantic," the source said.
That same month, the Internet exploded when Kourtney and Travis posted serene landscape pictures seemingly from Kris Jenner's luxurious Palm Springs abode. Of course, this bolstered rumors of a potential romance between the duo.
February 2021
In February, the Keeping Up With the Kardashians star and punk rocker finally decided to make their relationship Instagram official with a photo of their interlocked hands posted around Valentine's Day. The pic, which lives on Kourtney's account, is of her festively manicured hand holding Barker's tattooed hand and appears to have been taken in a car. Barker isn't tagged in the photo, but his tattoos are quite recognizable. Also, he reposted the photo to his Instagram Story and left a heart in her comments. Expressing their excitement and support, Kacey Musgraves and Miranda Kerr also dropped hearts in the comment section, and Kardashian's friend Addison Rae wrote, "THIS."
The picture came several days after she and Barker were seen out on the town for dinner in Los Angeles looking "very connected."
March 2021
During an appearance on The Drew Barrymore Show in March, Travis talked to the actress and TV host about his relationship with Kourtney and what it's been like not only just dating another parent but also a "great friend." He said, "I would date girls that didn't have kids, and I find it kind of hard because they would... I think they would have trouble understanding like, well, why don't you want to go to dinner every night with me?" He continued, "And now I'm spending time with a woman who's like a great mom, who's like a great friend. You don't have to worry about any of those things. It just comes natural. It's like a maturity thing."
And in the course of one week in March, Kourtney and Travis went out on two public dates. For the second consecutive excursion to their favorite sushi hangout in Malibu, Nobu, Kourtney made headlines for wearing an explicit T-shirt that felt very pop-punk.
April 2021
The pair took a romantic desert vacation to celebrate Kourtney's birthday, following Travis' loved-up post dedicated to her on April 18, in which he described her as "a blessing to this world."
May 2021
Travis is known for his impressive collection of tattoos — on May 12, the couple shared how Kourtney had the honor of adding one more to the bunch. In a series of pics posted on Instagram, Kourtney carefully scribed "I love you" on Travis' right forearm. The musician himself commented back a sweet compliment to her handiwork, describing Kourtney as a "woman of many talents." If a permanent tattoo is any indication, the pair's relationship is looking pretty solid.
July 2021
Barker and Kardashian celebrated their first Fourth of July together at the happiest place on Earth. The couple spent July 4 at Disneyland with Barker's teenage kids, Landon and Alabama, and Kardashian's 6-year-old son, Reign Disick, as seen in snapshots posted to their Instagram Stories. In one picture, Barker kisses his girlfriend's head as the families pose near a group of Star Wars stormtroopers. In a photo shared by Kardashian, the pair show off their matching Converse sneakers. The couple who goes to Disneyland together stays together.
The pair headed to Las Vegas the following week to attend the star-studded UFC 264 fight on July 10, during which they were prompted to share a kiss on live TV. Appearing to go in for a full-on make-out session, Barker and Kardashian simply touched tongues and pulled away laughing.
During the trip, Kardashian also shared some sweet snaps of the couple chatting and laughing in their hotel to her Instagram page with the caption, "What happens in Vegas." On July 12, Kardashian's hairstylist Glen Oropeza sparked some serious wedding rumors as he posted more photos of the pair in Las Vegas and wrote, "…NOWWW I understand why ppl tie the knot in Vegas 💒🖤 There's nothing like love AND a good time 🥳." Fans were immediately sent into a frenzy trying to figure out if the couple had secretly married, and an Instagram Story post by Barker's daughter Alabama further fueled the rumors. "So happy for you guys ❤️❤️🥺🥺," she wrote, as reported by Seventeen. Neither Barker nor Kardashian have confirmed the marriage rumors.
Barker's 15-year-old daughter Alabama is clearly excited about her father's relationship, as she once again sparked marriage rumors in a July 27 Instagram Live. While playing a game of "Never Have I Ever" with a few friends, Alabama was asked if she's ever met a Kardashian. "That's my stepmom," she said while putting a finger down in the clip, which was reposted by Instagram fan account Kravis Daily.
August 2021
Ever since he survived a 2008 plane crash that killed four people and left him with major third-degree burns, per People, Barker had opted to travel by car or bus. But on Aug. 17, his relationship with Kardashian reached new heights — literally — as the pair flew to Cabo on Kylie Jenner's private KylieAir jet for a vacation with Kris Jenner and her boyfriend, Corey Gamble. "With you anything is possible 🖤@kourtneykardash," Barker wrote on Instagram alongside a photo of the couple kissing next to the plane. Kardashian responded, "Anything and everything with you 🖤."
The couple's Cabo trip featured a romantic outdoor movie night on the beach, as Kardashian documented via Instagram on Aug. 17. With a full s'mores spread and bonfire on the private sandy setting, Barker and Kardashian watched 1993's True Romance starring Christian Slater and Patricia Arquette.
Unfortunately, fans weren't able to keep up with Kourtney and Travis' relationship on the final season of Keeping Up With the Kardashians — production for the series ended in early January when the two were in the beginning stages of their love affair. But here's hoping Kourtney follows in Machine Gun Kelly and Megan Fox's footsteps and makes an appearance in one of Travis' upcoming music videos.
September 2021
Kourtney and Travis brought even more PDA to the MTV Video Music Awards with playful behavior and a red carpet kiss. The pair wore coordinated outfits, with Kourtney rocking a black leather mini dress and Travis donning black pants and a blazer. Their VMA appearance came almost two weeks after Travis shared an Instagram picture of the duo hugging one another near the Eiffel Tower, captioning that photo with, "Forever isn't long enough."
This article was originally published on