After The Circle, Khat Is All About Preaching Positivity
Khat joined the game in Episode 5 alongside fellow newbie Mitchell.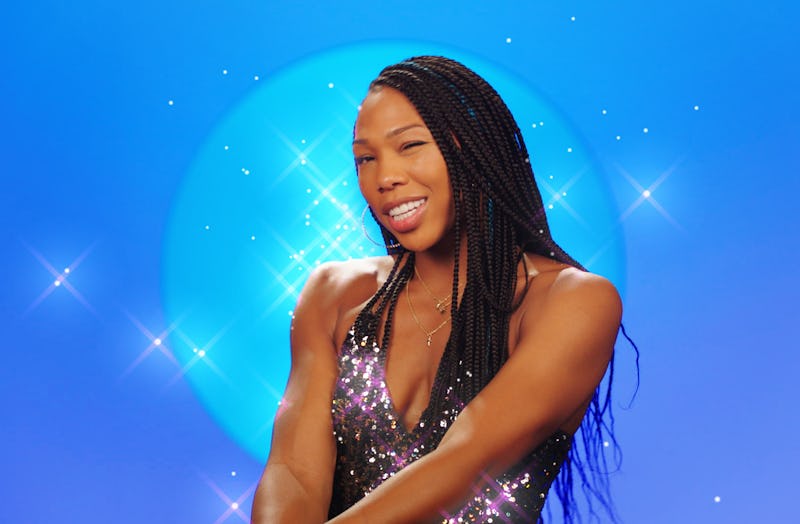 Netflix
Joining Mitchell Eason as one of the two new players in The Circle Season 2 is Khat Bell. The 28-year-old is a pro athlete, so she came into the game ready to compete. She's already forged connections with Mitchell and "Trevor" (aka Deleesa Carrasquillo), and she's attempting to cozy up to Chloe Veitch, though she's a little suspicious that she's not the real deal. Chloe is who she says she is, but Khat's catfish detecting skills have been pretty good so far. She almost immediately clocked "Emily" (Jack Atkins) and "Lance" (Lisa Delcampo), who both got Blocked in the latest batch of episodes. We might as well call her Khat...fish Hunter.
In her intro video, Khat said she wanted to go on The Circle because during her time abroad, she's faced a lot of stereotypes as a Black woman. "I wanna show the world, you know what, we're young, we're beautiful, we're bright," she said. That's definitely the impression fans get from Khat, but in a game where the other players only have one profile photo and her words on a screen to consider, her personality may struggle to shine through.
Here's what to know about Khat outside of the show.
Khat's Job Takes Her All Over The World
In her Circle intro package, Khat said that she's been playing professional volleyball for five years. Standing at 6' (or 6'7" in heels, as she joked), she definitely has the height to make her a natural at the sport, and she's got the skill to back it up too. She previously competed for the GS Caltex team in Seoul, South Korea and the Petron Blaze Spikers in the Philippines. Based on her recent Instagram posts, it looks like she's now playing in Turkey.
Khat's Instagram Shows Her Dedication
Many of Khat's Instagram posts show her playing volleyball, and it's clear how passionate she is about the sport. In one lengthy caption, she described her love of the game and what it's given her.
"Playing volleyball has really opened up so many doors for me. From a full ride scholarship to one of the best universities in the country, to being able to call my self a professional athlete," she wrote. "I take so much joy in playing the game I love and of course making money, but there is no greater love that I have felt then the people volleyball has brought into my life." She added, "I am so thankful for the relationships that I've been able to have throughout my entire career. From coaches, trainers, and of course all of my teammates."
When she's not playing volleyball, Khat is enjoying life with her megawatt smile.
She also recently celebrated turning 28 in March. Or as she called it in her caption, "Twenty-GREAT!" (Wish I had thought of that when I turned 28.)
What Khat's Doing After The Circle
Khat was at a disadvantage on The Circle because she came in late and didn't have a chance to make those strong early bonds. She tried to catch up to speed, but she overplayed her hand a little bit when she revealed that she was suspicious of Chloe. It's hardly a surprise that when Chloe became an influencer, she wanted Khat gone. But although she didn't win the money, Khat seems to be having a pretty good time post-show. She's back at work playing volleyball in Turkey, and said in her Instagram stories that her team is currently in the championships for her league. She also launched a merch line featuring T-shirts with positive affirmations on them. See? If anyone could take a loss and turn it into a win, it's Khat.
This article was originally published on