Here's What The Circle Season 1 Cast Has Been Up To Since Filming
Season 2 of the Netflix reality series premieres on April 14.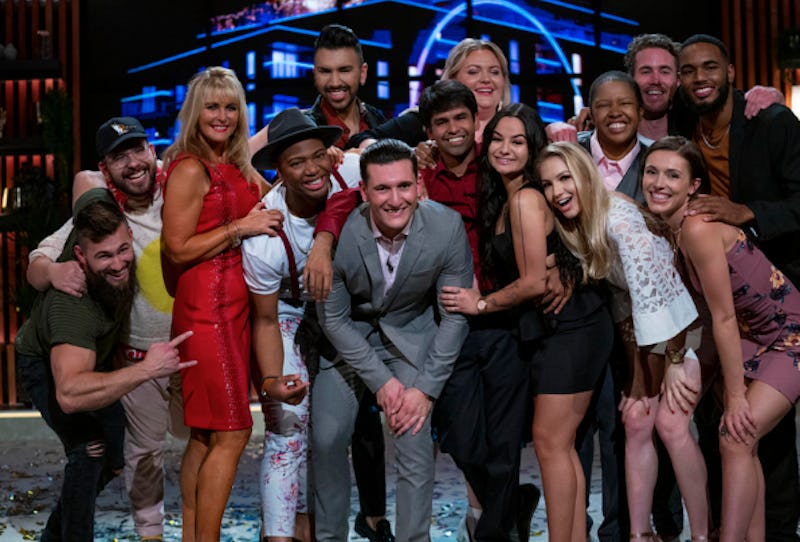 Mitch Jenkins/Netflix
After it premiered last January on Netflix, The Circle, the American adaptation of the hit U.K. reality show, gained similar popularity to its British counterpart. Fans eagerly tuned in to see contestants — some playing as their authentic selves, and others as deceptive catfish — compete for popularity in the social-media based reality series, and the reception was so positive that Netflix renewed the series for not one, but two additional seasons just months after the show premiered.
"It's been incredible to see Netflix members everywhere respond to the raw, authentic stories of real people and real stakes," Netflix boss Brandon Riegg said in a statement at the time. "We pride ourselves on creating a favorite show for any taste, and we're thrilled fans embraced all of these series with such enthusiasm and shared passion. We look forward to sparking more joy for our members."
Then-25-year-old Joey Sasso eventually walked away with the $100,000 grand prize, besting his fellow Season 1 contestants Alana Duval, Alex Lake, Antonio DePina, Bill Cranley, Chris Sapphire, Ed Eason, Karyn Mercedeze, Miranda Bissonette, Sammie Cimarelli, Seaburn Williams, Sean Taylor, and Shubham Goel.
Now, a new group will compete for the same prize and bragging rights. Ahead of The Circle's Season 2 premiere, here's what all the OGs have been up to since filming the Netflix series in late 2019.
Alana Duval
The swimsuit and lingerie model, who was the first to be blocked on the show, is still signed to Aston Models, per both her Instagram bio and the Beverly Hills-based agency's website. Alana's IG is similarly filled with modeling shots, and all of her most recent geotags are for various Texas cities, save for a December trip to Cancun, Mexico. Although it's unclear when her page was last updated, she wrote on LinkedIn that she's currently living in LA and still modeling in Miami, Texas, and New York.
Alex Lake
Alex, who played as a catfish named Adam on The Circle, describes himself as a film worker, artist, and cat dad in his Instagram bio. He also links to a personal website, on which notes he "currently works and lives in Los Angeles with his two cats, Paloma and Blooper, and his wife Gina Röckenwagner." The couple celebrated their first wedding anniversary in June.
Antonio DePina
As founder and president of Cape Verde, Africa's Praia Basketball League, which is set to kick off in May, the professional athlete hopes to expand professional opportunities on the continent. "Everyone takes from Africa," he wrote on Instagram. "I've seen African players have to go everywhere but Africa to make their basketball dreams come true. Even Blacks in America, come play in Africa. I'm creating a league for US."
Bill Cranley
On his Cameo account, where fans can request a personalized video for $20, Bill wrote that users might know him from "Netflix's The Circle, that one episode I got murdered in on Chicago PD, or from a random beer ad billboard in Chicago." According to Bill's LinkedIn, he still works as a brand communications manager for Dan Wolf Auto Group in Naperville, Illinois.
Chris Sapphire
The self-described "freelance artist, graphic designer, hood spiritualist hustler" parlayed his exposure on The Circle into a partnership with Manscaped, the men's personal grooming tool company. On LinkedIn, Chris, who's based in Dallas, still lists his current profession as a self-employed TV/ Radio Personality/ Pro Makeup Artist/ Recording Artist.
Ed Eason
Ed, aka the contestant who brought his mom on The Circle with him, has been competing in junk car races, enjoying life in Conshohocken, Pennsylvania, and recently bought a new motorcycle. On Jan. 29, he posted on Instagram that he's "been busy doing hot guy sh*t," including "crop topping around, eating microwave chicken, dropping wisdom and shiiiii." As he summed up, "I don't know what the heck I do but I be doing things!"
Joey Sasso
Immediately after winning The Circle Season 1 and taking home to $100,000 prize, Joey continued to work as a bartender and server in LA. He soon took on several hosting gigs, including one on a virtual dating series called Faraway Bae. He will soon return to TV in MTV's five-part reality star dating competition, Match Me If You Can on April 21, and continues to work on launching his acting career. To mark the one-year anniversary of The Circle's premiere on Jan. 1, the nine-year LA resident posted on Instagram that the Netflix series forever changed his life. "What a wild ride it has been," he wrote, noting he has "nothing but love and great memories" of his cast mates and his time on the show.
Karyn Mercedeze
After catfishing her Circle costars as Mercedeze, Bronx native Karyn will be featured in an art exhibition about the LGBTQIA+ communities at the Museum of Contemporary Art Long Island called "Understanding Me." Following the announcement she posted on Instagram, "If someone would've told me I would be hanging in a museum I would've laughed." Karyn also still works in music, TV, and film, and is featured in Crown & Glory's Spring 2021 fashion ad campaign.
Miranda Bissonette
Miranda's talent booking agency profile lists her as a social media influencer, who, since leaving The Circle, used her "new-found fame to become prominent on social media platform Instagram, posting under the alias "randibananas" and building an audience of over 350,000 fans." She's now focused on her life as an influencer, regularly posting her modeling shots.
Sammie Cimarelli
After skipping a semester to film The Circle, Sammie completed her master's degree program in applied behavioral analysis, despite "losing motivation to finish" once the show blew up. "I could go on about the obstacles and highs and really low lows, but I'm honestly just relieved to be done," she wrote on Instagram, adding that her "next stop" is BCBA, or becoming a Board Certified Behavior Analyst. The "plant & fur mama" currently lives in LA and has a line of "Love, Sammie" merchandise.
Seaburn Williams
On his LinkedIn, Seaburn, who catfished as Rebecca on The Circle, says he's a model who also still works as a case manager in the Boston area. On the personal front, he recently posted an image he said was taken at his lowest point, announcing on April 1 that he would spend the next three months documenting a transformation to become his best self.
Sean Taylor
After appearing on The Circle, New York City-based Sean left her social media job and is in a relationship with her "favorite dog dad," Eric Stormy, whom she also called "the best thing that's ever happened" to her. The couple has a French Bulldog named Burger — who has his own Instagram account — and "if everything goes according to plan," they plan to buy their own home within the next year. Sean still advocates for body positivity, does hair tutorials, and has a Poshmark store, where fans can "shop [her] closet."
Shubham Goel
Virtual reality designer Shubham, aka Shooby, wrote in his Instagram bio that he's "chilling, grooving, and gliding through life" these days. Judging from his handful of posts, that's included perfecting his TikTok skills, and he even threw the virtual first pitch for a September Arizona Diamondbacks baseball game. Shooby also has his own YouTube channel.