Khloé Kardashian Demands Agency After Trying To Erase Unedited Photo
"You should have every right to ask for it not to be shared — no matter who you are."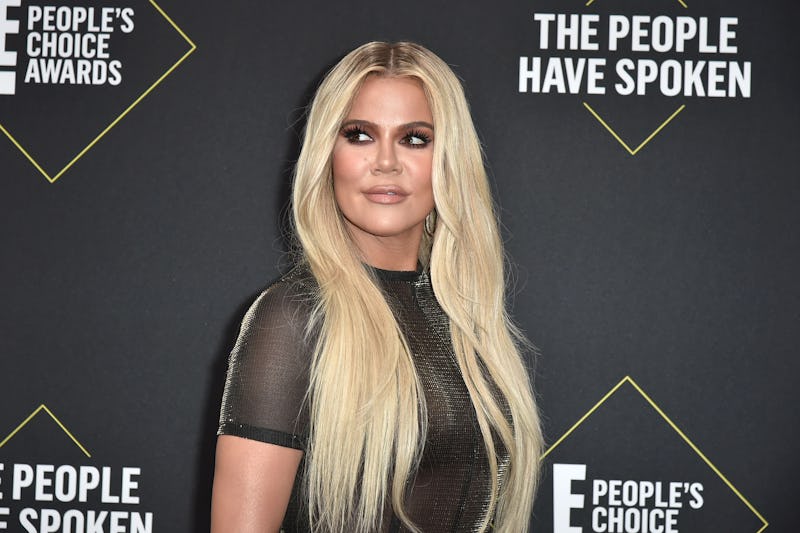 David Crotty/Patrick McMullan/Getty Images
Khloé Kardashian has been very candid about her body image issues over the years. Now, as she's getting heat for attempting to remove an unedited photo from the internet, she's on a mission to reclaim control of her body. On Wednesday, April 7, Kardashian addressed the unauthorized and unretouched swimsuit photo that went viral, explaining why she felt the need to have it taken down from social media.
After going on Instagram live to show off her body, "unretouched and unfiltered," the Keeping Up With the Kardashians star posted a statement to her Instagram and Twitter acknowledging that the viral photo was "beautiful" but demanding agency over what is posted online. "As someone who has struggled with body image her whole life, when someone takes a photo of you that isn't flattering in bad lighting or doesn't capture your body the way it is after working so hard to get it to this point — and then shares it to the world — you should have every right to ask for it not to be shared — no matter who you are," she wrote.
As a representative for KKW Brands told Page Six, "The color edited photo was taken of Khloé during a private family gathering and posted to social media without permission by mistake by an assistant." While many praised her natural appearance, Kardashian said she's been scarred by years of body shaming, leading to fear about the photo. "It's almost unbearable trying to live up to the impossible standards that the public have all set for me," she wrote. "For over a decade now in photos, every single flaw and imperfection has been micro-analyzed and made fun of to the smallest detail and I am reminded of them everyday by the world."
Reactions to Kardashian's statement have been mixed. Stars like Ariana Grande and, of course, Kardashian's famous family, showed their support in the Instagram comments, with Grande writing, "love u & your heart." However, many Twitter users are criticizing Kardashian, arguing that her family's penchant for airbrushing and editing photos added to the pressure. Others are also going after Twitter for taking swift action to remove Kardashian's photo but not addressing posts with racism and hate speech.
The Good Place star Jameela Jamil, who has criticized the Kardashians for selling diet products on Instagram, also responded to the controversy on Instagram, expressing both anger and empathy for the star. "Even though I remain furious at how much this family perpetuates fat-phobia and impossible beauty standards... I TOTALLY see why they're so obsessed with presenting as whatever society's latest ideal of 'perfect' is," she wrote. "Because they were harassed and bullied and scrutinized to within an inch of their lives."
Evidently, Kardashian isn't worried about the critics, concluding her statement by promising to use photo filters and editing "unapologetically," just like how people undergo beauty routines in real life to present themselves how they want. "My body, my image and how I choose to look and what I want to share is my choice," she wrote. "It's not for anyone to decide or judge what is acceptable anymore."