Kim Kardashian's "Cozy" Lamborghini & Matching Outfit Caused A Stir
Even Paris Hilton called out the excess.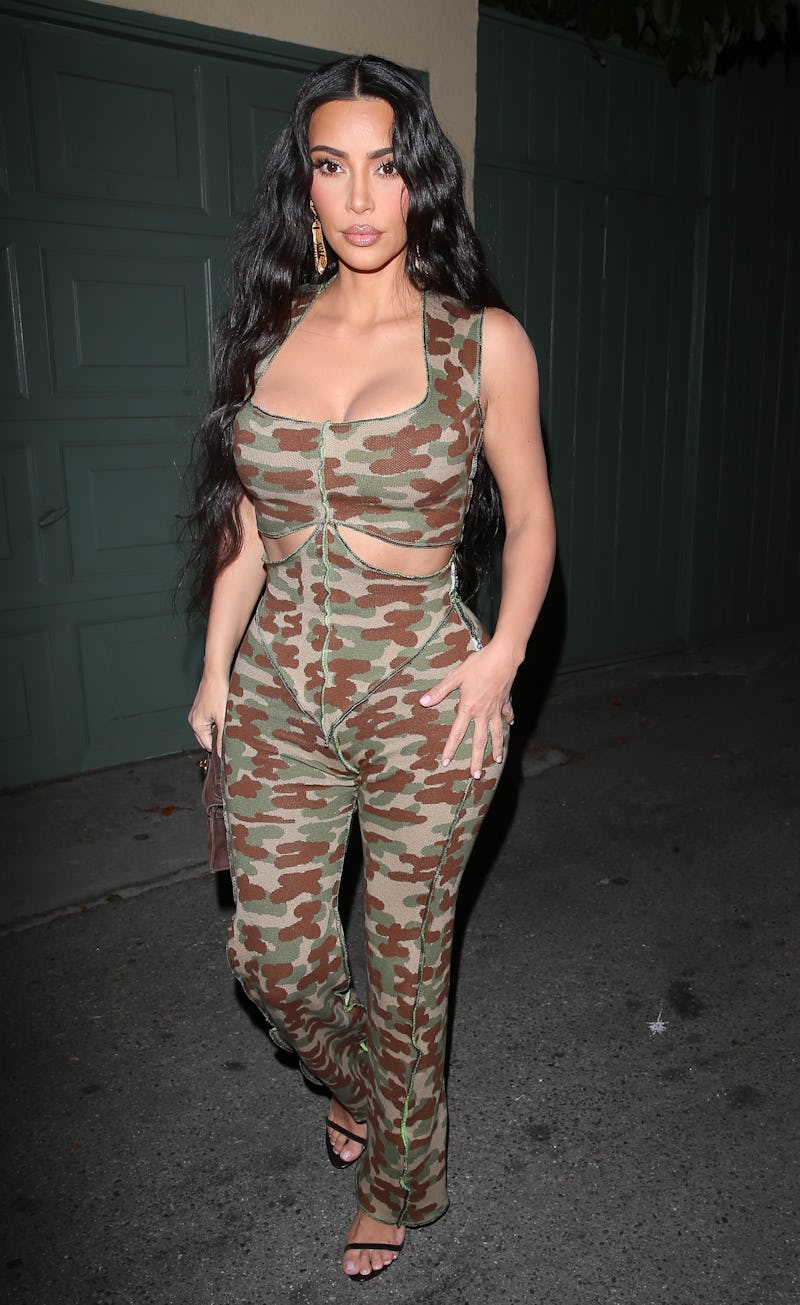 MEGA/GC Images/Getty Images
Kim Kardashian has a little Lambo, and, believe it or not, it actually has fleece (of sorts) as white as snow. As the Keeping Up With the Kardashians star prepares to introduce her new Skims Cozy collection, she's been posting photos and video of not only her wearing items from the line but also her new Lamborghini Urus covered in the fuzzy fabric. Mind you, it does look cozy, but for many people on the internet, having it on her car is too much.
Kardashian first posted images of the unique Lamborghini on Friday, June 11. "KIMMY HAD A LITTLE LAMB-BO!!! OMG isn't this the cutest and funniest thing ever???" she captioned the post. In a video included in the carousel, she told the camera, "My new ride is here. … I am actually dying. It is so cute."
The next day, she followed it up with video in her Instagram stories, this time telling fans, "Oh my god, I just walked outside and look what Skims gifted me, you guys. This new Lambo Urus, all covered in Cozy." She again said she was "actually dying" as she looked over the nearly entirely fabric-covered vehicle, from its rims to its steering wheel. She also made sure to show that she and the vehicle were twinning.
Fans were definitely surprised by what they saw. One commented on her June 11 Instagram post with a simple, "Omg." Another was more critical, writing, "This is a waste of money , fabric , and labor shaking my head." Even Paris Hilton weighed in, adding in the comments, "You know you're rich rich when you can ruin a very expensive car for something like this!" (Although the longtime Kardashian friend seemed to agree the car stunt was excessive, she softened the blow with a tears of joy emoji.) Meanwhile, another follower simply asked, "What's the point of this?"
On Twitter, there were similarly strong opinions, and Hilton wasn't the only one who saw this as an issue of Kardashian having too much money. One person noted that the reality star's Cozy-covered Lamborghini "shows that these people have no idea about their privilege."
Others simply thought it was ugly or even "madness."
And still others pointed out the sheer impracticality of it all. One person suggested that the car would overheat if Kardashian tried to drive it, and another thought the Skims founder herself would be too hot.
Of course, some people liked it. One fan tweeted that it was "one of the most beautiful cars [they'd] ever seen."
In the meantime, Kardashian is clearly living — or, wait, "actually dying" — for her new car.