What Is The King George's Illness In Queen Charlotte: A Bridgerton Story?
Theories point to a few potential disorders.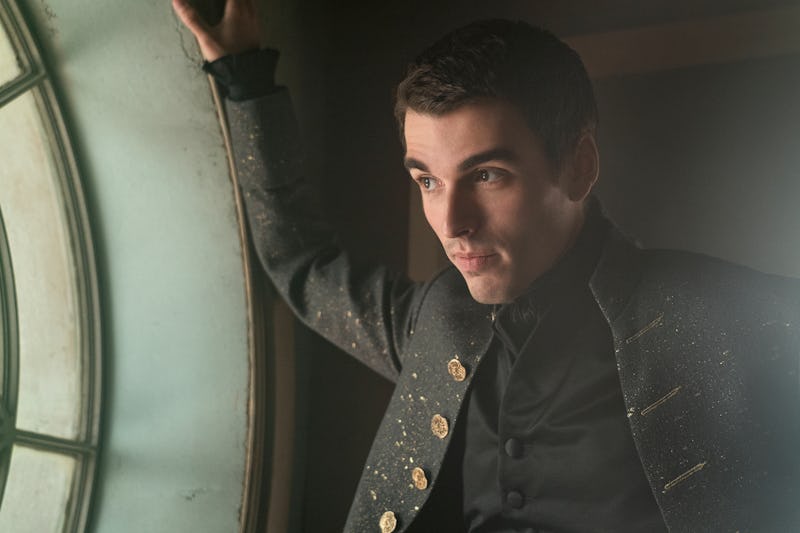 Liam Daniel/Netflix
Spoilers ahead for Queen Charlotte: A Bridgerton Story. During Netflix's Bridgerton prequel, Queen Charlotte, viewers see the beginnings of Queen Charlotte and King George's relationship. From Charlotte's perspective, the pair's arranged marriage is full of mysteries — like why George doesn't want to spend the night with her and why he has secret doctor appointments in the palace cellar. Her concerns come to a head when she finds George writing on the walls in the middle of the night, seemingly confused about his identity. "Need to get it right," he says. "Farmer George, Farmer King. That's not right..."
He then runs into the night, trying to speak to the planet Venus. At other times, George seems to experience tremors and dizziness, and it's implied he may have thoughts of self-harm.
Fans have briefly seen George in a state of confusion on Bridgerton, where he's rarely seen alongside his wife, Charlotte. During Season 2, he appeared in a confused state, thinking Edwina's wedding day was his own. But fans didn't get a real sense of what ailed George until the prequel series. Even now, though, the series leaves us with a question: What exactly is the king's illness in Queen Charlotte?
On the show, several doctors put forward theories — that George has an "inflamed cerebellum" and needs trepanation (a skull surgery), or that he suffers from "excess of ill humor in the legs." It's Dr. John Monro who suggests that "[he's] not insane," but "merely suffering a disorganization of the nerves."
His fellow doctors dismiss Monro's methods because he comes from Bethlehem Hospital, which they nickname "Bedlam." It's a real place. As Encyclopedia Britannica explains, the psychiatric hospital earned a negative reputation for its "brutal" treatments. In the series, George is subject to several methods that fit that description — ranging from ice baths that nearly drown him to being bound and gagged in a chair and covered in leeches. Monro tells George he's an "animal in a cage," and treats him worse than that.
A disclaimer at the start of Queen Charlotte states that the show "is not a history lesson," but rather "fiction inspired by fact." And indeed, George's illness is based on real life. Even the official Royal Family website states that George experienced "breakdowns" and was determined to be "mentally unfit to rule" later in life.
A genetic blood disorder called porphyria has been theorized to be the cause of George's illness — however, the Royal College of Physicians called the research that founded that theory "highly selective," casting doubt on the diagnosis. The organization proposed instead that George had bipolar disorder. Researchers at St George's, University of London came to a similar conclusion by studying George's letters. As the BBC reports, the late king's correspondences contain "features that can be seen today in the writing and speech of patients experiencing the manic phase of psychiatric illnesses such as bipolar disorder."
Golda Rosheuvel, who plays the Bridgerton-era Charlotte, told Insider in 2020 that the show based George's condition on real-life theories. So the king's on-screen illness may be an amalgamation of disorders.
If you or someone you know is seeking help for mental health concerns, visit the National Alliance on Mental Illness (NAMI) website, or call 1-800-950-NAMI (6264). For confidential treatment referrals, visit the Substance Abuse and Mental Health Services Administration (SAMHSA) website, or call the National Helpline at 1-800-662-HELP (4357). In an emergency, contact the 988 Suicide & Crisis Lifeline by calling or texting 988, or call 911.
If you or someone you know is considering self-harm or experiencing suicidal thoughts, call or text 988 to contact the 988 Suicide & Crisis Lifeline, which provides free 24/7 support.