Rose Leslie's Pregnancy Photo Reveals She & Kit Harington Are Expecting Their First Baby
Leslie debuted her growing bump in UK's Make magazine.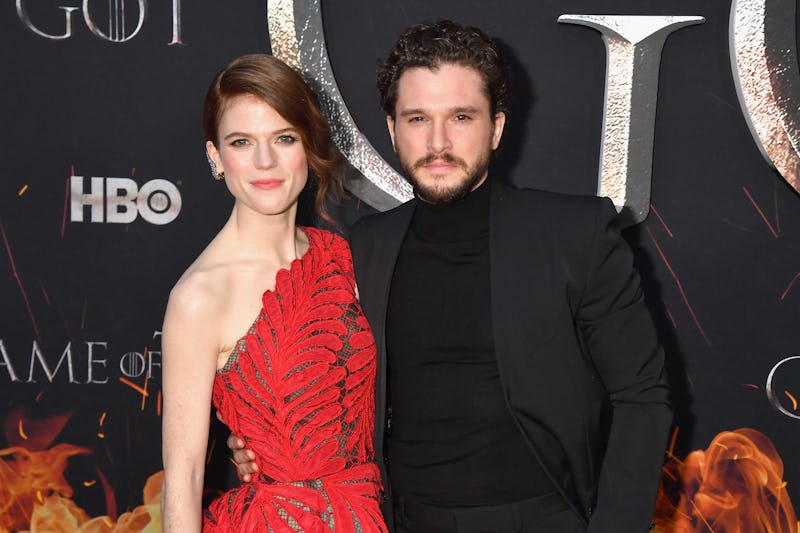 Jeff Kravitz/FilmMagic, Inc/Getty Images
A baby is coming for two Game of Thrones alums. Rose Leslie revealed her pregnancy, with husband Kit Harington, in the new issue of the UK's Make magazine. Debuting her baby bump for the first time in a Stella McCartney dress, Leslie, who played Ygritte opposite Harington's Jon Snow in the Emmy-winning HBO drama, didn't share many pregnancy details, but she seems to have the nesting phase down.
Leslie told Make that she and Harington have been settling into their Tudor-style home in Britain's East Anglia area, also known as "the house that Jon Snow built," she joked. "It's incredibly old. We have a thatched roof, which currently has an enormous hornet's nest in it. I do love to think about the house and all the people who have lived there. Were they happy, how did they live? All the families passing under those ancient beams."
For their growing family, it seems to be the perfect fit at this stage in the couple's life. The first-time mom-to-be described spending time in the countryside setting as a "glorious thing" and added that "it's a great privilege to be surrounded by greenery, birdsong and hedgerows." They also have "delightful neighbors," so all in all, it sounds like a great place to raise a kid.
Harington and Leslie first ignited romance rumors in 2012, when sparks (and arrows) flew on Game of Thrones. They didn't officially confirm their relationship, though, until April 2016, following a brief split. At the time, Harington revealed to Vogue that he fell in love with Leslie while shooting GoT in Iceland.
"The three weeks in Iceland when we were shooting the second season," he told the magazine when asked about his best GoT memory. "Because the country is beautiful, because the Northern Lights are magical, and because it was there that I fell in love. If you're already attracted to someone, and then they play your love interest in the show, it becomes very easy to fall in love…"
Their real-life relationship, fortunately, had a happier trajectory than their onscreen love story. While Leslie's Game of Thrones arc ended in Season 4, the couple went on to later publicly confirmed their engagement in September 2017. They eventually married in Scotland in June 2019. And soon, baby will make three.