Here Are All The 'Game Of Thrones' Stars Who Were At Kit Harington & Rose Leslie's Wedding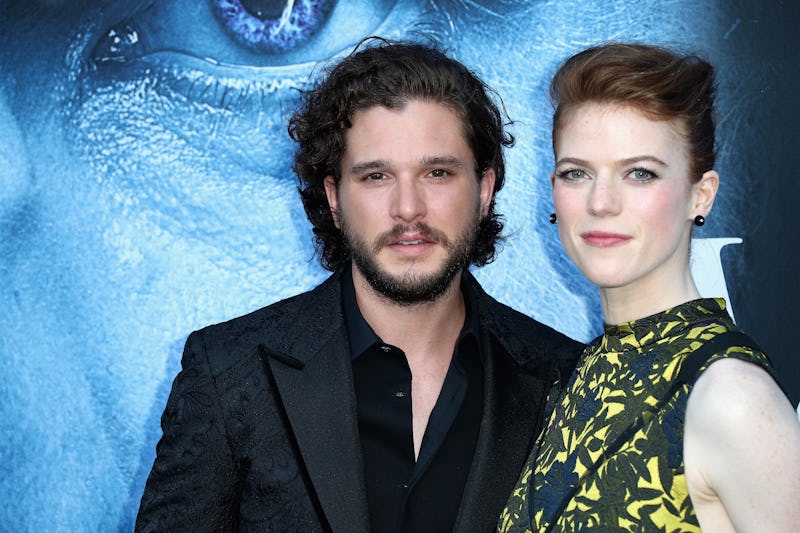 Frederick M. Brown/Getty Images Entertainment/Getty Images
While there's no guarantee that Game of Thrones will have a happy ending, at least the show can take credit for one happily ever after. As reported by People, Kit Harington and Rose Leslie were married on Saturday, June 23 at the Kirkton of Rayne church in Scotland. The happy couple, who met on the set of the HBO hit series during filming for Season 2, said their "I dos" in front of family, friends, and, yes, co-stars. There were plenty of Game of Thrones stars at Harington and Leslie's wedding, proving once again just how close these castmates are.
Harington and Leslie announced their engagement in September 2017, via the Times London paper. Shortly after, the groom made headlines on The Jonathan Ross Show when he revealed that he asked producers to shutdown filming for his wedding day so that the cast could attend. "I was like, 'You need to factor in a Game of Thrones wedding by the way,'" he said on the chat show. "[The cast] have all got to be there so the whole thing has got to shut down."
Game of Thrones stars weren't the only famous faces spotted at the big event. As reported by Harper's Bazaar, other familiar guests included most of the members of the Mumford and Sons band, Malin Åkerman, and Ben Aldridge.
It's far too early to say whether or not the entire cast attended Harington and Leslie's nuptials — the Game of Thrones cast isn't exactly small — but so far, it has been confirmed that House Stark, House Lannister, and House Targaryen were all well represented at the event.
1. Emilia Clarke
On-screen, Jon Snow and Daenerys Targaryen are Westeros' newest couple, but off Harington and Emilia Clarke have long been pals. She's also close with Leslie, who she has been spotted hanging out with at events a number of times. It's safe to say that the couple's big day wouldn't have been the same without Clarke there to help them celebrate.
2. Sophie Turner
Harington made sure to invite his onscreen little sisters to the big event. While they didn't share scenes for several years after Season 1, Sophie Turner and Harington more than made up for lost time in Season 6. Jon and Sansa reunion was a highlight of the season, just as Turner's amazing '80s style red mini-dress was a fashion stunner at the wedding, according to Harper's Bazaar.
3. Peter Dinklage
Who says House Lannister and House Stark can't get along? Tyrion and Jon have been palling around since Season 1, and it appears that friendship translates off-screen too. As reported by Cosmopolitan, Peter Dinklage attended the wedding looking dapper in a blue suit.
4. Maisie Williams
Inviting one TV little sister without the other would be a definite faux pas, and that's not one that Harington and Leslie were going to commit. Maisie Williams was at the big event, alongside Turner. The real-life BFFs appeared to be happy to support their on-screen big bro and former co-star Leslie on their big day. As reported by E!, Williams rocked a casual cool black jumpsuit and carried a summery Kate Spade clutch.
5. Richard Madden
Robb Stark and Jon Snow have been reunited, and if you feel like crying, just know that you're not alone. As reported by The Sun, Richard Madden attended the wedding, wearing a kilt and looking absolutely smashing.
6. John Bradley
You didn't think Harington would forget to invite his on-screen bestie, did you? As reported by The Sun, John Bradley, who plays Samwell Tarly, was spotted at the church.
7. Liam Cunningham
On Game of Thrones, Ser Davos has become something of a mentor and father figure to Jon Snow. They appear to have become fast friends in real-life as well, as Twitter user @JonSnowTM has pointed at that Liam Cunningham has scored an invite to the wedding.
8. Ben Crompton
Good ole, Eddison Tollett. Crompton has played a member of the Night's Watch since Season 1, so it's only fitting for him to be there for Harington and Leslie's wedding.
9. Joe Dempsie
According to The Metro, Joe Dempsie, who plays champion rower and runner Gendry, was also in attendance.
10. Conleth Hill
Because you can't have a proper Westeros event without him, Lord Varys — Conleth Hill — was also reportedly at the wedding.
Even though it would have been nice to see the entire cast descend on Scotland for Harington and Leslie's wedding, it appears that only a few of their co-stars could make it to the event. However, having them there to help celebrate their happy union surely meant so much to the couple. And, as Ned Stark would say, the pack survives, and Harington and Leslie certainly weren't lone wolves on their wedding day.