The Wildly High- & Low-Brow Inspirations Behind Lauren Groff's New Book
In The Vaster Wilds, she takes readers to a brutal winter in 17th-century Jamestown.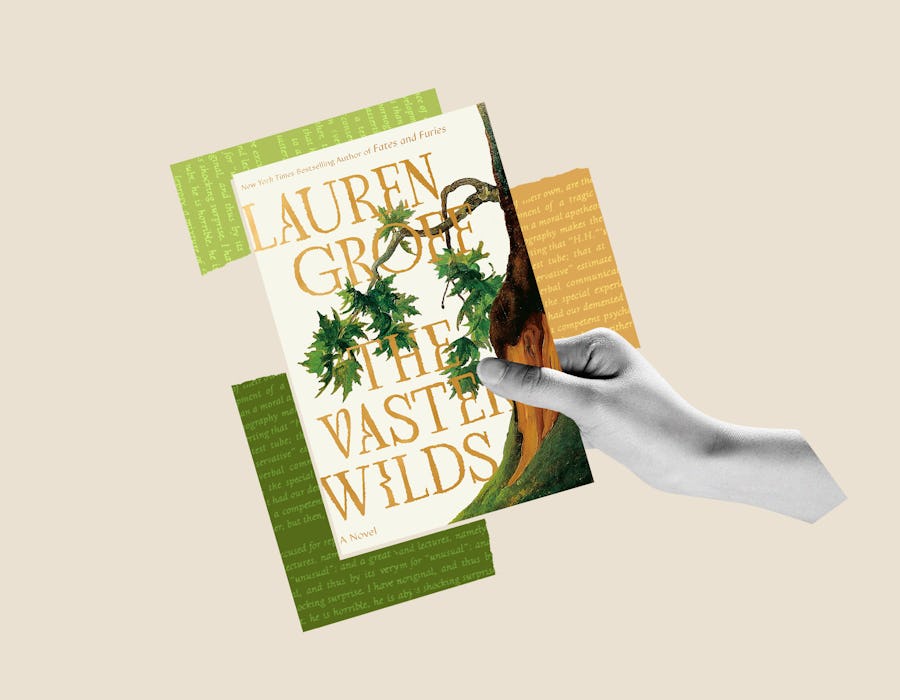 Lauren Groff reads approximately 300 books per year, toggling between upward of 10 different titles at any given time. While working on her latest novel, The Vaster Wilds, she revisited everything from Robinson Crusoe to Shakespeare, but it was actually a reality TV show that had the most surprising impact on the book. "I was super into Naked and Afraid," the three-time National Book Award finalist tells Bustle. "Only in hotels do I watch reality TV. There's something so satisfying about watching, [for instance], the Property Brothers totally remake a house in half an hour."
The Vaster Wilds is a gripping survivalist tale that follows a young servant girl who escapes from the Jamestown colony during the brutal winter of 1609. To better understand her protagonist's journey, Groff turned to works that explored the effects of deprivation. "I read about what happens in extremis to the human body and the beautiful way that our bodies were built to adapt to extreme conditions, [which made me] profoundly grateful to the animal in us," says the Florida-based author. "The small processes [of the body] like the bacteria that do multiple things for your skin, for your gut, for your life is so astonishing. Seeing our bodies as ecosystems can change the way that we view nature."
Much has been made of the extremity of Groff's writing process, from her voracious reading habits to her choice to write the first drafts of her novels in longhand — she then starts the book over again, working from memory. But what becomes clear in speaking with Groff is that her capacity to undergo extremes is matched by her capacity for joy.
"Florence and the Machine's Dance Fever came out while I was editing this book so I'd take dance breaks to it [with my dog, Olive]. She also dances," Groff says, now beaming. "Or I'll read a great deal of poetry aloud to her. She hates it and tries to escape it, so I sort of chase her around the house reading it. She is the number one star of everything that I do."
Below, Groff reflects on her love of paint chips, Google spreadsheets, and Oblique Strategies.
On reading a "wild" novel about fungus:
[I'm reading] The Extinction of Irena Rey, Jennifer Croft's new novel, which is coming out next year. She is one of the best translators in the world, and this is her first novel. She wrote a memoir that I really love, too, but I think translators are sometimes too invisible — and Jenny's working really hard to change that. This book is wild. It's about fungus, translation, and Poland. It's kind of joyous.
On the power of color:
There are days when I sit down to work early in the morning, but for some reason I'm just struggling through. I'll try to think into the work in a different way. For instance, I think there's a really incredible emotional depth to color, so I have a whole set of paint chips. I'll flip through them to find the color of the scene I'm trying to [write, to find] the emotional resonance.
On tracking every book she reads in a Google spreadsheet:
It's the diary of my life. I can always remember where I was the first time I read, say Moby Dick. I just reread it last week, and [the spreadsheet is] this gorgeous document that connects those time periods and the emotional places I was in. It's not meant for anyone's eyes but my own, but it's a really beautiful way to mark time.
On her doll that keeps a watchful eye:
[I write at a] long, long desk with my Mizuki dolls. Every time you start a project, you fill in one their eyes, and it watches you until you finish the project. [I also have] Oblique Strategies, these cards that Brian Eno created. Every day you pick one up, and they're creative prompts. This one just says, "Accretion."
This interview has been edited and condensed for clarity.