Stabler & Bell Will Get A New Adversary In Law & Order: Organized Crime Season 2
Plus everything else we know so far.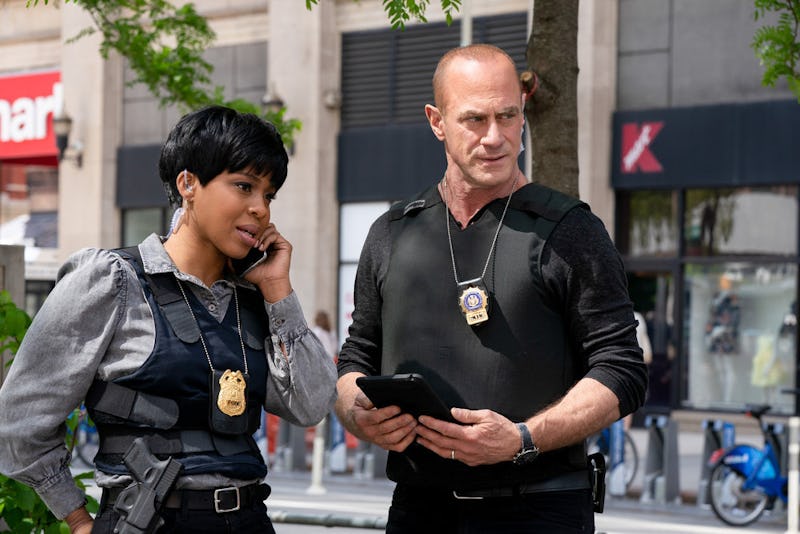 Virginia Sherwood/NBC
Detective Elliot Stabler won't be leaving your TV screen anytime soon. On May 14, NBC renewed Law & Order: Organized Crime for a second season, set to to debut this fall. "To those watching: thank you to the many faithful and to the newbies," star Christopher Meloni wrote in an Instagram post following the news.
Meloni previously teased that his face-off with mafia boss Richard Wheatley (played by Dylan McDermott) will be a "continuing saga," and there will be plenty more material to explore when Organized Crime's eight-episode first season wraps. "Stabler's in a place that he's never found himself before," Meloni said during a virtual press junket, per Deadline. "He's always been assured of walking on terra firma, and now, everything is shifting beneath his feet, and I just think he is overwhelmed, and confusing comfort, succor, affection, for love. I think he is lost in that world, and we're going to see where it comes out, but he has a lot to unpack."
Here's what else we know about Law & Order: Organized Crime Season 2 so far.
The Law & Order: Organized Crime Season 2 Premiere Date
Though NBC has yet to announce an exact premiere date, Organized Crime will air on Thursday nights in the fall, most likely in September. As part of an all-Law & Order lineup on Thursday night, the new For The Defense spinoff will air at 8 p.m., followed by SVU and then Organized Crime at 10 p.m.
The Law & Order: Organized Crime Season 2 Cast
In addition to Meloni and McDermott, Organized Crime's first season also starred Danielle Moné Truitt (Sgt. Ayanna Bell), Tamara Taylor (Angela Wheatley), and Ainsley Seiger (Jet Slootmaekers). "There are some cliffhangers in the finale, but it's conclusive to the point that our plan, assuming there's a second season, is you may see some of these characters again," showrunner Ilene Chaiken told TV Insider in May, ahead of the renewal news. "They may appear in stories, but we'll tell a new story in Season 2 and in Season 2.1 or however it is we parse it out."
Expect to see more of Mariska Hargitay's Captain Olivia Benson, too, as creator Dick Wolf recently told reporters that more SVU crossovers will occur "whenever it gives both shows a different way to shine."
The Law & Order: Organized Crime Season 2 Plot
Chaiken added that while some "character elements" will carry over to the new season, the series "won't be exclusively telling the Richard Wheatley story," and Stabler and Bell will have a new adversary. Additionally, Wolf revealed in a May conference call that Season 2 will likely consist of three eight-episode arcs, for a total of 24 episodes, according to TVLine. "The first third of the season is The Godfather. The second third is American Gangster. And the last third is Scarface," Wolf said. "And these villains are going to be really bad guys that give [Stabler] a constant source of energy, outrage, belief in justice and a different way of pursuing criminals than we've had before."
The Law & Order: Organized Crime Season 2 Trailer
NBC has yet to release a trailer for Organized Crime's second season, but we'll update this piece as more details become available.