Linda Kolkena Broderick's Family Sought To Remember Her As More Than A Murder Victim
"She was attractive, yes, but she was also very funny. She had a wicked sense of humor."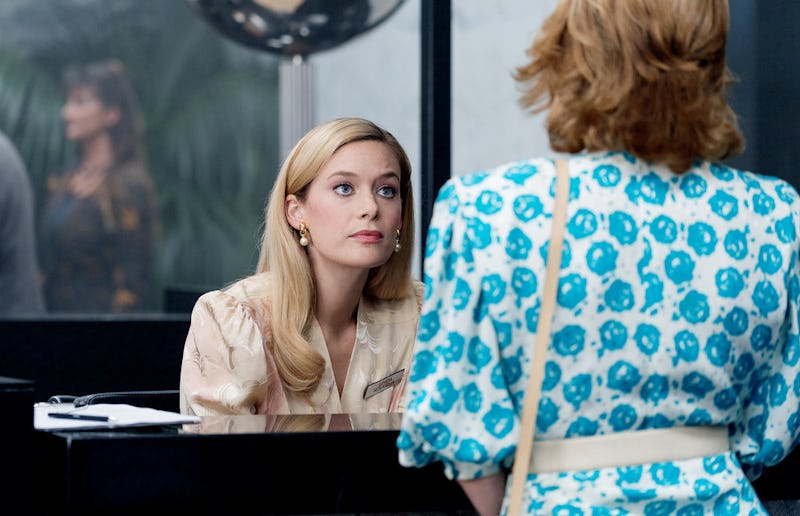 USA Network
In the most recent episode of Dirty John, the name "Linda" is uttered for the first time. She's introduced as the "pretty" receptionist at Dan Broderick's law office; by the end of the episode, Linda will be his legal assistant and the focus of wife Betty's suspicions of infidelity. Of course, for anyone who already knows the full story of Betty Broderick, Linda Kolkena's name will be instantly recognizable as that of Dan's young wife, the woman Betty killed along with her ex-husband. But in the press that surrounded the 1989 double murder, Kolkena was as much a minor player as she has been so far in the second season of Dirty John. It's something that Kolkena's family immediately tried to correct. Since the show aired, her friends have spoken out, as well.
"To us, she seems perfect. She wasn't. She had a problem with punctuality," Maggie Kolkena said in front of a crowd of 600 on the morning of her 28-year-old sister's funeral in 1989. A friend, Sharon Blanchet, told the LA Times that Linda was a "natural comedienne." But in a 1991 People magazine story about the murders, Kolkena nearly disappears, described conspicuously fleetingly as a "newly hired 22-year-old." The only other time she's described, it's in her killer's own words: as a woman who "knowingly dated a married man."
It's hardly the only contemporary news account to give Linda such short shrift while making plenty of space for Betty's allegations against her. At her much-covered trial, Betty accused Linda of sending her photos of she and Dan in the mail, as well as advertisements for wrinkle creams. A 1993 book that relies heavily on interviews with Betty, Until the Twelfth of Never, describes Linda as a "teenaged office bimbo."
But in the immediate aftermath of Betty's conviction of second-degree murder, Maggie was more concerned with moving on than contradicting her sister's murderer's account or even pressing for a first-degree charge. "Those two people were unjustly murdered, especially my sister," Maggie told the LA Times. "When a family loses someone they have to grieve. Our grieving has been complicated by all the media attention."
Of course, the media circus did not end there. Since Linda's death, there have been a handful of books published about the case, Oprah Winfrey show interviews with Betty's children, an Emmy-nominated TV movie, podcast episodes, and even an episode of Law & Order based on the story. Over 30 years later, there's Dirty John, which is now available to stream on Netflix.
Just last summer, Oxygen aired a new special on the case, which featured an interview with Linda and Dan's friend, Spencer Busby, who perhaps has given the most thorough insight we have into Linda as a person. "He was certainly captivated by her," Busby told cameras. "She was attractive, yes, but she was also very funny. She had a wicked sense of humor." Where Dan was straight-laced and private — as you imagine a lawyer might be — Kolkena was "warm and funny." But mostly Busby took issue with the media's portrayal of his friends' marriage, which tended to focus on the cliché of the midlife crisis dad and his much younger second wife.
"From my experience, I would describe their relationship as one of love," said Busby. "He was certainly captivated by her. She was attractive, yes, but she was also very funny. She had a wicked sense of humor. Dan in general was a very quiet, controlled person. He carried a lot of respect within the community."
"He would sometimes open up when we were having drinks, but he was a more private person," he continued. "Linda was warm and funny. That's how I remembered her. But if you saw them together, you knew there was a genuine connection. A lot of things have been said about them, but if you got to know them, you would know those comments were unfair."
This article was originally published on