Adrian Dunbar Dropped A Major Update On Line Of Duty Season 7
As Ted would say, "now we're cooking with gas!"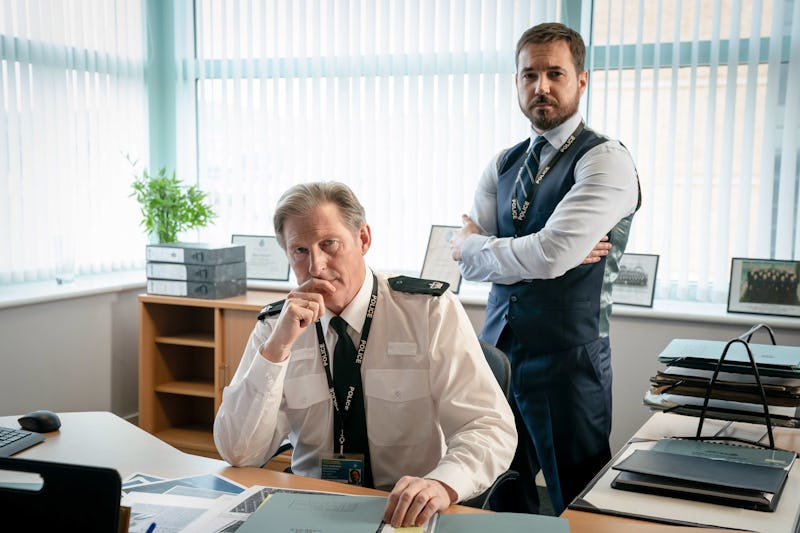 BBC/World Productions/Steffan Hill
When the sixth season of the nerve-wracking BBC police drama came to an end in May 2021, the only question more pressing than that reveal was whether Line Of Duty would return for a seventh season. Both the cast and creators of the hit show have been routinely pressed for answers and it's easy to understand why fans are impatient. Line Of Duty became the UK's highest-rated TV drama in 13 years, per Deadline, beating previous title-holders including Doctor Who (with its 2008 Christmas Day special), ITV's popular period drama Downton Abbey, and Jed Mercurio's own Bodyguard. So, the audience for a seventh season is certainly there.
Fortunately, over a year later, we finally have some semblance of an answer. Recently on Good Morning Britain, Adrian Dunbar — who plays Superintendent Ted Hastings — was asked if the series will make a comeback. The actor said, "Well yes, we really hope so. I mean everyone is kind of gunning for it, so yeah. I'm sure the public wants it."
"So we're keeping our fingers crossed. Within the next few weeks or couple of months we might hear something, so that will be good," Dunbar added. Whilst the actor was unable to confirm if the next instalment would be one episode or an entire season, the suggestion is enough to keep our hopes up. So here's everything we know so far about a possible Season 7 of Line Of Duty.
Line Of Duty Season 7 Release Date
Whilst Jed Mercurio, the creator of the show, said he had "no plans" for Line Of Duty's return, the cast have been keen to reprise their roles in AC-12. In fact, Dunbar also hinted that Mercurio has content for follow up episodes, perhaps "two 90 minute" ones. In an interview with Radio Times, he mentioned there's, "something in Jed's laptop — a couple of templates as to how things could go…hoping something might happen next year."
Earlier in January, Vicky McClure who plays Kate Fleming, and also stars in Mercurio's Trigger Point, insisted to The Guardian, that she "doesn't know" whether Line Of Duty will return, stating: "I don't know, there's no word of it. I think we've all been really honest and said should that happen, we're all game."
Martin Compston also echoed this sentiment when the cast appeared on Good Morning Britain in June saying, "We're chuffed that people still want us to come back. The fact that people still want to see the show is amazing. If there's still a story to be told, I'm sure Jed will bring us back."
Owen Teale, who plays Chief Constable Phillip Osbourne (the character many viewers thought was "H"), wants the series creator to give Osbourne what he deserves. "They say the whole story is finished, I'm not sure if it is you know," the actor told Wales Online, referring to his character being the top of the list for "H". He continued, "And I think they're probably right. I agree with them and I want to know if Jed Mercurio is going to do something about it. Sort out Osbourne!"
While there's no official confirmation from the BBC that the series will continue, all signs seem to point in the right direction.
Line Of Duty Season 7 Plot
It should be safe to predict more investigations into bent coppers for AC-12 if the series were to return for a seventh season. However, the anti-corruption police unit was delivered a bombshell back in Season 6, so the fate of the team may remain in the balance.
Dunbar believes there are many paths the story can take to continue, he also said he didn't believe Buckells was H. "We just got the guy we could actually pin a charge on. We didn't get 'H', we got Buckells, the patsy. There's a scene when we look at each other and think: 'Really? This t**t?' He's a distraction," he said.
Perhaps the seventh season would wrap up loose ends on H's identity and give us the eventful finale we want. And with speculations abound, Mercurio has been rather coy about discussing the show's future and has told press that it's "too soon" to draw conclusions about season seven's script.
Line Of Duty Reunion
In March, the Line Of Duty cast reunited at Port Glasgow Town Hall for the first time since Season 6 ended. They hosted a Q&A along with Gordan Smart for a charity event to raise funds for Ardgowan Hospice, with tickets to the event selling out in minutes.
To the delight of fans, the team got together once again in early June. Compston posted a picture with his cast mates captioned "talking tattoo designs." A reference to a pact the trio made with Mercurio where they would get AC-12 tattoos when the show pulled in 12 million viewers. However, seeing the Line Of Duty actors together launched the fans into a frenzy with many wanting details of a future season.
This article was originally published on