Martin Compston Just Told Us More About The Line Of Duty Reunion
"You want to be with people you trust," he said of his cast mates.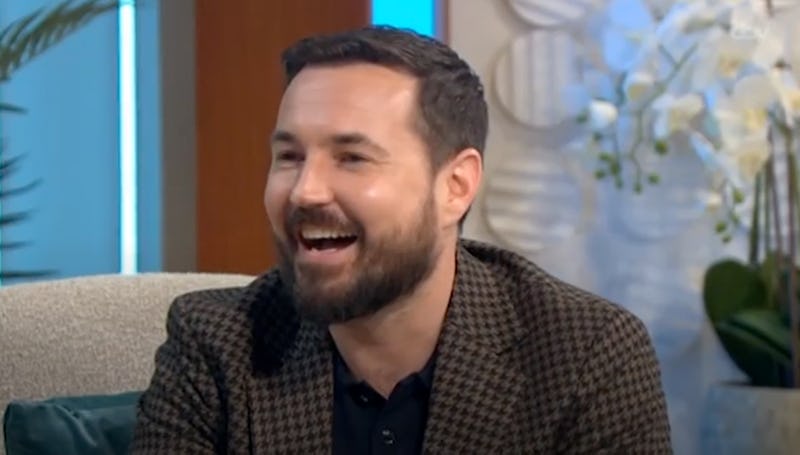 ITV's 'Lorraine'
When the sixth season of the nerve-wracking BBC police drama came to an end, the only question more pressing than that reveal is whether Line of Duty will return for a seventh season. After the sixth series wrapped in 2021, both the cast and creators of the hit series have been routinely pressed for answers regarding Line Of Duty's return, with Vicky McClure being the latest star to share her thoughts on the subject. It's easy to understand why fans are impatient.
Line Of Duty became the UK's highest-rated TV drama in 13 years, per Deadline, beating previous title-holders including Doctor Who (with its 2008 Christmas Day special), ITV's popular period drama Downton Abbey, and Jed Mercurio's own Bodyguard. So clearly, the audience for a seventh season is there. With that said, here's what we know so far about season 7 thus far and the upcoming cast reunion.
Line Of Duty Season 7 Release Date
Despite Jed Mecurio having "no plans" for Line Of Duty's return as of August 2021, the cast are clearly keen to reprise their roles in AC-12. In Vicky McClure's own words, they're all "game" to get the squad back together. The actor who plays Kate Flemming, and also stars in Mecurio's Trigger Point, insisted to Guardian (Jan.15), that she "doesn't know" whether Line Of Duty will return, stating: "I don't know, there's no word of it. I think we've all been really honest and said should that happen, we're all game."
McClure explained in the revealing interview, posted that she believes the series will come to a "natural close" (whenever that will be).
"I think when it comes to a close, it will be a natural close for us all. And we're very close with Jed, so it's not a business transaction, do you know what I mean? This isn't business, this is our lives and we've all created careers from it, and we've all got a lot out of it," the actor shared, adding "Not only that, I can't imagine my life without Adey [Adrian Dunbar] and Martin in that acting capacity where it's like, well, at least I get to be with my mates for four months of the year."
Adrian Dunbar, who plays Superintendent Ted Hastings, also expressed his keenness for the series return, telling Radio Times in June 2021: "We've got to get onto Jed and say 'look, we've got to do one that's not like when we were in lockdown. We've got to do one where we're back on the ground, we're out there, we're in the city, we're having fun'. You know it's a great city to have fun in, Belfast, so we really want to get back to doing that again."
Co-star Martin Compston echoed this sentiment, saying "with Jed, there's always potential for it to go on. He could always start a new case, there's always anti-corruption out there, as he would say."
In an interview with Radio Times, the actor also said that although he knows how much fans love the show, he still couldn't say if a new season was on the horizon. "We've always taken a big gap off between seasons, so I really couldn't tell you."
"But in terms of where we're at, there's nothing different to where we usually are - it usually takes a year or so, and then Jed [Mercurio] will call and say, 'look, guys, here's the story I've got', and then we go to it. But I couldn't tell you if that call was going to come."
Owen Teale, who plays Chief Constable Phillip Osbourne (the character many viewers thought was "H"), wants the series creator to give Osbourne what he deserves. "They say the whole story is finished, I'm not sure if it is you know," the actor told Wales Online, referring to his character being the top of the list for "H". He continued, "And I think they're probably right. I agree with them and I want to know if Jed Mercurio is going to do something about it. Sort out Osbourne!"
But before you get too excited, there is no official confirmation of whether or not Line Of Duty will return. However, I have reached out directly to the BBC to ask about whether the series has been recommissioned and will update you as soon as there is word. Until then, it is still anyone's guess.
Line Of Duty Season 7 Plot
It should be safe to predict more investigations into bent coppers for AC-12 if the series were to return for a seventh season. However, the anti-corruption police unit was delivered a bombshell back in season six, so the fate of the team may remain in the balance.
And, while it's tempting to jump to season 7 plot conclusions, it's worth noting that Mercurio "hasn't committed" to writing any new episodes currently, per Digital Spy. According to BBC's controller of drama commissioning Piers Wenger, the sought-after drama writer is at least "thinking" about the new series but hasn't yet put pen to paper.
So what does Mercurio actually think? True to form, he's been rather coy about discussing the show's future and has told press that it's "too soon" to draw conclusions about season seven's script. As he explained to Den of Geek: "It's too soon to draw that conclusion. It could be either of those [a series finale, or a series paving the way for a fresh new one], or it could be something different.
Line Of Duty Reunion
The cast will reunite, however, for a charity event, in aid of Ardgowan Hospice, in Inverclyde, Scotland, which supports a community of around 80,000 people. Compston, McClure, Dunbar, and Mercurio will be hosting the Q&A fundraising event on Mar. 19, 2022. An event which, to no-one's surprise, sold out in a matter of seconds.
Speaking on Lorraine in Mar. 2021, Martin Compston — who plays Detective Inspector Steve Arnott in the show — gushed about his excitement ahead of linking up with his Line of Duty co-stars later this month. Compston is a patron of Ardgowan Hospice. "This year, I was talking to the guys and it was an excuse to get together," Compston told Lorraine Kelly.
"Ticket sales have been great, but who knows what we'll be talking about! I haven't really spent that much time with the guys. It's been over 10 years we've been working together now, and the scenes are so intense, and you want to be with people you trust."
This article was originally published on