The Easter Eggs In The S6 Line Of Duty Trailer Are *Next Level*
Fans have spotted a QR code that leads viewers to a trail of cryptic clues.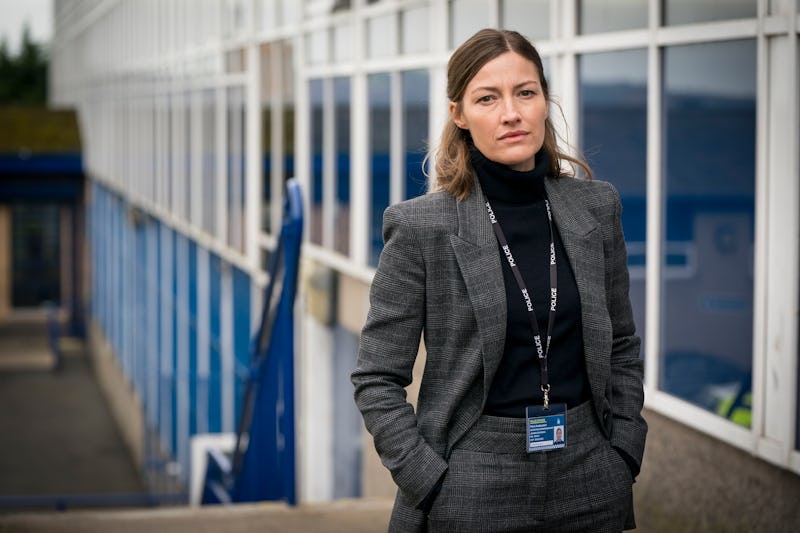 BBC/World Productions/Steffan Hill
It's been two very, very long years since Line Of Duty was last on our screens, however, we're edging ever closer towards the hotly anticipated new series. Fans have been patiently waiting for season 6 of the BBC cop drama since it was confirmed back in 2019, yet production was stalled due to the pandemic (a familiar story in recent times). Thankfully, AC-12 is finally confirmed to be back catching bent coppers in the near future. But who will star and what is in store for the team? Here's everything you need to know about Line of Duty season 6 so far.
When does Line of Duty series 6 air?
Line of Duty season 6 has been confirmed to begin on BBC One on Sunday, March 21.
What's the plot of Line of Duty series 6?
Per Radio Times, the forthcoming sixth season will centre on "a brand new case for AC-12" as the team investigate newcomer DCI Joanne Davidson. Any specific details surrounding the show's plot have been kept tightly under wraps. However, Line of Duty star Martin Compston previously teased the new series will be "worth the wait," revealing fans can look forward to a bombshell at the conclusion of episode four.
Elsewhere, series creator Jed Mercurio also recently revealed that, although not part of the main plot, Easter Egg-style hints relating to the coronavirus pandemic will be scattered throughout the show's latest run. "It is shot so that the pandemic is invisible," Mercurio said during an appearance on Inside Culture with Mary Beard. "What we did decide to do was we snuck in a few allegorical points in relation to the current situation, so sharp-eyed viewers should look out for those," he added.
Who's in the cast of Line of Duty series 6?
As mentioned, Martin Compston is set to reprise his role alongside series regulars Vicky McClure and Adrian Dunbar in the BBC crime-drama as DS Steve Arnott, DI Kate Fleming and Superintendent Ted Hastings, respectively. Following in the footsteps of Lennie James, Keeley Hawes, Thandie Newton, and Stephen Graham, will be Kelly Macdonald, of Boardwalk Empire and Giri/Haji fame, who is joining the unit. She captures the attention of AC-12 as DCI Joanne Davidson, the senior investigating officer on an unsolved murder.
Also joining AC-12 will be DC Chloe Bishop, played by Shalom Brune-Franklin, who viewers may recognise from Our Girl.
Actor and comedian Andi Osho (I May Destroy You, Curfew, Kiri) will be playing Gail Vella, the woman who's murder is at the centre of season six.
Prasanna Puwanarajah (Doctor Foster, Patrick Melrose) is also joining the cast along with Perry Fitzpatrick (This Is England, I Am Nicola).
Is there a Line of Duty series 6 trailer?
The action-packed official trailer dropped on March 9, offering viewers a first glimpse of AC-12's newest investigation into the murder of Gail Vella.
"It'll be our job to work out whether police corruption contributed to this murder remaining unsolved," Superintendent Hastings tells his team. Queue a few side-eye glances followed by plenty of explosions, tears, gun shots, and police chases.
Line of Duty series 6 trailer Easter Eggs
However, there is so much more to the Line of Duty season six trailer than meets the eye.
At the two-second mark of the new trailer, a magazine cover appears with Gail Vella on the cover. Look closely and you'll see a QR code just below her picture. If viewers scan that QR code with their phone, they will be taken to a PDF file entitled "Operation Easter Eggs Hunt" and a letter from Philip Osborne, Chief Constable (played by Owen Teale) addressed to DCC Andrea Wise (Elizabeth Rider).
The letter opens: "I think it is high time we had a much closer look at AC-12." Within it, Osborne says that he's "beginning to question whether this department is fit for purpose," honing in on Hastings, who he says is "oblivious to the politics of the situation which creates problems for me and problems for you because policing is politics."
However, this letter also includes a link to a pharmacy stamp for DS Steve Arnott (Martin Compston) which contains a piece of morse code.
From there, fans were able to access a short Youtube clip set in the Line of Duty universe, which has a link in its description a link to Google street view. The clip also contains another code, (Hx6)+?.xyz, which has taken fans to this page. Add all the numbers at the top of the mobile phone – including the signal bars – and you get a new URL. There, a cryptic post-it note has led fans to the final step: a voicemail message from Hastings.
See what I mean? This trailer has depth.
If you want to follow the chase, check out this Twitter thread for more details and this Reddit thread for fan discussions.
The new Line of Duty podcast
In other thrilling news, the BBC has confirmed who will be hosting Obsessed with…Line of Duty on BBC Sounds. The Caddy himself! Former cast member, Craig Parkinson who famously played DI Matthew Cottan, will host the podcast, chatting to members of the cast and celebrity super fans alike as they delve deep into the phenomenon that is the show, and the mystery of 'H'. Episodes will be released every Sunday from March 21.
While we (not so) patiently away for season 6, series 1-5 are available to watch on BBC iPlayer.
Contributions from L'Oréal Blackett and Sam Ramsden.
This article was originally published on