Lizzo & Chris Evans Have Kept Talking After She Drunkenly Slid Into His DMs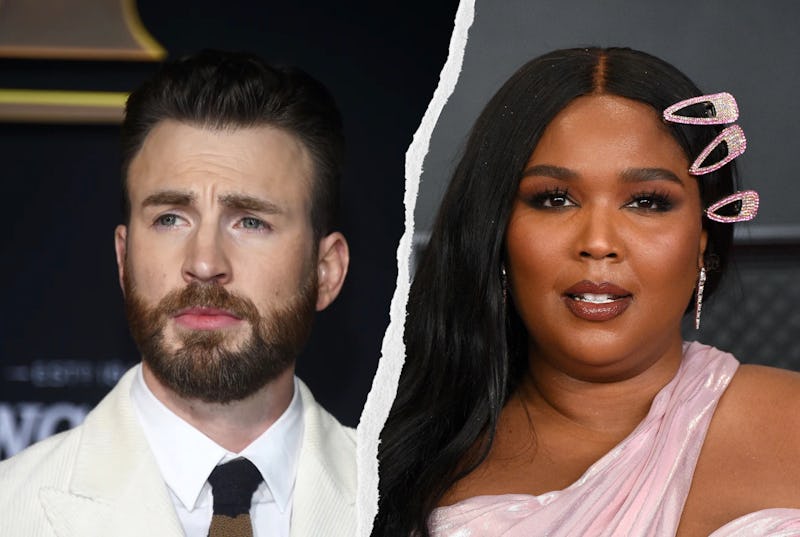 Kevin Mazur/Getty Images Entertainment/Getty Images; Amanda Edwards/WireImage/Getty Images
Sliding into a celebrity's DMs almost never pays off — unless you're Lizzo. Just a week after revealing that she sent a drunk Instagram DM to none other than Captain America himself, Lizzo revealed more of her DM conversations with Chris Evans, and it seems that we have a new power couple in the making (OK, not really, but we still ship them).
Over the weekend, before her 33rd birthday on April 27, the "Truth Hurts" singer shared a TikTok video responding to requests for an update on her DMs with Evans, and she gave fans what they wanted. She looked into the camera and quickly flashed a screenshot of their convo (blink and you'll literally miss it). "Sooo ... let's see what your pause game is like, motherf*ckers," she said, laughing.
Luckily, fans with quick reflexes were able to find out what she wrote to Evans after his graceful response. "Well.. they say u miss 100% of the shots you never take, (and even tho I unsent it like a dork), I'm glad you know I exist now," she wrote. And as it turns out, not only was Evans aware of her existence, he's been a supporter this whole time. "Of course I do!" he wrote back. "I'm a fan! Keep up the great work!" Lizzo covered up the rest of their conversation, but we're going to assume she's keeping it private so she and Evans can connect more meaningfully.
On April 18, Lizzo admitted that she drunkenly DMed Evans, showing fans that she sent him three emojis — a gust of wind, a woman playing some sport, and a basketball. "Don't drink and DM, kids," she captioned the video. "For legal porpoises this is a joke." However, it quickly became serious when Evans responded, which she fangirled over in a follow-up TikTok video. "No shame in a drunk DM," he wrote back. "god knows I've done worse on this app lol."
While Lizzo may have been surprised to know that Evans was a fan, this actually isn't the first time that they've interacted online. Back in 2019, the singer shared a video of a young fan dancing to her hit song "Juice" on Twitter and Evans retweeted it, writing, "This kid is cooler than I could ever hope to be." Lizzo was stunned but still managed to shoot her shot. "Wow marry me," she responded. Now, two years later, they're reconnecting the old-fashioned way on Instagram DMs. When's the wedding, Chrizzo?