Lizzo Called Out How The Body Positive Movement Has Been "Co-Opted"
"We need to protect and uplift the bodies it was created for and by."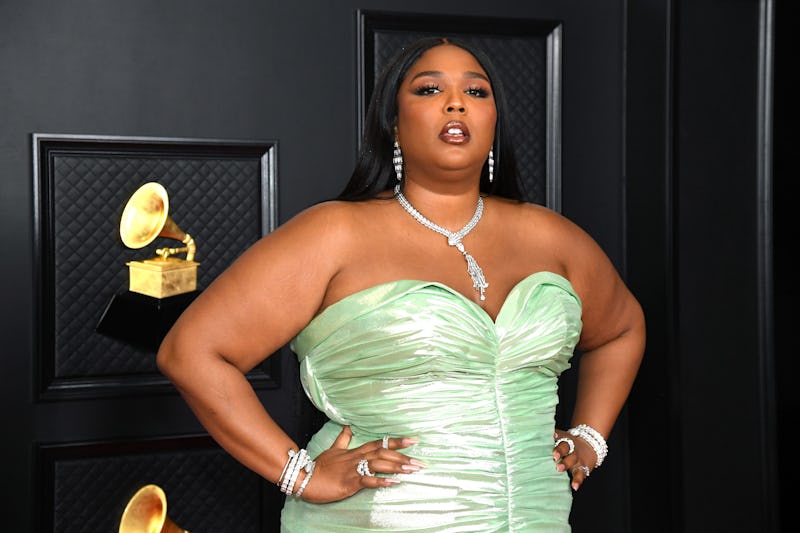 Kevin Mazur/Getty Images Entertainment/Getty Images
Now that the concept has gone more mainstream and become commercialized, Lizzo thinks body positivity is leaving fat women behind. The "Good as Hell" singer pointed out that a movement started by and for fat people has been "co-opted" by businesses and small or midsize women who are celebrated for embracing their so-called imperfections. Meanwhile, she noted, many of the big people the movement was meant to uplift are "still getting talked about, memed, shamed" and don't have the same support.
On Friday, April 9, Lizzo responded to a TikTok where a user received a hateful comment telling them to work out. "I don't understand why I can't just exist in my body," the original poster said in the video, tearing up. The Hustlers star responded to the user, pleading with fans to not just "use the body positive movement to empower yourself" but also "protect and uplift the bodies it was created for and by."
"The people who created this movement — big women, big Brown and Black women, queer women — are not benefiting from the mainstream success of it," Lizzo explained on TikTok. "Our bodies are none of your f*cking business. Our health is none of your f*cking business." The three-time Grammy winner went on to add that the movement needs to boost big women in the same way it does smaller women, and its supporters need to truly embrace all bodies. "All we ask is that you keep that same energy with these medium girls that you praise," she said.
Lizzo has called out co-option in the body positive movement in the past, saying its been appropriated and "commercialized" in an interview with Vogue. The "Juice" singer said that she considers herself "body-normative" and identifies more with trying to normalize all bodies. "I want to normalize my body," she told the magazine. "And not just be like, 'Ooh, look at this cool movement. Being fat is body positive.' No, being fat is normal. ... I think now, I owe it to the people who started this to not just stop here."
Lizzo also emphasized how mainstream "body positivity" leaves certain women out in the Vogue interview, urging more support and representation for "girls with back fat, girls with bellies that hang, girls with thighs that aren't separated, that overlap," in other words "girls who are in the 18-plus club."
"We have to make people uncomfortable again so that we can continue to change," she added. "Change is always uncomfortable, right?"