Lizzo's Stand Against Tennessee's Drag Ban Is A Lesson In Allyship
"Why would I not create a safe space in Tennessee?"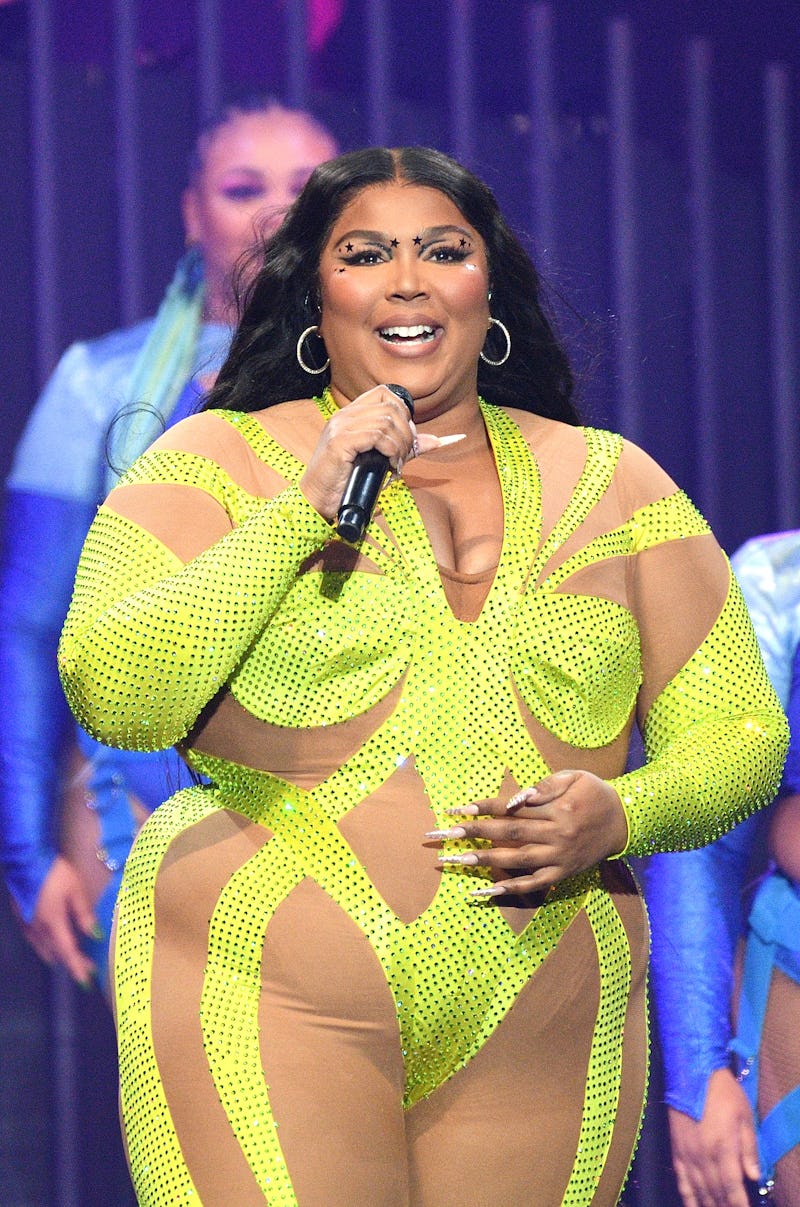 Gus Stewart/Redferns/Getty Images
The Special 2our is back on, and from Night 1, Lizzo made it clear she'd be using her platform to continue to amplify marginalized voices. The four-time Grammy winner performed at Thompson-Boling Arena in Knoxville, Tennessee, on April 21, where she brought out more than a dozen drag entertainers in defiance of local Republican lawmakers' drag ban. Her actions earned accolades from countless followers, many of whom praised her subversive move as pitch perfect allyship.
In concert footage, Lizzo explained to the Knoxville audience that "people on the internet" urged her not to perform in Tennessee "in light of recent and tragic events and current events." When the crowd started to boo, she told them they didn't have to because the critics' "reason was valid." Though she understood their point, she laid out how saw the situation differently.
"Why would I not come to the people who need to hear this message the most? The people who need to feel this release the most?" she asked the audience, to huge cheers. "Why would I not create a safe space in Tennessee where we can celebrate drag entertainers and celebrate our differences and celebrate fat Black women?"
Lizzo went on to applaud people in Tennessee for "giving hope." "Thank you so much for standing up for your rights, protecting each other, and holding the people accountable who should be protecting us," she added.
The singer also posted a photo and a video of her on the stage with her many drag entertainer guests. The list was long and included Vanessa Vanjie Mateo, Asia O'Hara, Aquaria, Kandy Muse, Britney Banks, Chelle, Cordelia Facade, Cya Inhale, Dee Zastris Banks, Jaidynn Fierce, Justine Van de Blair, Lexi Von Simmons, Porche Auh, Shelby La Banks, Shoshana Van de Blair, Trey Alize, Vidalia Anne Gentry, Vivica Steele, and ZXA. "THANK YOU TO THESE BEAUTIFUL DRAG QUEENS FOR SHOWING THEIR PRIDE IN TENNESSEE," Lizzo wrote to them after the show.
Fans and queens alike let Lizzo know how important it was for her to take her stand against the law signed by Tennessee Governor Bill Lee to restrict drag performances in public and in front of minors. (A federal judge temporarily blocked the law on March 31, a day before it would have gone into effect.) "Thank you so much for the platform for me and the drag race girls and especially for uplifting the queens on Tennessee!" RuPaul's Drag Race alum Aquaria commented on one of Lizzo's Instagram posts. "Those ladies are all so strong and brave and I know tonight was definitely the best of a tricky situation for everyone. Thanks for shedding light for our friends who definitely need our hand these days. We appreciate it."
One of the many people who applauded Lizzo's allyship pointed out how special it was that the singer featured a variety of performers. "The fact that she not only brought to the stage well-known queens from RuPaul's Drag Race but also queens that we often see hustling in queer spaces different from TV speaks volumes about Lizzo's integrity not only as an artist but an ally too," they wrote.
Meanwhile, CNN political commentator Ana Navarro-Cárdenas also approved. "Yes!!! So necessary to support the LGBTQ community at this time when hateful demagogues are waging war against them," she wrote.
As for what it was like to be in the audience, a concertgoer shared, "Lizzo, thank you. I was there last night and this was one of the best parts of the night. I've loved you for a long time, but getting to see you and the kind of show you put on. Just. Unreal. I love our queens, they rock! I've had the time of my life watching them perform and I love love love that you did this. I feel like we did a good job showing you that despite what hits the news, TN is not a scary place to be— the people who make decisions for us DO NOT represent us!"