Lupin Part 3 Will Follow A Brand New Story
Plus everything else we know about the next season.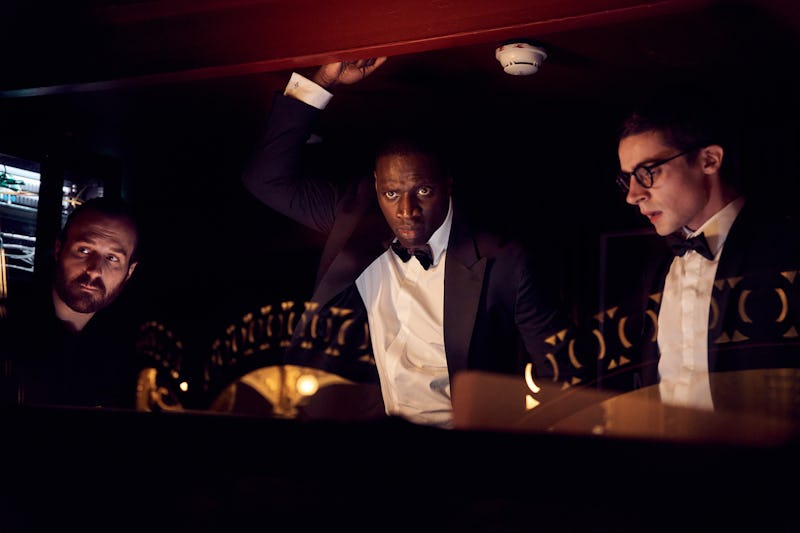 Emmanuel Guimier/Netflix
Assane Diop is always one step ahead, and so, apparently, is Netflix. The streaming service renewed its popular French thriller series Lupin for Part 3 in May, before the show's second installment even premiered. After a French journalist found a website with a URL under Assane's name, Omar Sy — who plays the character — confirmed the news on Twitter. "We can't hide anything from you," he tweeted.
As Lupin co-creator George Kay explained on the June 4 episode of The Hollywood Reporter's TV's Top 5 podcast, Lupin Part 3 will follow a new storyline separate from the first two installments. They'll use Part 2 to wrap up "the avenging of Babakar's death and the revenge mission against Pellegrini," as well as the Queen's necklace heist. "Part 3 will be a new adventure entirely with a new emotional goal and similar amount of adventures and self-contained stories to kind of get us across that arc," Kay said. "So, yeah, similar, but moving on from the kind of central arc of 1 and 2."
Kay added that he plans to re-use the "total war chest" of Maurice Leblanc's stories about Arsène Lupin for Part 3. "I'm just looking at a story for Part 3 that reuses a book we've already seen used once, but from a different angle with a different detail," Kay said.
Here's everything else we know about Lupin Part 3 so far.
The Lupin Part 3 Premiere Date
The first two installments of Lupin premiered about five months apart, but given that Kay noted Part 3 will be separate from Parts 1 and 2, there's no guarantee that Netflix will follow the same release schedule. If they do, Lupin Part 3 could hit Netflix as early as this November. It really depends how far into production they are.
The Lupin Part 3 Cast
Sy will, of course, be back to reprise his role as Assane. He'll likely be joined by Etan Simon, who plays his son Raoul, and Ludivine Sagnier as his ex-wife Claire. Since Kay noted that Part 3 will move away from Assane's revenge mission against the Pellegrini family to focus on new adventures, there could be several new cast members that Netflix has yet to announce. For now, the Lupin Part 2 cast also includes Hervé Pierre (Hubert Pellegrini), Clotilde Hesme (Juliette Pellegrini), Nicole Garcia (Anne Pellegrini), Fargass Assandé (Babakar), Antoine Gouy (Benjamin Ferel), Shirine Boutella (Sofia Belkacem), and Soufiane Guerrab (Youssef Guedira).
The Lupin Part 3 Trailer
Netflix has yet to release a trailer for Lupin Part 3, but this post will be updated as more details become available.