The Olympics Literally Just Started & Twitter Is Already IN LOVE With Maame Biney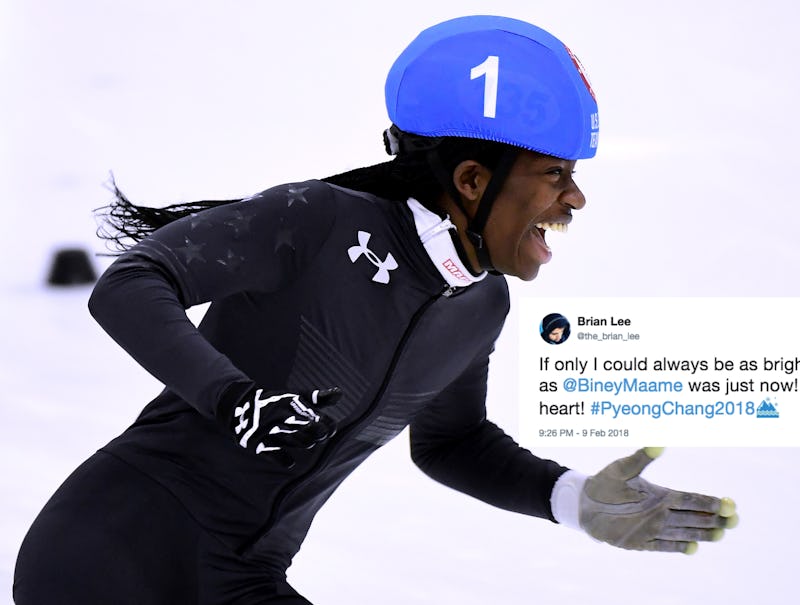 Harry How/Getty Images Sport/Getty Images; the_brian_lee/Twitter
Just before the opening ceremony for the 2018 Winter Olympics kicked off in PyeongChang, the NBC team caught up with USA speed skater Maame Biney. And the athlete's feelings about being at the Olympics were, in a word, delightful. Understandably, her excitement prompted many to tweet how excited they are to cheer Biney on.
When eight-time Olympic medalist Apolo Ohno asked Biney how she's feeling going in to the opening ceremony, she grinned and said, "I feel so ecstatic, I'm like, 'Oh, jeez, I'm actually—' I think it hit. It finally hit, I'm actually here at the Olympic Games. Holy cow, it's awesome."
As for her plan of attack for her first race on Saturday? "I have to go out there and do my best," she told Ohno. "I just want to go out there and have fun." And when Ohno asked what the 18-year-old Olympian would say to younger athletes who look up to her, Biney replied,
"Oh, well, thank you for letting me be that girl. I'm here for that. I want to inspire you guys, and just be an inspiration to you guys. So just go out there and have fun, do whatever you guys like to do."
In addition to being an inspiration, she also made history when she qualified for the Winter Games at 17 years old. As the Team USA website points out, Biney became the first black woman to make the U.S. Olympic speed skating team.
It's darn near impossible to get to the end of the pre-opening ceremony interview without smiling as hard as you ever have, or feeling like you have a lump in your throat the size of a gold medal. Oh, and it's also impossible to watch it without promptly joining the Biney fandom.
People Are Stoked To Cheer On Biney
Hearts made out of icicles are no match for this interview.
The Biney Fandom Is Growing By The Second
All of the events. Snowboarding, curling, ski jump — all of them.
People Are Ready To Watch Her Go For The Gold...
...And to take home all of the gold.
People Really, Really Want Her To Win It All
Every. Last. Medal.
She Truly Does Radiate Sunshine
What a heart, indeed.
She's Become An Olympics Favorite
Go Biney!
Patrick Star Has Weighed In
And it should come as a surprise to no one that he's on Team Biney.
People Are Definitely Going To Be Tuning In To Biney's Event
Couldn't agree more.
And People Wish They Could Be Friends With Biney
Right there with you.
Some Can't Wait To Watch The Race With Their Daughters
Aw.
This Interview Will Surely Be A Highlight Of The Games
And no, it's not too early to say so.
Same
So much same.
She's A Ray Of Sunshine
A sunbeam that doesn't melt ice? Well, that sure sounds like a cool ray of sunshine.
And Yes, There Are Biney Stans
What a great plan.
Lots Of Biney Stans
*Nods in agreement.*
Lots & Lots Of Biney Stans
A resounding "yes" to all of the above.
Biney's interview sure was an awesome and endearing note to start the Olympics on, and Biney sure is an awesome and endearing Olympian. Assuming you would like to see her skate — because why wouldn't you? — Biney will compete in the 500m and the 1500m, and according to the NBC website, her first heat is scheduled for Feb. 10 at 5:56 a.m. ET. So set your alarm clock, check your pantry to make sure you have plenty of coffee, and get ready to spend tomorrow morning cheering on the breakout star of the 2018 Winter Games opening ceremony.