Celebrities & Politicians Mourn Madeleine Albright Following Her Death
The former U.S. secretary of state passed away at 84.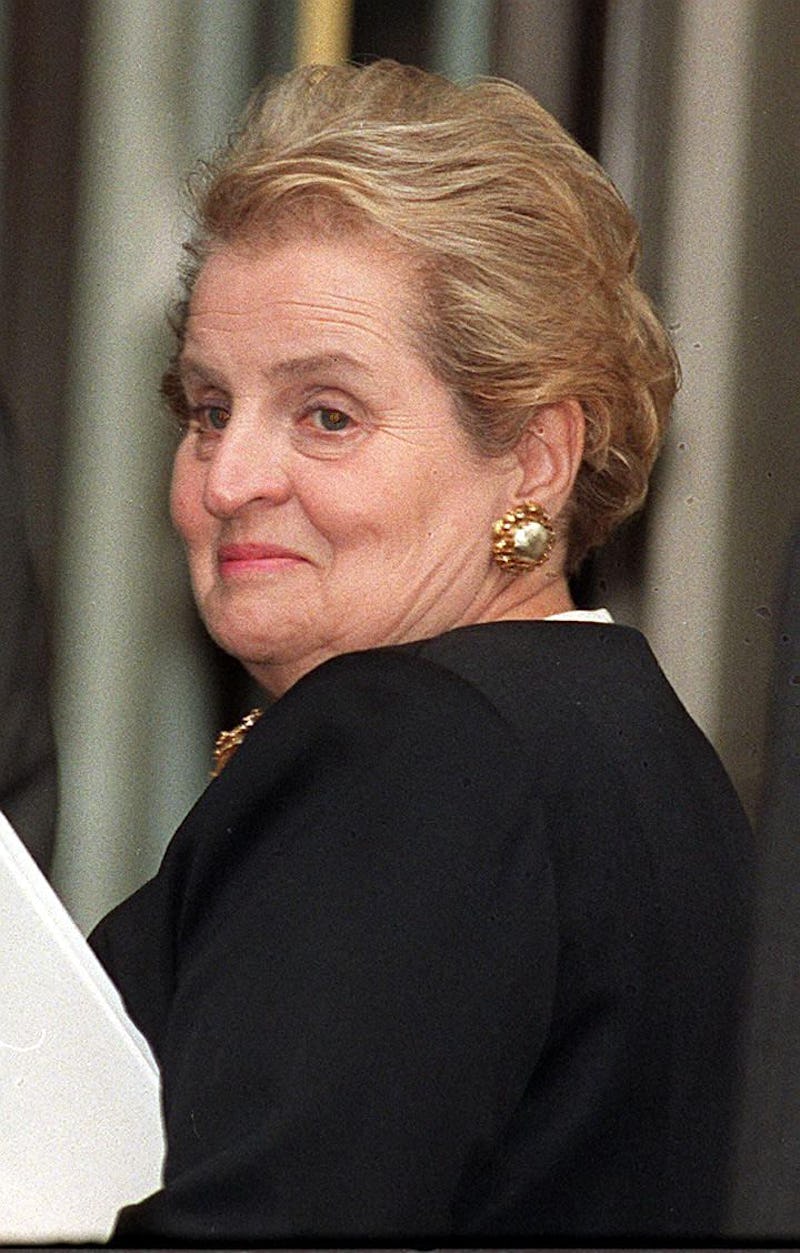 GERRY PENNY/AFP/Getty Images
Former U.S. Secretary of State Madeleine Albright has died at 84, her family announced Wednesday, March 23. According to the statement, she died of cancer and was "surrounded by family and friends." The statement also noted her as a loving relative and "tireless champion of democracy and human rights."
Albright is most known for being the first woman to lead the State Department and helping to guide foreign policy after the Cold War, promoting the expansion of the North Atlantic Treaty Organization (NATO). As noted by CNBC, Albright was appointed as U.S. ambassador to the United Nations in 1993 by then-president Bill Clinton. Three years later, he nominated her to be the U.S. secretary of state, and she was confirmed with a vote of 99-0. In 2012, then-president Barack Obama honored Albright with the Medal of Freedom, which is the highest accolade a civilian can achieve.
As a lifelong public figure, she weighed in on everything from U.S. global sanctions to the recent Russian invasion of Ukraine. However, Albright's career was not without some controversy. In her first public posting as a U.N. ambassador under President Clinton, Albright butted heads with then-U.N. Secretary-General Boutros Boutros-Ghali. Albright and the Egyptian diplomat disagreed on the necessary actions around the Rwandan genocide, which Albright later called the "deepest regret" of her career. They had a public spat that ended in Albright vetoing his election to a second term as secretary-general in 1996.
Her remarks on a 1996 60 Minutes interview about sanctions against Iraq, in particular, made waves. Lesley Stahl asked, "We have heard that a half million children have died. I mean, that's more children than died in Hiroshima. And, you know, is the price worth it?" Albright responded matter-of-factly, "I think this is a very hard choice, but the price— we think the price is worth it."
Amid the news of Albright's passing, celebrities and politicians paid tribute to the woman regarded as a political "trailblazer." Barbra Streisand was one of the first to express her grief on Twitter, writing, "I am so sad about losing a good friend and a great woman in this fragile world of ours. May you rest in peace dear one…" Streisand was joined by a chorus including Maria Shriver, Billie Jean King, and Senator Amy Klobuchar.
Former Presidents Obama and Clinton both released statements about her death, highlighting both her long career in public service and her rise from a child refugee from war-torn Europe to Secretary of State. President Clinton further spoke about the friendship he and his wife Hillary Clinton forged with the former Secretary, who provided "unfailingly wise counsel" over the years.
Other Twitter users used the news as a moment to remind the Internet about her previous controversies, specifically her 60 Minutes quote.