How To Stand In Solidarity With And Support Ukraine Right Now
From donating to LGBTQ+ initiatives to helping African students evacuating the war zone.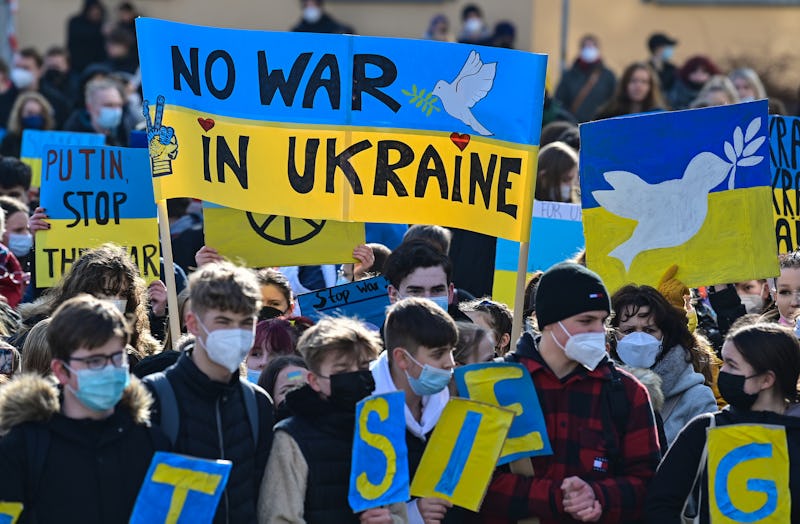 Getty
News that Russia launched a widespread military attack on neighbouring Ukraine shocked the world. As per the BBC, Russian military forces crossed the Ukrainian border on Thursday, Feb. 24, and began launching airstrikes against military targets close to some of the country's largest cities.
With Ukrainian citizens and the country's military facing increasing conflict and violence, here in the UK you may well be wondering what you can do to help. Below, you can find some of the most effective ways to help the people of Ukraine as the crisis unfolds.
1. Donate to general aid organisations
The Disasters Emergency Committee
The DEC's appeal is raising funds to meet the needs of displaced people by providing essential hygiene supplies and emergency food. The Government has pledged to match donations from Brits up to £20m.
British Prime Minister Boris Johnson said: "Putin has gravely miscalculated. In his abhorrent assault on a sovereign nation, he has underestimated the extraordinary fortitude of the Ukrainian people and the unity and resolve of the free world in standing up to his barbarism."
United Help Ukraine
This non-profit charitable organisation aims to receive and distribute life-saving donations, including food and medical supplies to Ukrainian IDPs (Internally Displaced People), as well as providing emergency medical supplies to the front lines.
Come Back Alive
Based in the city of Kyiv, the goal of Come Back Alive is to raise money for the Ukrainian military and ensure they have access to enough supplies in the fight against Russian military forces.
Army SOS
Army SOS uses donations to manage purchases of necessary supplies for Ukrainian soldiers, including ammunition, uniforms, food, and more.
Sunflower of Peace
The Sunflower of Peace fundraiser raises money to help prepare first aid medical backpacks for paramedics and doctors on the front lines.
World Central Kitchen
Chef Jose Andrés has set up an emergency kitchen on the ground at the Ukraine-Poland border to provide warm meals for refugees.
With Ukraine
The UK's Ukrainian Embassy has set up its own donation service "to support and defend Ukraine and its people".
2. Donate to charities supporting children
Save the Children has made its own Ukraine Crisis Relief Fund to help families with young children. On their official website, the organisation said that it will use donations to help families meet their basic needs such as food, medicine, and shelter. Save the Children's specialist teams will also help Ukrainian children get access to education and psychosocial support.
Voices of Children
Voices of Children helps to provide psychological support to the children affected by the war in eastern Ukraine.
Unicef
Known for providing humanitarian aid to children across the world, Unicef is leading the way when it comes to helping Ukrainian youths affected by the conflict. A statement on the organisation's website reads: "We have been working tirelessly to keep children safe since this conflict began eight years ago, and we are determined to remain in Ukraine to reach the most vulnerable children and families. We are helping to provide families with access to clean water and healthy food."
3. Support charities helping LGBTQ+ people
OutRight Action International
OutRight works to further LGBTQI human rights across the globe, launching their Ukraine initiative to support LGBTQI people living in Ukraine.
Gender Z
Gender Z is supporting LGBTQI people in Ukraine who have not yet been able to leave, providing emergency shelter, aid, and relocation services.
4. Share resources and raise awareness
You can also amplify the voices of Ukrainian citizens by sharing resources on how to help via social media. Make sure to check the legitimacy of these sources and be careful not to share fake news — check the account, following, and any initiatives listed.
Write to your local MP, expressing your concern. Ask them to take action as your representative, and raise the crisis in Ukraine in the House of Commons. The Prime Minister has now relaxed visa requirements to allow immediate family members to join Ukrainians settled in the UK, but there's still more that can be done.
Korrine Sky has put together a Twitter thread, packed full of resources, detailing how people can help African/Caribbean students evacuating Ukraine.
This article was originally published on