Marcus Rashford & Barack Obama Just Met On Zoom
The pair talked about books, community, activism, & their shared life experiences.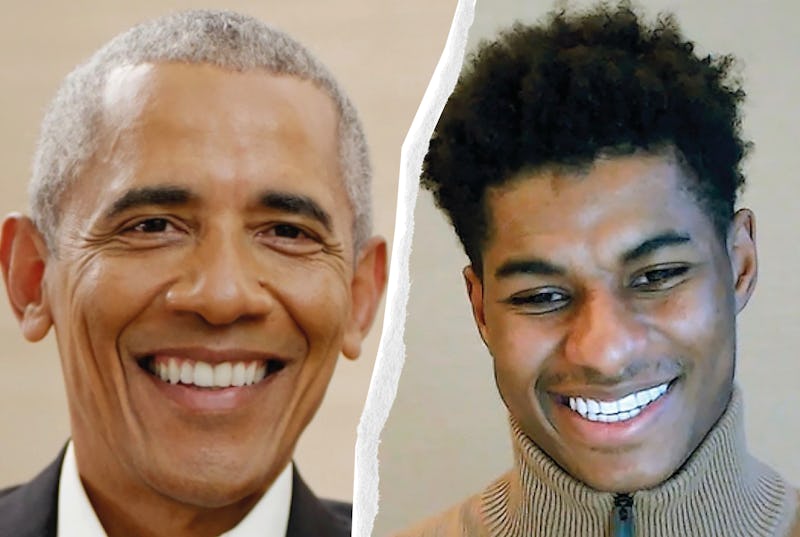 Courtesy of Penguin
Marcus Rashford MBE has become one of the most talked-about celebrities in the UK thanks to his meaningful activism and push for social justice. In particular, Rashford has been vocal about child food poverty, starting the #endchildfoodpoverty campaign, which would eventually see 1.7 million vulnerable children supported via a £520 million government investment. But despite his ongoing success, the footballer probably didn't expect to come face to face with a former President. So when Marcus Rashford and President Obama shared a Zoom chat, you can only imagine what was going through the footballer's head!
Both Rashford and Obama were joined on the call by June Sarpong OBE, who moderated the chat between 44th President of the United States and the Manchester United player.
As the occasion was organised by Penguin, the main topic of discussion was books and reading, which the pair bonded over. Both men have published works of their own, and Obama's A Promised Land was front and centre of the chat, with issues from his book referred to, including the power of young people making change, the positive impact reading can have, and the importance of giving back to your local community.
The politician and sportsman also discussed their shared life experiences; both were raised by single mothers and are now passionate about using their platforms to give back to the communities that raised them.
Discussing the conversation he had with Obama, Rashford said: "I mean, it's quite surreal isn't it? I'm sitting in my kitchen in Manchester, speaking to President Obama."
He continued: "But, immediately, he made me feel at ease. It wasn't long before I realised just how aligned our experiences as children were in shaping the men you see today – adversity, obstacles and all. I genuinely enjoyed every minute of it. When President Obama speaks, all you want to do is listen."
Obama said of meeting Rashford, who he was clearly impressed by: "A lot of the young people I meet — including Marcus — they're ahead of where I was when I was 23. They're already making changes and being positive forces in their communities."
Both a YouTube video and Podcast version of the pair's full chat are available.