The Mare Of Easttown Season 1 Finale Finally Gave Us Answers
The last episode of Mare of Easttown was as tidy a season wrap-up as we've ever seen.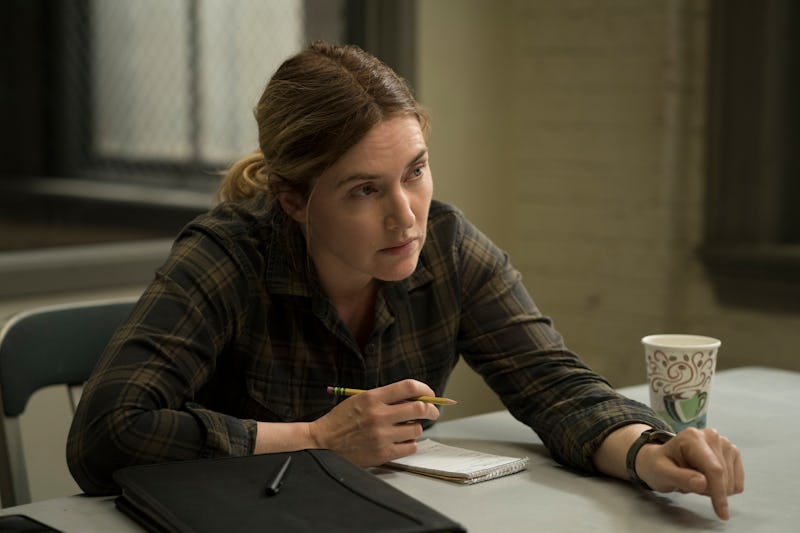 HBO
Spoilers ahead for the Mare of Easttown Season 1 finale. The final episode of Mare of Easttown picks up precisely where last week's left off: the Chief can't get a hold of Mare as she strikes out to confront Billy Ross about murdering Erin McMenamin. The rush of the nearby river is menacing but not as menacing as the score — a single violin competing with the splash of the waterfall. Billy is fishing while his brother John stares him down. The mood is combustible and there's a building sense that this won't end without shots fired.
But then, well, no shots are fired. Instead of letting this all explode into an ugly firefight, Mare reaches the Rosses just in time. What follows is a series ender that wraps up tidy as a Christmas present. Mare of Easttown creator Brad Ingelsby delivers tragedy and pathos, answers we saw coming and some that most of us did not.
Who killed Erin McMenamin?
We've cycled through suspects that left us feeling cold, including most of the men Erin should have been able to trust, but the identity of her killer is even more upsetting than anyone the show's named so far. Ryan Ross, Lori and John's young son, murdered Erin McMenamin.
The night he killed her, Ryan witnessed John take an angry phone call and decided to snoop in his dad's text messages. He'd known about John and Erin's affair, but agreed to lie to his mother if John cut it off. Upset to learn the relationship was ongoing, Ryan intercepted a text message and arranged to meet Erin at Brandywine Park. She, of course, was expecting to see John.
On his way to the park, Ryan stopped by Mr. Carroll's shed, where he knew the old man kept his gun. He only wanted to scare Erin with it, but she tried to wrestle the gun from him and it accidentally went off, clipping her finger. Ryan panicked and shot her again, this time in the face. It's so terrible — they're children. A series of adults had to let them down in so many ways for them to even end up on the edge of this accident.
Ryan drags Erin's body into the woods, returns the gun, and calls his dad for help. John calls Billy and they drive her out to Sharps Woods. So tragic, so tidy. We knew God had a purpose for the narrative space taken up by the Carrolls.
Who is DJ's father?
DJ's father is John Ross and, according to him, it was a real — not "just sex" — relationship between him and his teenage niece. They started hanging out at the family reunion. When Erin got pregnant, John wanted her to get an abortion, but she refused. She was already dating Dylan Hinchey, so they let him believe he was the father. Turns out that DJ doesn't stand for Dylan Junior. DJ's full name is Dylan John McMenamin.
How does Mare solve the case?
Well, a few threads started fraying at once. Mare confronts Sandra — the woman John had supposedly reignited his affair with — who convincingly denies seeing him again. Then, John's memory seems a bit too hazy on the details of the gun, which Ryan returned to Mr. Carroll's shed before asking his father for help cleaning up the murder scene.
But really it's Mr. Carroll who sets Mare in the right direction. Since Betty died, he's been having trouble. Things have been going missing from the house, including, briefly, the Colt Special he was given as a retirement gift. And, oh yeah, when it mysteriously reappeared exactly two slugs were missing. And, oh yeah, the only person with a key to the shed is Ryan Ross, who mows his lawn.
If they had nothing to do with it, why did Jess and Dylan act so shady?
Burning Erin's journals was Jess's idea. She was afraid the cops might find out the real identity of DJ's father and knew her friend wouldn't want DJ removed from the Hincheys' care. She teamed up with Dylan, because he thought it would break his parents' hearts to lose their grandson. Their adolescent hearts were in the right place.
And back up: Why does John take Billy fishing instead of taking him to the precinct to confess?
At the point they head out to the fishing cabin, Billy is already looking unsteady and John can't be sure he'll take the rap for Ryan. Even if he wanted to, Billy might not be able to withstand Mare's questioning. Ultimately, John can't pull the trigger and decides to kill himself instead, but Billy stops him. It's a scene that's much more interesting to revisit after we learn that Ryan killed Erin. John isn't sacrificing his brother for himself, but for his young son. When he turns the gun on himself, it's not to avoid punishment for his crimes, but to do everything he possibly can to save Ryan.
But Mare is Lori's best friend. Why not just let John take the fall for her son's sake?
I'm of the belief that Mare didn't have much of a choice here. This was murder. And honestly, I'm not sure Ryan was handling the guilt and secrecy. We already saw him act out violently at school. Though it may have spared Ryan from going to juvenile prison, it's probably best that John didn't successfully kill himself in the finale's opening sequence. Can you imagine Ryan bearing the burden of Erin's murder and his father's suicide?
Still, it would obviously be 100% absolutely acceptable for Lori to never even look in Mare Sheehan's direction ever again.
So you're telling me the priests really didn't do any crimes? Really? Neither of them?
Really! Deacon Mark is released from prison and tries to reintegrate into Easttown. Eight months after Ryan's arrest, he even gives his first sermon again. Mare's cousin priest is also just a priest.
And Guy Pearce really didn't do any crimes?
Just loving and leaving Mare Sheehan. He's heading to Bates College on a year's teaching contract — #adjunctlife. Ever the charmer, Mare tells him she's never even heard of Bates. They plan to keep in touch.
What about poor Katie Bailey?
This easily could have been missed by a lesser show, but Ingelsby has an unrelenting eye for detail. Beth Hanlon & Co. do up her brother Freddie's house so Katie can live there with her daughter. In a particularly deft touch, Dawn's hair is regrowing, wordlessly suggesting that her cancer is in remission. This show is a master class in the little things.
What shape are the Sheehans in?
Maybe the best ever. Mare retains custody of Drew. It's what's best for him, though still sad. Carrie started using to stay awake through her night shifts and visitations with her son; now, she's back in rehab.
Faye and Frank get married. Mare and Siobhan have an actual conversation and she encourages her daughter to go to Cal Berkeley; there are few exit ramps from a life in Easttown and this is one of them.
Even Jean Smart's Helen gets in on the healing. She knows she was kind of a bad mom to Mare, but circumstances were hard and she forgives herself. Now, she wants Mare to show herself that same grace and forgive herself for what happened to Kevin. In a sign of good things to come, Mare finally goes up into the attic.
What's going to happen to DJ now?
John has the audacity to ask Lori to raise DJ and give him a good life. It's crazy how many ways his infidelities have found to destroy her. Sure, the Rosses were considering taking DJ in when Kenny asked — which, chew on this, means John was literally considering adopting his own son and raising his own son as if he was his own son — but obviously circumstances have shifted to a remarkable extent.
It's hard to imagine this is a better arrangement for DJ than staying with the Hincheys, who already know and love him, but eventually Lori agrees. And DJ will grow up with his siblings, and I guess that's something.
And perhaps the most important question of all: Does DJ get his ear surgery?
Yes, finally. Thank you, Brad Ingelsby because honestly this would have bothered me forever.