Mariah Carey's COVID-19 Vaccination Video Is So Relatable
"Vaccine side effect: G6."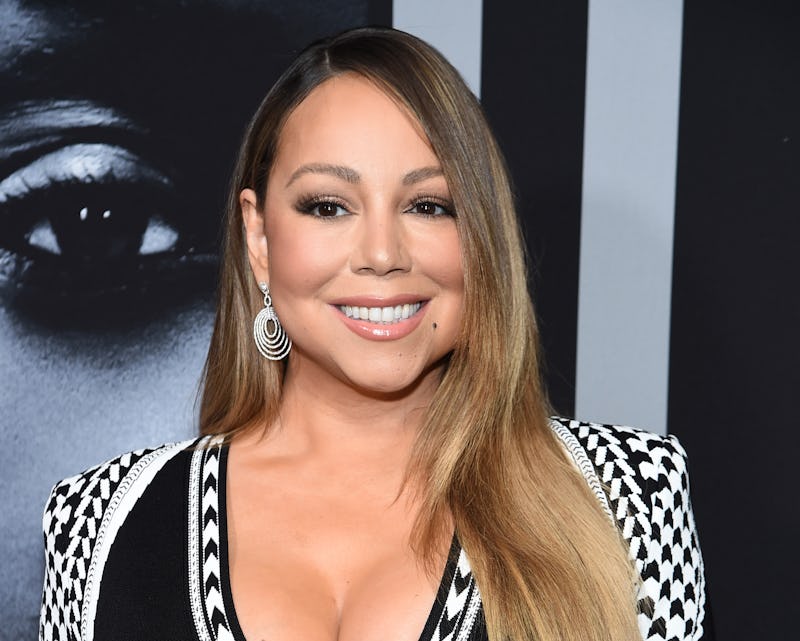 Jamie McCarthy/Getty Images Entertainment/Getty Images
Mimi is continuing to do her part for public health. On Saturday, April 3, Mariah Carey posted a video of her COVID-19 vaccination, and it was an experience. The 90-second video perfectly captures the very relatable feelings that go with getting inoculated, from the nerves before the shot, to the brief discomfort of the injection itself, to the relief afterward. Carey went through it all — and she discovered a new "side effect."
"I'm here, excited and nervous a little about getting this shot," Carey tells the camera as she sits on an exam chair in an all-black outfit and matching face mask. After reiterating that she feels some nerves, the five-time Grammy winner reflects on her pandemic experience, recalling a video she filmed with her two kids, Moroccan and Monroe, in New York, "trying to encourage people to be really safe" and washing their hands together for 20 seconds. "You know, we're still in this battle together," she adds.
The video quickly gets to Carey's shot, with the nurse encouraging her to relax her arm before going for it. The singer doesn't pretend the jab is painless — she lets out some of her characteristic high notes in response. With that reaction, her experience feels almost universal, aside from her superior musical ability.
"Vaccine side effect: G6," she tweeted with the video, joking about her vocalizations during the shot.
Despite the discomfort, Carey seemed to be glad to have the first of her two shots. She clapped after the nurse was done and added to the camera, "Here we are, hoping for the best, encouraging you guys to do it when you can." She also added that "we're all in this together."
Getting vaccinated is indeed good for the community. Vaccines lower the risk of infection for individuals, which helps slow the spread within the public at large. The Centers for Disease Control and Prevention (CDC) states that the shots are "an important tool to help us get back to normal." Additionally, the health protection agency notes that "COVID-19 vaccination is a safer way to help build protection" than actually contracting the disease.
Although Carey didn't reveal specifically which shot she received, the fact that she'll be getting two doses means it was either made by Pfizer-BioNTech or Moderna. Both reduce the risk of infection by 80% by two weeks after the first shot, according to a real-world CDC study released on March 29. Two weeks after the second dose, that number climbs to up to 90%.
Vaccinated or not, the pop star is likely to continue to encourage her fans to stay safe, as she's been doing since early on in the pandemic. Like she mentioned in her vaccination video, Carey and the twins showed off their hand-washing technique in a March 2020 TikTok, singing to her "Fantasy" remix featuring O.D.B. She's also advocated for wearing masks, tweeting that she wears one "#BecauseScience is real" and they're an effective way to "help curb the spread" of COVID-19.