The Robopine On Masked Singer Has To Be This Game Show Host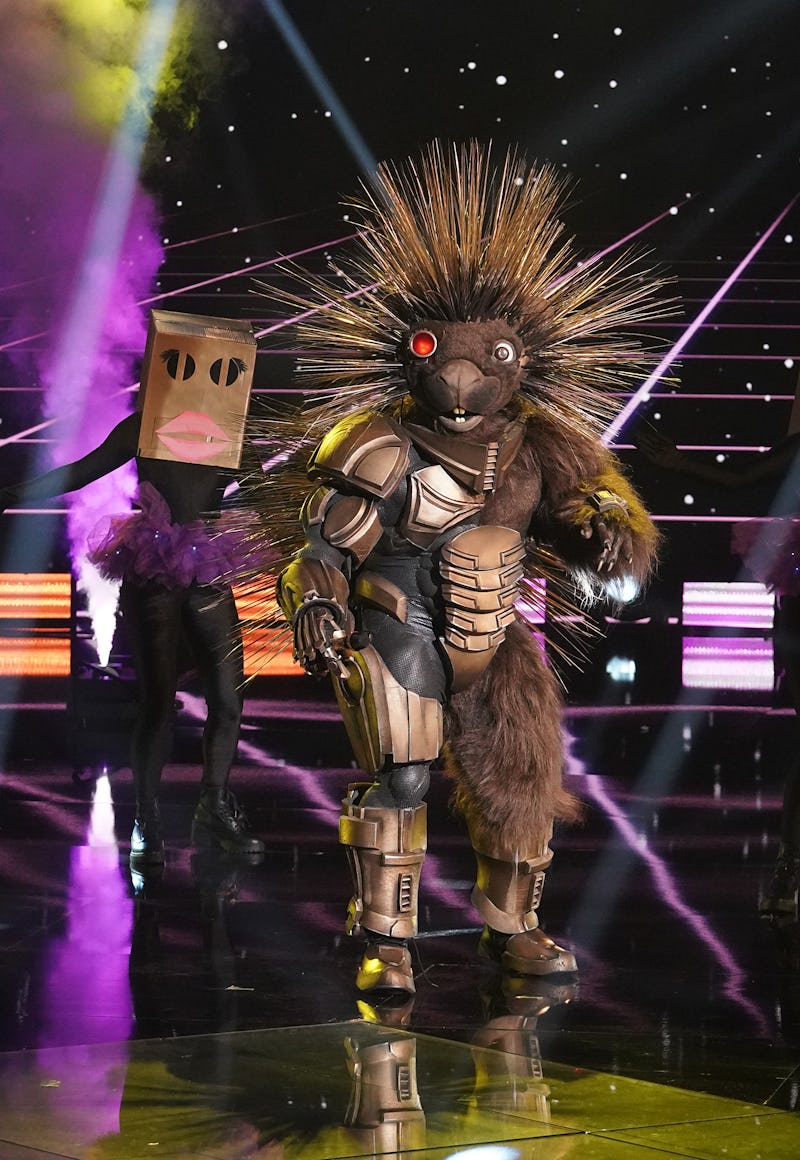 Michael Becker/FOX
The competition is getting tougher for Group A in The Masked Singer Season 5, but Robopine is holding his own. He serenaded audiences with Luther Vandross' "Never Too Much" and John Legend's "All Of Me," leading to judges guessing that he could be Lionel Richie, Jason Derulo, or Jamie Foxx. (Yes, they will continue to guess Foxx until he appears, apparently.) Fans are pretty divided about Robopine's identity; the most popular theory is that Robopine is Steve Harvey, but fans also think it could be Tyrese Gibson or Damon Wayans.
Robopine now has three clue packages to pick apart. He said in his first clue package that he had to fend for himself from a young age and that he had "nothing but a dream" to keep him going. He went on a mission to break into Hollywood, and after using "411 day and night just to make a connection," a "certain angel" changed everything for him. Visual clues included a lock and key, a soda can, a George Washington statue, and two DNA helixes. He mentioned he has grandkids and that he's 60 years old.
In the second clue package, Robopine repeated his age, saying that around 60 years ago in Costa Rica, his superheroes were the "workers who kept my streets clean" and that was his dream job. He says that to this day whenever he sees them working, he likes to "pull over and lend a claw" because they inspired a strong work ethic in him. Based on the police siren and the "men working" sign, it's unclear if he's referring to street cleaners or police. Visual clues included a yellow thunderbolt and a stuffed cat toy.
In the third clue package, Robopine said he "knows a good mission" because he's been on one for his entire career to find a "golden relic." His life has been an "action-packed, fast-paced ride" and he has braved many "booby traps" and survived when his life nearly "crumbled." Visual clues included a purple number 6, a gold eagle, two gold letter "M"s that changed to "MW," a dollar in a gold goblet, and a referee who flagged him for traveling.
With all of that in mind, here are the best guesses about who Robopine is so far.
Steve Harvey
As fans on Reddit point out, Robopine could very well be comedian and Family Feud host Steve Harvey. Like Robopine, Harvey is over 6'0", and he is 64 years old with grandkids. He's sung Luther Vandross songs for his comedy sets before, so it's not far-fetched to think that he could genuinely belt out the songs. He also experienced homelessness early on in his comedy career, and said he had an "angel" who would feed him during that time.
As for Robopine's Washington clue, Harvey played a teacher at Booker T. Washington High School on the sitcom The Steve Harvey Show. Harvey also hosted Showtime at the Apollo, which could be the "mission" Robopine hinted at if you connect the NASA reference. The DNA helix could be referring to his "DNA Detective" segment that Harvey used to do on his talk show. And the lightning bolt could be referring to Family Feud's "fast money" lightning round.
Tyrese Gibson
Based on Robopine's voice, other fans think he's actor Tyrese Gibson. The age obviously doesn't match up, but some of the clue packages do. Gibson actually began as a singer and rapper. He auditioned for a Coca-Cola commercial at the suggestion of a high school teacher, which kicked off his career. The teacher could be the "angel" that Robopine mentioned, and the commercial could be what the soda can was referencing. (Tyrese also has a song titled "Angel" and played a character named Angel in the film Four Brothers.)
As a result of the commercial, Gibson went on to have a successful career. He hosted MTV Jams, and his album 2000 Watts peaked at No. 4 on Billboard's R&B charts, which could be what the thunderbolt is referencing. And the "action-packed, fast-paced ride" line could be a reference to Gibson's role as Roman in the popular Fast & Furious franchise.
Damon Wayans
Finally, other fans guessed that Robopine is Damon Wayans. He's exactly 60 years old, and he has a granddaughter. Damon also used to sing during the "The Brothers Brothers" sketches on In Living Color, so we know he definitely has the pipes for Robopine.
We won't know for sure until the porcupine head finally comes off.