Matt James Returned To Instagram By Purging His Account Of All Bachelor Mentions
This, my friends, is called cleansing the timeline.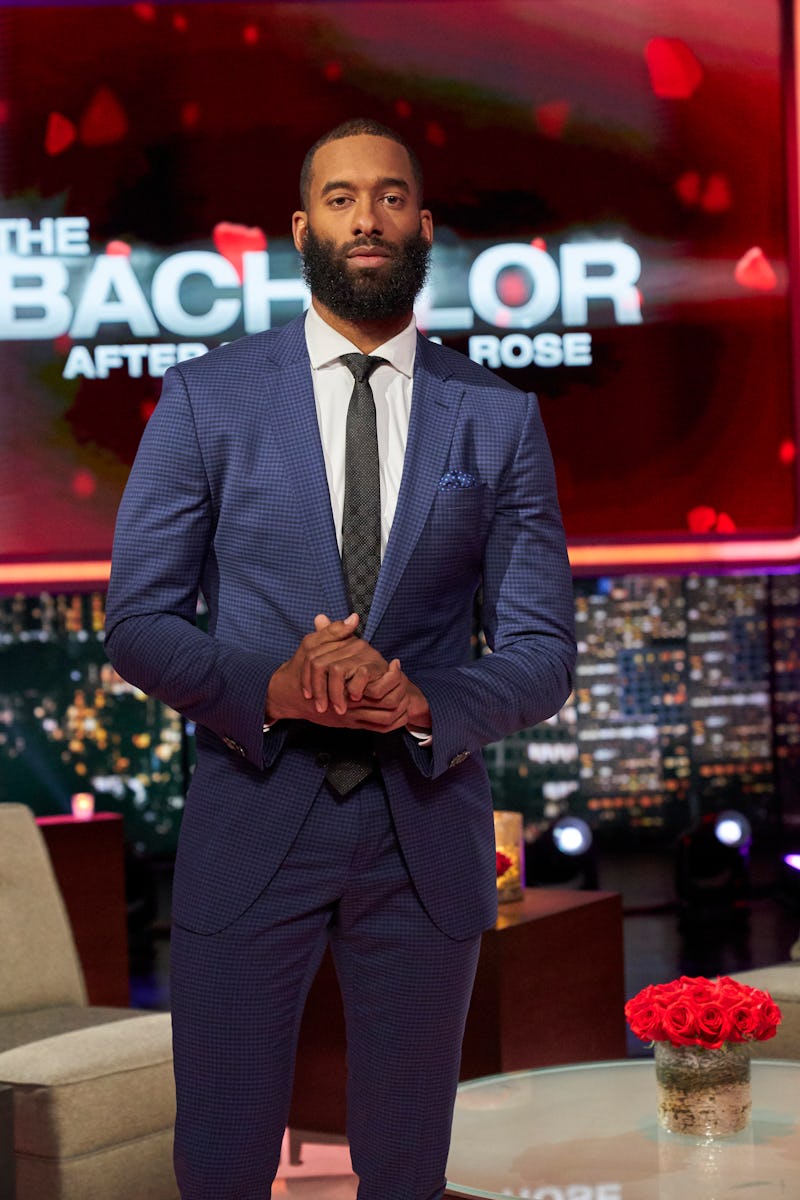 ABC
In another sign of deeply-rooted issues for Bachelor Nation, the franchise's first Black Bachelor has wiped all traces of the show from his social media. A week after deactivating his account, Matt James returned to Instagram, removing any mention of the hit ABC series from his grid in the process. The 29-year-old has deleted posts marking his announcement as The Bachelor, any photos shared from his journey along the way, and the show from his bio. Furthermore, James doesn't follow the official Bachelor Instagram, nor ABC. He does, however, follow a few Bachelor alum, including Rachel Lindsay, Tayshia Adams, Hannah Brown, and currently MIA host Chris Harrison.
The only post that remains from James' stint handing out roses is a Feb. 22 note in which he condemns comments made by Harrison in a now-viral interview with Lindsay. During the conversation, the disgraced host defended James' final pick, Rachael Kirkconnell, in light of past racist actions. "The past few weeks have been some of the most challenging of my life," James began his post, calling both Kirkconnell and Harrison's behavior "devastating and heartbreaking." He continued:
"As Black people and allies immediately knew and understood, it was a clear reflection of a much larger issue that The Bachelor franchise has fallen short on addressing adequately for years. This moment has sparked critical conversations and reporting, raised important questions, and resulted in inspiring displays of solidarity from The Bachelor nation. It has also pushed me to reevaluate and process what my experience on The Bachelor represents, not just for me, but for all the contestants of color, especially the Black contestants of this season and seasons past, and for you, the viewers at home."
In the weeks since Season 25 of The Bachelor ended, James seems to be cleansing himself of the experience and his messy breakup from Kirkconnell. During a recent interview on The Bill Simmons Podcast, he spoke about his naivety going on reality TV for the first time. "I don't think that you could've written this," James said. "Things, the way that they play out, they happen for a reason. For it to end like this, I would've never foreshadowed it. I think a lot of it was how naive I was going into it. I had never been on another dating show, I had never been on TV before, so I was very green. As things start to roll out, life hits you fast."
As for the future, James confirmed, "I'm not going to be dating" and that he'd "never" appear on another Bachelor-affiliated show. "I'm solely focused on getting back to that meaningful work in the community and centering myself around projects that are going to elevate all the work I've been doing in the city, special interest things that I appreciate outside reality television."
If his revamped Instagram is any indication, James is keeping good on his promise.