Melinda Already Hinted She Finds Love On Too Hot To Handle
Get to know the Season 2 contestant and self-proclaimed "firecracker."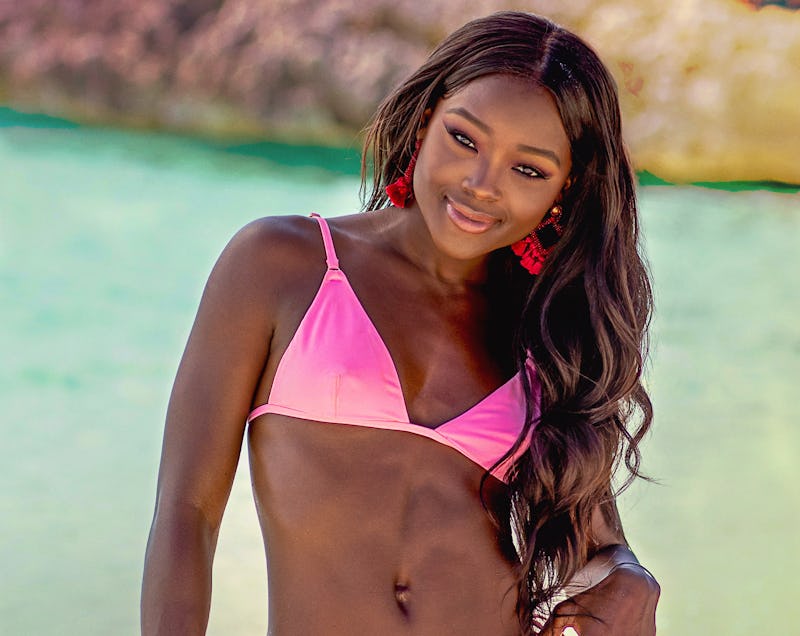 Netflix
Too Hot to Handle's Chloe Veitch already has a favorite Season 2 contestant: Melinda Berry, who she dubbed as having "boss b*tch energy." Hailing from Brooklyn, New York, Melinda is a self-proclaimed "Queen of Sass" who seems determined to win the competition (whatever "winning" means, considering everyone got money last season). "I'm the predator. I am on the hunt!" she said in Netflix's "Meet the Cast" video, though she could just as easily have been talking about the men on the show instead of the prize money.
As a self-professed "firecracker" who has no problem "standing out in a crowd," will Melinda be able to stick to the "no kissing, no heavy petting, and no sex" rule, or is she the one most likely one to break it? Get to know the 28-year-old below and decide for yourself.
Melinda Has A Lot Of Siblings
It's no wonder that Melinda has had to learn how to stand out: she's one of 16 siblings! That upbringing taught her to be vocal about her needs and wants. "I literally get what I want, when I want, and how I want it," she says in a preview video.
Melinda's Job Is In Fashion
Melinda works as a model in New York City. She doesn't list if she's currently signed with an agency on her Instagram, but she seems set to break into the industry her own way: "built a runway I'm not too short for," she cheekily wrote in her bio, likely referencing the fact that she's under the usual model height minimum of 5'9".
Melinda Is Active On Instagram, TikTok & YouTube
Viewers can check out Melinda's modeling photos on her Instagram account, which currently boasts over 44,000 followers. There, Melinda shares her various snapshots of her glamorous photoshoots, as well as glimpses of her time on Too Hot to Handle.
Melinda is also active on TikTok, where she posts behind-the-scenes looks at different photoshoots. She also has a YouTube where she shares makeup tutorials.
What Melinda Is Looking For
Melinda said in a preview video that she's "the life of the party" and is looking for a guy who "can keep up with my personality because I'm wild and super outgoing." She added that she "loves to have her options open," so the idea of being around a bunch of singles makes her feel like "a lioness" surrounded by prey.
It appears that Melinda may find love on the island, as she says in a trailer, "If this is what love feels like, I don't ever want to lose it."
The first four episodes of Too Hot To Handle Season 2 will be released on June 23, with the remaining six episodes airing a week later.