Lady Gaga's Interaction With Mike Pence At The Inauguration Has Twitter Freaking Out
"This is how the Trump era ends."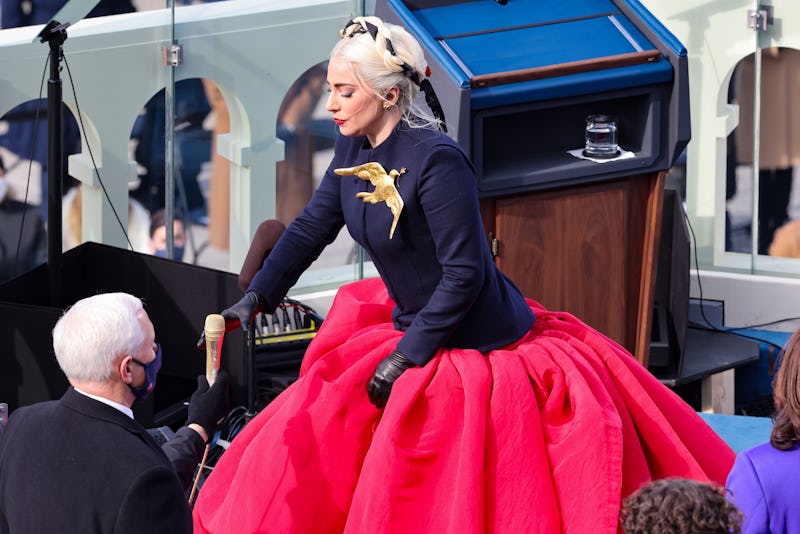 TASOS KATOPODIS/AFP/Getty Images
Lady Gaga's performance at the presidential inauguration of Joe Biden was memorable for a million reasons, but one quiet moment really caught social media's attention. Shortly before she sang the national anthem, the singer was handed a golden microphone and her brief interaction with Mike Pence sparked an influx of jokes and memes about the awkward pairing.
The singer, who wore a custom red and blue Schiaparelli gown with a gold dove brooch, earned rave reviews for her passionate performance of "The Star-Spangled Banner," as well as for her seemingly cool reaction to the now-former vice president. Though it's unclear what, if anything, the singer said to Pence before her performance — though she clearly spoke to Biden, Vice President Kamala Harris, and the Obamas — Gaga has frequently been a vocal critic of Pence and his policies.
"To Mike Pence, who thinks that it's acceptable that his wife works at a school that bans LGBTQ [students], you're wrong. You're the worst representation of what it means to be a Christian," she said during a 2019 concert in Las Vegas. "I am a Christian woman, and what I do know about Christianity is that we bear no prejudice, and everybody is welcome. So you can take all that disgrace, Mr. Pence, and look yourself in the mirror and you'll find it right there."
On Jan. 20, however, Gaga opted to make a statement in a much more subtle way, revealing on Twitter that the "dove of peace" on her dress symbolized her wish that "we all make peace with each other." The singer also acknowledged the magnitude of her performance on social media, where she reflected on the "honor" of being able to perform at Biden's inauguration.
"I will sing during a ceremony, a transition, a moment of change — between POTUS 45 and 46. For me, this has great meaning," Gaga wrote. "My intention is to acknowledge our past, be healing for our present, and passionate for a future where we work together lovingly. I will sing to the hearts of all people who live on this land."
Her inauguration performance also holds special meaning due to Gaga and Biden's longstanding friendship. Biden introduced Gaga's powerful performance of "Til It Happens To You" — which was inspired by her own experiences with sexual assault — at the 2016 Oscars, and she has been a supporter of his "It's on Us" campaign to combat sexual assault and abuse. The following year, they released a joint PSA urging action against sexual assault as part of the campaign, where Biden described Gaga as a "great friend and fierce advocate" and a "voice for people who have been forgotten and people who have been abused."
In addition to endorsing Biden and Harris during the 2020 election, Gaga touched on their friendship while speaking at a rally for the now-president in early November. "Like me, you've experienced the last four years and have all the evidence you need to look at this choice and know in your heart, without any doubt, that Joe Biden is the right choice," she told the crowd, before ending her speech by encouraging people to "vote for Joe. He's a good person."