Twitter Thinks The Marvelous Mrs. Maisel Got Its Series Finale Right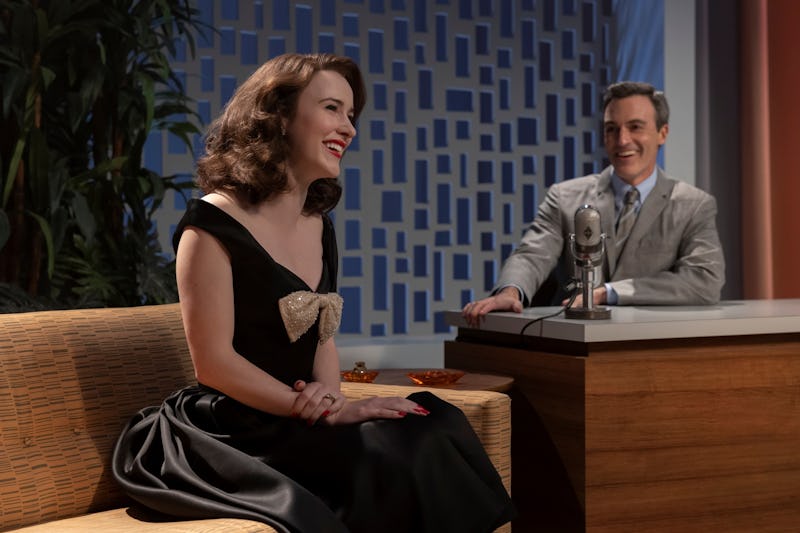 Philippe Antonello/Prime Video
Midge and co. have taken their final bow. The series finale of The Marvelous Mrs. Maisel released on Prime Video on May 26, more than a year after star Rachel Brosnahan promised fans "a hell of a final chapter." Now that the end of Season 5 has officially said "thank you and good night," fans are sharing their thoughts on whether or not the final season lived up to Brosnahan's promise, and the consensus seems to be that the comedy-drama got the ending it deserved.
Over five seasons and 49 episodes, The Marvelous Mrs. Maisel established itself as one of Prime Video's most acclaimed series and a fan favorite. Creator Amy Sherman-Palladino wanted everyone to "[walk] away from this feeling fulfilled and that their characters got what was coming to them," she told The Hollywood Reporter in an interview published on April 25. Although such good intentions don't always pan out, fans on Twitter largely seem to agree that they're satisfied by where the characters ended up.
Countless tweets about the season finale were extremely positive. Multiple viewers highlighted that the last episode moved them to tears, and many went so far as to call it "perfect." Even a fan who "wanted to hate it so much" admitted that they could not, adding, "amy sherman palladino [sic] did it again."
It wasn't just the finale that got rave reviews from fans. Many viewers took the show's end as a chance to let others know just how much they loved it all, from start to finish. Among the praise the series got was that it's "forever a top 3 show" and that it's a "good f*cking series." Taking it further, another fan wrote, in part, "If there is a better series than The Marvelous Mrs Maisel for showcasing a strong, independent and funny woman.......I'm yet to see it!"
There were also viewers who didn't consider Season 5 to be perfect yet still had no complaints about the final episode. Calling the finale "very enjoyable," one fan wrote, "I still say the final season 5 needed some editing/fixes, but I recommend the series highly. The cast was superb - so much talent on this show!" Another called Season 5 "hit-and-miss at first," but found that "all the pieces fit together in the end."
When viewers reached the end, some struggled to cope; several Marvelous Mrs. Maisel tweets were about not being ready to say goodbye. "I hate it! I hate y'all!" one distraught fan tweeted, saying the show deserved to "go ooooon and onnn!"
The show's over, but we'll always have the memories… and re-watches.