Miley Cyrus Loved Everything About H.E.R.'s Acoustic "7 Things" Cover
Book a Backyard Sessions duet ASAP.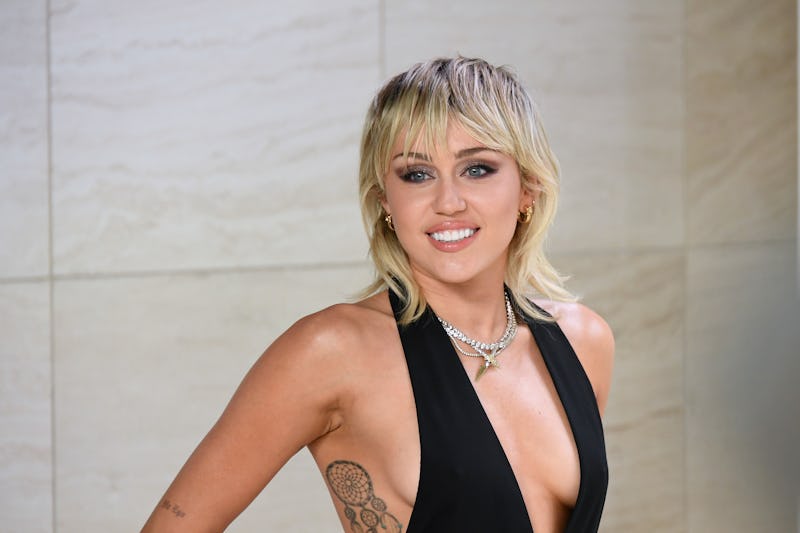 Mike Coppola/FilmMagic/Getty Images
There's nothing to hate about H.E.R.'s acoustic "7 Things" cover — and Miley Cyrus agrees. After the "Damage" singer shared a 39-second clip of her take on the 2008 breakup anthem on Twitter, Cyrus reposted the video, writing, "I LoVe EvErYthInG aBoUt ThIs & YOU!" along with 12 heart emojis. (Cyrus left the same comment on Instagram as well.) She was one of the many people who watched it; as of publication, H.E.R.'s Twitter video had racked up 426,000-plus views, while more than 926,000 users watched the performance on Instagram.
In the original post — which H.E.R. captioned "IYKYK" (an acronym for "if you know, you know") with a tears of joy emoji — the four-time Grammy winner sang the first verse, ending with the opening line of the chorus, which, of course is, "The seven things I hate about you." Although it's unclear if H.E.R. was low-key directing the lyrics toward any ex in particular, Cyrus penned the track with a specific fellow early 2000s Disney star in mind: Nick Jonas.
Despite not outwardly saying "7 Things" is about Jonas, whom Cyrus dated for about two years prior to the song's release, music video director Brett Ratner all but confirmed that was the case in a 2008 MTV News interview. Explaining that Cyrus had told him she co-wrote the track about an ex-boyfriend, Ratner revealed that she wore the young man's "diabetes or medical necklace" in the video. (Jonas, who's now married to Priyanka Chopra, has candidly discussed living with Type 1 diabetes over the years.)
Removing all doubt, Jonas confirmed the necklace was his during a 2018 BBC Radio 1 Breakfast Show interview. "I've heard that rumor, I've never directly heard that from Miley but she does wear a dog tag that I gave her when I was 14," he said of the "7 Things" music video. "I was actually kind of flattered, to be honest, because it's there forever and I know it's about me."
Cyrus wasn't the only one to immortalize their relationship in song, however, as Jonas revealed their relationship helped him start writing love songs. He explained the musician's influence in the Jonas Brothers' 2019 documentary, Chasing Happiness, which premiered more than a decade later. "I started writing about love and I actually knew what it felt like," he said while clips of "Lovebug" recording sessions played. "For the first time, I was asking them the kinds of questions a younger brother can ask their older brothers."
It all seems to be water under the bridge now, as Cyrus tweeted a screenshot of a 2019 DM conversation she'd had with Jonas. After sending him an old photo of herself wearing a Jonas Brothers T-shirt, the "Jealous" singer replied, "Amazing. These throwback shots have been [fire]." After all, had they not broken up, we wouldn't have had "7 Things" to jam out to all these years — or H.E.R.'s cover to bring back those memories.