Miley Cyrus Is Still "Scarred" From The Body Shaming After The 2013 VMAs
The singer referenced the viral memes that mocked her for supposedly looking like a turkey on Instagram.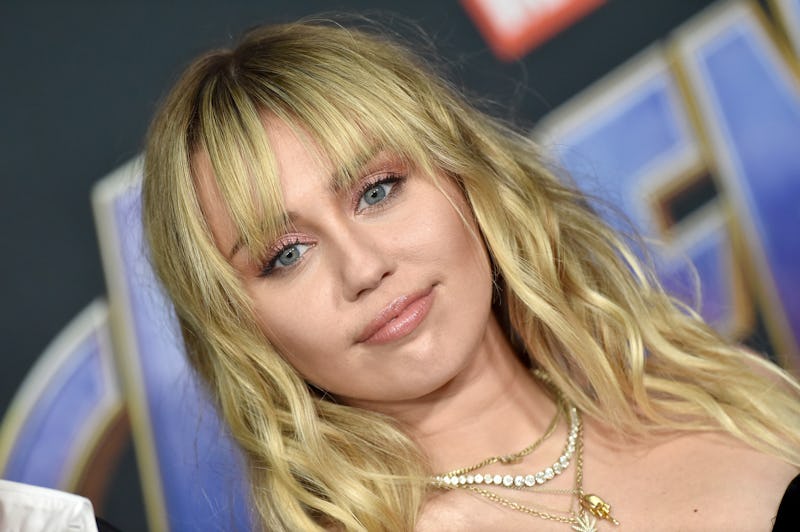 Axelle/Bauer-Griffin/FilmMagic/Getty Images
It's been eight years since Miley Cyrus twerked on stage at the MTV Video Music Awards, and the pop star is still "scarred" from the body shaming. On Saturday, June 5, Cyrus shared a risqué video to her Instagram feed, which was intended to promote her upcoming appearance at Summerfest Music Festival this September. However, the video proved to be more triggering than expected, reminding her of the viral memes from 2013 that mocked her for supposedly looking like a turkey while she danced at the VMAs.
"Made ya look," Cyrus wrote alongside a brief clip of herself wearing a revealing black bodysuit. "Now buy tickets to @summerfest." Shortly after posting the video, the "Prisoner" singer shared another photo in the same outfit to her Instagram stories, this time exposing her bare bum. "Ya'll scarred me w that turkey butt sh*t," she captioned the post. She also included animations of a skeleton eating turkey, a speech bubble that says "gobble gobble," and a chicken shaking its butt.
This was all in reference to Cyrus' highly controversial VMAs performance, which featured her twerking on singer Robin Thicke. At the time, the Hannah Montana actor was in the middle of transitioning from a wholesome Disney Channel star to a confident and unapologetic pop star, something that many people clearly weren't ready for. But what Cyrus couldn't possibly have prepared for were the body-shaming comments she received immediately after the show aired.
In March 2021, Cyrus spoke to Demi Lovato about those hurtful comments comparing her body to a turkey's on an episode of her Instagram Live talk show, Bright Minded: Live With Miley. "I stopped wearing skirts on stage, all this sh*t because after the VMAs and I had on my cute little nude bodysuit, everyone started comparing me to a turkey and putting a turkey on my outfit," Cyrus explained. "I was just so skinny and so pasty and they kept putting me next to this turkey, and I was feeling so bad on myself that I did not wear a bikini for like two years."
Overall, the negative comments about Cyrus' body helped her realize that she wanted to use her platform "for a bigger purpose." But on the flip side of that, the body shamers made her feel like she was lying to the world about who she was. "The worse thing that I would feel like I would be to my fans is lying or a fraud," she told Lovato. "I felt like having this persona of being the most confident girl on the planet was actually kind of fraud because I was so insecure on the inside that in my personal life I wasn't even wearing bathing suits and shorts."
Lovato could relate. In response, they explained that their 2015 single "Confident" was actually written when they weren't feeling confident at all. "My message was that I was so confident, but in reality, I was working out so much and eating such a strict diet that I wasn't confident," the "Dancing With the Devil" singer said. "Now I feel like I'm more confident than I was back then. And I might be heavier than I was, but I'm more confident now. And that's better to me."
If Lovato knew how deep of an impact the body shamers had on Cyrus at the time, they would've been there to help her navigate it. "I'm so sad that you went through that, and I had no idea," they said before giving some inside scoop about the status of their friendship. "I feel like we've gone through times where we're closer and then distant and that's fine, that's what friends do. I just wish I could've been there for you."