Here's Where Monique & Candiace's Friendship Stands After Their RHOP Fight
Both women accused each other of second-degree assault.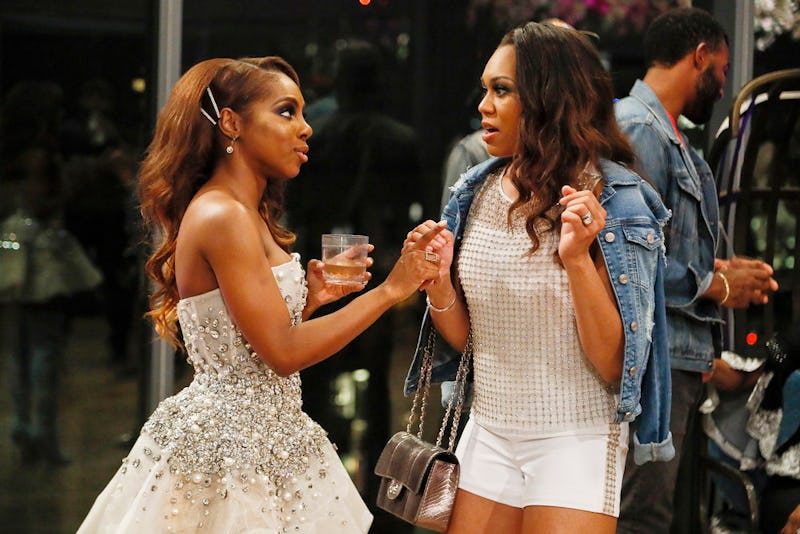 Paul Morigi/Bravo
Almost a year before The Real Housewives of Potomac Season 5 premiered on August 2, Candiace Dillard and Monique Samuels' drama had already made headlines. As fans eventually saw in RHOP, Bravo's cameras were rolling at an October 2019 party when Candiace and Monique were involved in a physical altercation. Monique appeared to repeatedly strike Candiace on the head after the latter asked if she would "drag" her.
After watching the incident play out onscreen, Monique told People she felt "absolutely remorseful" and "completely foolish" for her actions. "Once it became physical, my response was that of defending myself, but also that pounding was for every person that has ever done anything to me," she explained to the magazine, adding she felt she had been "egged on" by her costar. "For that, I just felt like, 'Wow, [Candiace] didn't deserve all of that. I do not excuse my actions. I take full ownership of my part in the altercation."
For her part, Candiace issued a statement to People claiming that any "egging on" during their initial verbal argument was no justification for Monique "physically attacking" her. "After I was grabbed by my hair and yanked down onto a table, anything that I did to defend myself against a grossly emotionally deficient woman is my business and her consequence," she added.
In complaints filed with Maryland's District Court of Montgomery County following the incident, both women accused the other of second-degree assault, as reported by the magazine. In Maryland, assault in the second degree carries a maximum sentence of 10 years in prison and a $2,500 fine. "The physical assault, humiliation, and emotional distress have all been very painful and difficult for Candiace, as it would be for anyone attacked so viciously," Candiace's attorney James L. Walker, Jr. said in a statement at the time. Meanwhile, Monique's attorney A. Scott Bolden told the publication that the claims were "completely one-sided, inaccurate, and unwarranted."
By late December, however, the Montgomery County State's Attorney's Office dismissed the charges against both women. Court documents obtained by People indicated that the decision not to pursue charges was based on footage of the incident provided by Bravo, as well as interviews with Monique, Candiace, and multiple witnesses on the scene.
As viewers saw during RHOP Season 5, the fight's fallout reverberated throughout the entire cast. "We never thought as Black women we would be right here, but we are," Gizelle Bryant, who attempted to break up the altercation, said. Gizelle went on to tell Monique she "by no means" wanted to be near her as filming continued. "We have been able to hold ourselves above the stereotype, and in five minutes, she took it away."
The women, who first became friends when Candiace joined RHOP in 2018, had a rocky Season 4 but appeared to repair their friendship by the time the reunion filmed. Monique told Candiace she looked at her "like a little sister" and wanted to move forward from what she called misunderstandings and lack of communication. "I know, I wish that I would have called you," Candiace replied before the duo shared a tearful embrace.
As for where the women go from here, only time will tell.
This article was originally published on