Fans Have "A Bit Of Hang Time" Before Mythic Quest's Fourth Season
Apple TV+ renewed the workplace comedy for Seasons 3 and 4 in 2021.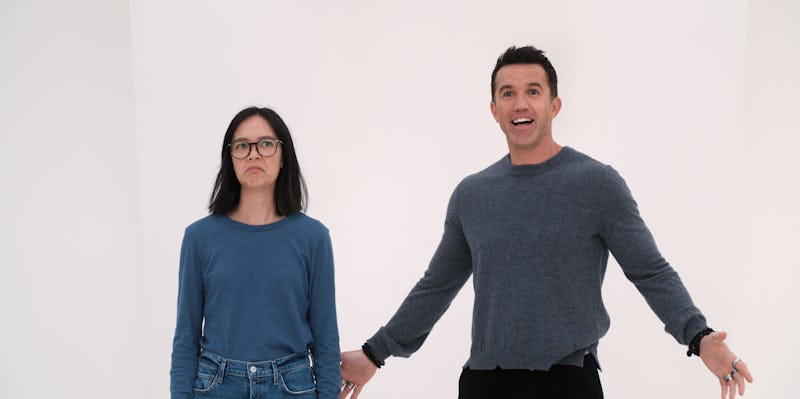 Apple TV+
The Apple TV+ comedy Mythic Quest isn't your typical workplace fare. The series follows the team behind "the biggest multiplayer video game of all time" as they build virtual worlds and heroes, while also fighting plenty offscreen battles. In October 2021, co-creator and star Rob McElhenney announced that Apple TV+ had renewed the comedy for Seasons 3 and 4. In Season 3, whose finale airs Jan. 6, Ian Grimm (McElhenney) and Poppy Li (Charlotte Nicdao) navigate a tenuous partnership at the newly formed GrimPop Studios.
McElhenney made the 2021 announcement in a parody FaceTime call with two guest stars from Season 2, Ted Lasso's Jason Sudeikis and Sir Anthony Hopkins, who scored an Emmy nomination for his role.
Shortly after, Apple TV+ confirmed the news. "Just like critics and audiences all over the world, we fell in love with Rob and his team's sharp writing and full-of-heart, relatable characters that make up the world of Mythic Quest," the streamer's head of programming, Matt Cherniss, said in a statement at the time. "We can't wait for viewers to see what's in store in the upcoming seasons of this brilliant workplace comedy."
Here's everything we know about Mythic Quest Season 4 so far.
The Mythic Quest Season 4 Cast
Apple TV+ has yet to reveal which actors will return for the fourth season. In addition to McElhenney and Nicdao, Season 3 also starred David Hornsby (as David Brittlesbee), Danny Pudi (as Brad Bakshi), Ashly Burch (as Rachel), Imani Hakim (as Dana), Jessie Ennis (as Jo) and Naomi Ekperigin (as Carol). Joe Manganiello, Lindsey Kraft, and Casey Sander guest-starred.
Ahead of Season 3, actor F. Murray Abraham exited his role as C.W. Longbottom, the "crusty and wildly inappropriate head writer of the Mythic Quest." (He recently played the grandfather in The White Lotus Season 2.) "It's a bummer to not have Murray in this season," McElhenney told reporters before the season aired, per Variety. "But we recognize that C.W. is a beloved character and obviously a huge part of the show. So, we made sure that we have a really fitting tribute to him. We definitely address it in a big way."
Now that C.W.'s fate has been revealed, it's unlikely the character will return for Season 4 — not in the flesh, at least.
The Mythic Quest Season 4 Premiere Date
Mythic Quest likely won't return until 2024. Hornsby, who also executive produces the series, told Collider that the team wasn't too focused on Season 4 yet. "It's hard enough to plan 10 episodes," he said in November 2022. "I think we have a few, maybe, tent poles along the way that we have ideas for, but I think with anything, you have to know you might let those go because you'll hopefully find something even more interesting."
Much of the cast and creative team has ties to the FX series It's Always Sunny in Philadelphia, whose 16th season is slated to begin filming in January 2023 ahead of a fall premiere, according to actor Danny DeVito. "We've got Always Sunny to do, and then we'll be back with Season 4," Hornsby told Collider. "So there's a little bit of hang time between seasons."
In the meantime, Apple TV+ announced an eight-episode offshoot series called Mere Mortals, which explores "the lives of employees, players and fans who are impacted by the game" and will be available to stream sometime in 2023.
This post will be updated as more Mythic Quest Season 4 details become available.