Naomi Osaka Was Fined $15,000 For Boycotting The Media
The tennis star was trying to protect her mental health.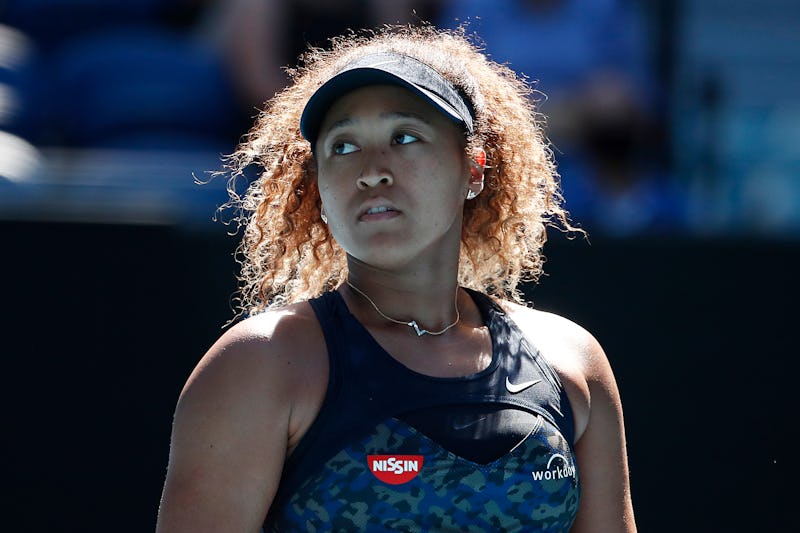 Daniel Pockett/Getty Images Sport/Getty Images
As expected, Naomi Osaka has been fined a hefty $15,000 for refusing to speak to the press at this year's French Open. In a statement issued on Sunday, May 30, the Grand Slam tournaments announced their decision to fine the 23-year-old tennis star for failing to attend a mandatory press conference after the first day of the annual event. Shortly after the announcement, Osaka — who explained last week on social media that post-match interviews are bad for her mental health — clapped back at the tournament's decision.
"Naomi Osaka today chose not to honour her contractual media obligations," the joint statement from Australian Open, Roland-Garros, Wimbledon, and the US Open read. "The Roland-Garros referee has therefore issued her a $15,000 fine, in keeping with article III H. of the Code of Conduct." The decision came after Osaka, who's currently the No. 2 tennis player in the world, defeated Patricia Maria Tig in a match earlier that day. "Anger is a lack of understanding," Osaka wrote on Twitter in response to the announcement. "Change makes people uncomfortable."
On Wednesday, May 26, Osaka decided that a fine is a small price to pay compared to her mental health. "I'm writing this to say I'm not going to do any press during Roland Garros," she wrote on Instagram. "I've often felt that people have no regard for athletes mental health and this rings very true whenever I see a press conference or partake in one." To prove her point, she attached two video clips. In one, a journalist tried to sow seeds of doubt into Venus Williams' mind when she was 14 years old. In another, NFL star Marshawn Lynch said very clearly that he only showed up to his press conference to avoid being fined.
The tournament's press release seemingly shot down Osaka's allegations that they do not prioritize athletes' mental and emotional well-being. "The mental health of players competing in our tournaments and on the Tours is of the utmost importance to the Grand Slams," the statement continued. "We individually and collectively have significant resources dedicated to player well-being." The press release also claimed that the French Open staff "tried unsuccessfully to speak with [Osaka] to check on her well-being, understand the specifics of her issue and what might be done to address it on site."
Despite their alleged efforts, the tournament maintained that the rules must equally apply to all players, including Osaka. "Rules are in place to ensure all players are treated exactly the same, no matter their stature, beliefs or achievement," the press release read. "As a sport there is nothing more important than ensuring no player has an unfair advantage over another, which unfortunately is the case in this situation if one player refuses to dedicate time to participate in media commitments while the others all honour their commitments."
The press release also stated that Osaka would face further penalties if she "continues to ignore her media obligations." This, of course, puts the athlete in a very tough spot considering the mental and emotional burden that comes with doing these interviews. "We're often sat there and asked questions that we've been asked multiple times before or asked questions that bring doubt into our minds and I'm just not going to subject myself to people that doubt me," she wrote in her open letter on Instagram. She also said that these press conferences feel a lot like "kicking a person while they're down."
Osaka isn't the only athlete who feels this way. Three months ago, Serena Williams left a news conference in tears after losing to Osaka in the semifinals at the Australian Open. "I don't know. I'm done," the tennis star said before suddenly exiting the press room. And while it doesn't seem like Osaka's refusal to speak to press will elicit any real change within the organization, it's worth noting that as the highest paid woman in sport (she earned an estimated $55 million in the last year, per Sportico), she can afford the $15,000 fine. Still, Osaka is hoping that the money will go where it's needed. "I hope the considerable amount that I get fined for this will go towards a mental health charity," she wrote.