Nasty Cherry Is Destined For The Big Screen
The band rose to prominence with the help of Netflix's docuseries I'm With The Band — but now they're charting a future all their own.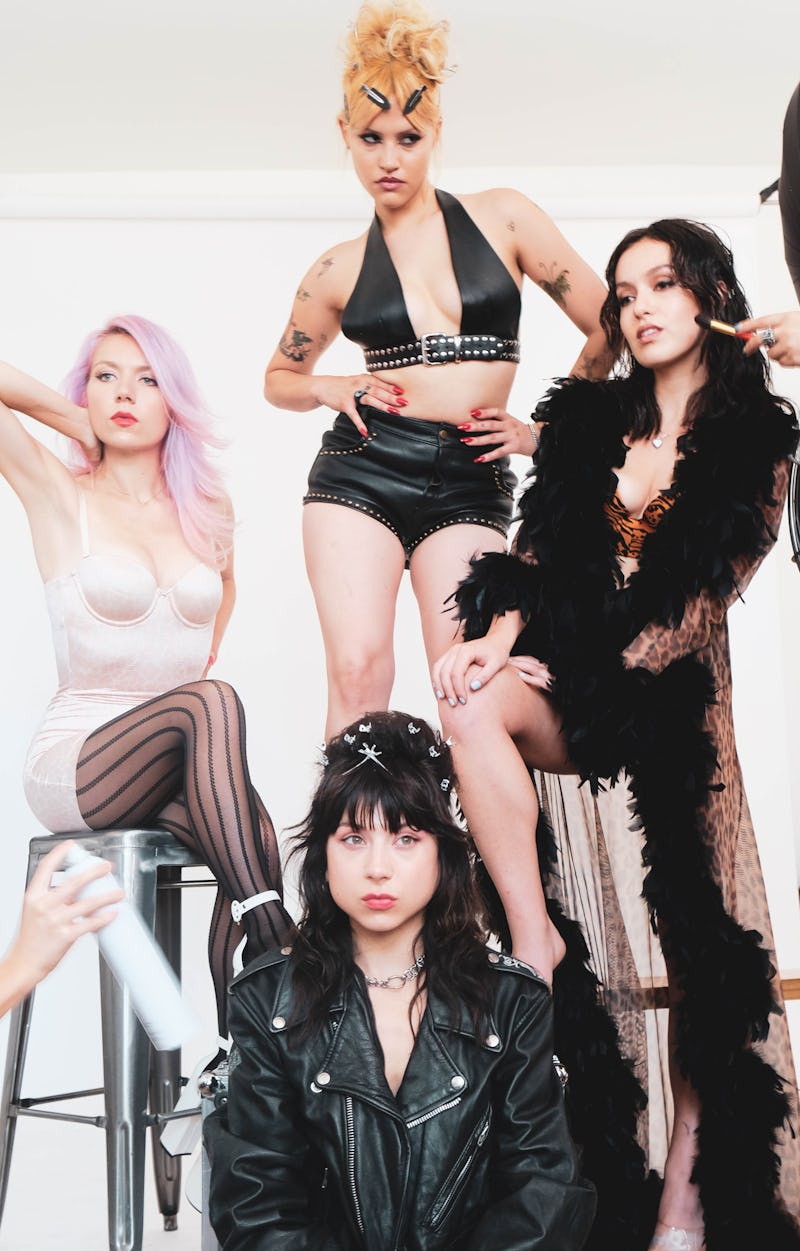 Georgia Mitropoulous
"Like a 10% on Rotten Tomatoes, but you love it": that's how the members of alt-pop band Nasty Cherry describe the film they'd produce and star in. Think action-packed, cult-classic B movies, like the Sylvester Stallone-led Cobra or the Delinquent Girl Boss series, says bassist Georgia Somary. "It would be crazy, but then with musical interludes. Very low-budget, but high-budget — if you can imagine," she explains. Lead vocalist Gabbriette Bechtel pictures it styled like Jawbreaker, with many "little mini skirts," and both members agree that Quentin Tarantino would be the best fit to direct it. "If he was available," says Somary. "He will be available!" Bechtel retorts.
Nasty Cherry's Somary, Bechtel, drummer Debbie Knox-Hewson, and guitarist Chloe Chaidez aren't making a movie, (though they'd really, really like to, "if you know anyone who would like to give us some money," notes Bechtel), but they did seriously consider the idea while creating their latest EP, aptly titled Nasty Cherry: The Movie. "We're a band that should always be on a big screen," Somary says with a smirk. "It's just us trolling, but there was a vision."
The big screen would be a natural next step, considering they've already conquered the small screen. Two years ago, Nasty Cherry introduced fans to their sassy, bombastic, guitar-led sound with debut EP Season 1, released alongside Netflix's I'm With The Band: Nasty Cherry, a docuseries that chronicled the band's unconventional formation. A mix of established and amateur musicians, each member was hand-picked to join the group by singer, songwriter, and hyperpop auteur Charli XCX, who knew them all from previous creative collaborations: Somary and Bechtel had appeared in some of her music videos (including "Take My Hand" and "After the Afterparty," respectively), Knox-Hewson had toured as her drummer, and Chaidez's other band Kitten once served as her opening act. Thinking they'd make a great band, XCX introduced them and subsequently signed their new group to her label, Vroom Vroom Recordings.
On I'm With The Band, the quartet's inaugural studio sessions, live rehearsals, business meetings, and life together in an LA home were all documented in HD for the world to see — as were their disagreements, mistakes, and vulnerable moments. According to Knox-Hewson, "It was like an X Factor audition all the time." Bechtel muses, "I still look back, and I actually can't believe all of us did that, going into a house where we knew nobody."
Thanks to the series and XCX's co-sign, Nasty Cherry amassed a sizable fanbase and embarked on a club tour that spanned North America and Europe, which allowed the band to meet their listeners face-to-face for the first time. But after the onset of the COVID-19 pandemic, the tour was cut short, and the bandmates returned to their respective homes — Knox-Hewson to the UK and Bechtel and Chaidez to LA — except for Somary, who hails from Britain but opted to settle in LA. ("I just broke up with someone who was living with me in London, so I couldn't go back.") Luckily, the group had already shot the artwork for their second EP, which they decided to call Season 2 — despite the fact that I'm With The Band is yet to be renewed by Netflix. "It just felt natural," Somary quips.
Released in July 2020, Season 2 helped Nasty Cherry keep its momentum going. But with the band members living in different locations, their plans for the rest of the year foiled by quarantine, and no follow-up to the docuseries in sight, they found themselves unsure of exactly how to proceed. "It felt like a loss," recalls Somary. "We were back to being behind a screen, like how we started." After attending their first-ever band meeting held over Zoom, Bechtel broke down in tears. "Over the last three years, my whole world has revolved around this band," she says. "I never thought about something crazy like this happening. It was really scary."
To record a third EP, the band members had to get creative. Determined to join her three bandmates in LA and unable to travel directly to the states, Debbie planned a stopover in Bermuda to meet quarantine guidelines. But after her connecting flight was cancelled, her two-week quarantine soon turned into three. "I remember texting the girls pictures of fish. I was [thinking about getting] into scuba diving, and I think I bought a map," Knox-Hewson says of her time on the island. "I was basically so bored, in paradise, on my own." She finally arrived in the United States in August, and — after another isolation period — was able to join the rest of the band and start working on Nasty Cherry: The Movie.
With only a month before Knox-Hewson had to return to the UK, the band hunkered down with producer Yves Rothman (Aly & AJ, Yves Tumor) and began crafting new songs. "Weirdly, this EP was probably the least crazy or chaotic to write," says Somary, noting that restrictions and time limits led the band to hone in on its sound — dark, rock-laced pop reminiscent of acts like Sky Ferreira, MUNA, and Hole. Knox-Hewson agrees: "We hadn't ever sat down and written a cohesive [project before]. We've always chosen songs that we've written all over the place." The members were also strongly encouraged to streamline their creative process by none other than XCX, who joined them to co-write the EP's devilish opening track "Six Six Six" and fiery lead single "Her Body."
"I don't think she had sat with us in a studio like that for a while, and she freaked out," Bechtel says of XCX, who previously collaborated with the band on Season 1. "We're all yelling over each other and recording three things at once… She was like, 'We have to bring some order when I'm here and write a certain way.' So I'm still trying to work on that."
But the members gladly take any and all pointers from the "Unlock It" singer in stride — after all, they're grateful to have her as a mentor. "I think about her every single day," says Chaidez. "When I'm making decisions I'll be like, 'Hmm, I wonder if Charli would do this.' She's like a silent advisor in my mind."
With The Movie out in the world, Bechtel says Nasty Cherry is "inching closer" to creating its first full-length album — and despite the complications the band endured in 2020, Chaidez says she still feels accomplished. "I still get messages daily about how the band inspires young girls to start playing instruments, and to me, that's successful," she says. Considering how much of a wild ride the last year has been for the quartet, would they even be interested in documenting their lives again for another season of I'm With The Band? "It's been long enough. I would do it now," says Somary. As for Netflix, however, "They're not answering our calls. We broke them."