Watch The Trailer For Netflix's Steamy New Series Sex/Life
The show premieres June 25.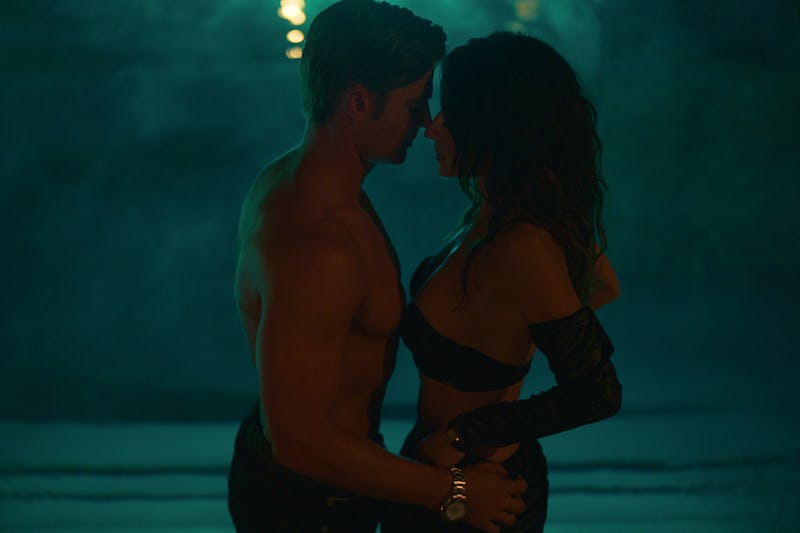 Netflix
Netflix's steamy new series Sex/Life is giving 50 Shades of Grey a run for its money. Inspired by BB Easton's 2016 memoir, 44 Chapters About 4 Men, the show centers around a love triangle between Connecticut housewife Billie Connelly (Sarah Shahi), her husband Cooper (Mike Vogel), and Brad (Adam Demos), the sexy ex-boyfriend she never quite got over. Bored with life as a suburban mom and yearning for her free-wheeling, sex-filled youth in New York City, Billie begins journaling about her passionate exploits with Brad. When Cooper finds her writing, will it ignite a sexual revolution in her marriage or push her back to her old flame?
Series creator Stacy Rukeyser tells Bustle that fans will be rooting for both options, and may change their minds more than once as the show progresses. But ultimately, she hopes that viewers are "first and always Team Billie." The character is what drew Rukeyser to the story in the first place: she says she "connected very personally with the idea of a wife and mom who misses her wild child single days." Still, she made several changes to Easton's best-selling book. "The setting and most of the players are new, as is the drama that ensues after her husband reads her journal," Rukeyser explains of the series, which is set in the Connecticut suburb where she grew up. "It's an empowered, nostalgia-fueled look back at the best sex you ever had and the impossibly sexy men you had it with."
Likening the show to the 2002 erotic thriller Unfaithful, Rukeyser says Sex/Life will appeal to anyone who's "tired of watching stories about female sexuality framed by the kind of sex the man likes." Instead, the series focuses on the female experience, desires, and fantasies "with a healthy dose of objectifying and fetishizing the male form." In order to execute this vision, Rukeyser worked with a directing team comprised of only women, noting that she and the writers were "honest about the kind of sex we've had, the kind of sex we dream of having" and that they "put it out there in very specific and emotional terms."
Rukeyser hopes this will empower the women watching to do the same. "Women, particularly wives and mothers, are not supposed to also be ravenous sex goddesses. That's the self we're supposed to enjoy while we're young and then leave behind to become a responsible grown-up," she says. "But the truth is, it's OK to want both, to enjoy and express all sides of ourselves. I hope viewers feel seen and use this series to celebrate their own desire to not only have it all, but be it all, too."
Sex/Life, which also stars Margaret Odette as Billie's best friend Sasha, premieres on June 25. The Season 1 trailer is streaming exclusively below.