Twitter Is Outraged By Nicki Minaj's Tweets About The COVID-19 Vaccine
One person said her tweets are "infuriating" because she has "access to top doctors & experts at her disposal."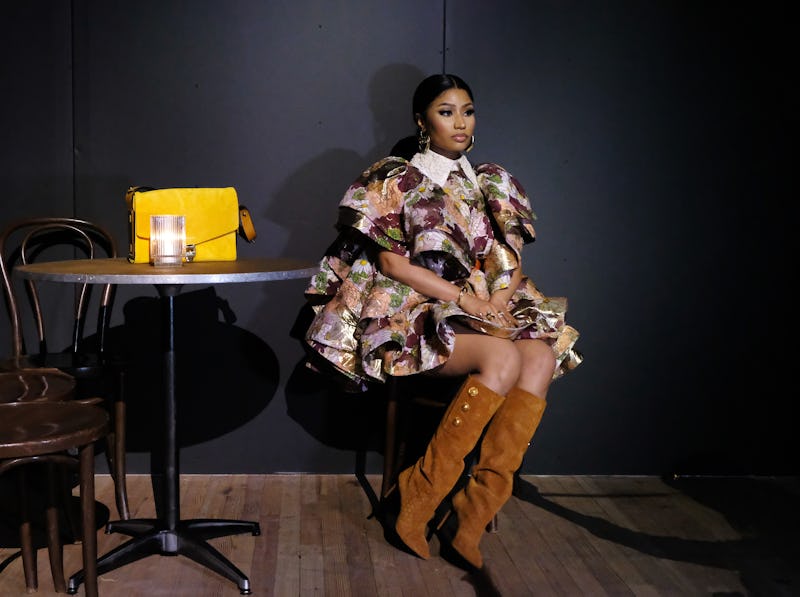 Dimitrios Kambouris/Getty Images Entertainment/Getty Images
Nicki Minaj set the internet ablaze on Sept. 13 when she tweeted about not attending the Met Gala due in part to the event's vaccination requirement. "They want you to get vaccinated for the Met," she wrote. "If I get vaccinated it won't be for the Met. It'll be once I feel I've done enough research." The 38-year-old rapper encouraged her fans to properly mask up in the same tweet. In another tweet, she recommended that people who need to work to feed their families to get the vaccine and concluded it with, "I'm sure I'll b vaccinated as well cuz I have to go on tour."
In her Twitter spree, Minaj also asked her fans which vaccine she should get before following that up with a poll with vaccine choices that has attracted more than 300,000 votes. In one of the most controversial tweets, she explained why a certain relative wouldn't get the vaccine: "My cousin in Trinidad won't get the vaccine cuz his friend got it & became impotent," she wrote. "His testicles became swollen. His friend was weeks away from getting married, now the girl called off the wedding. So just pray on it & make sure you're comfortable with ur decision, not bullied."
COVID-19 vaccines have gone through extensive scientific research, with the U.S. Food and Drug Administration approving several vaccines for public use because data show the shots are "safe and effective," including ones from Pfizer, Moderna, and Johnson & Johnson. The Centers for Disease Control and Prevention, which is the United States' national public health agency recommending people get vaccinated against COVID-19, has routinely reiterated that "serious side effects that could cause a long-term health problem are extremely unlikely." The CDC also has noted that some side effects — such as pain, redness, and swelling (all on the arm that was injected) as well as tiredness, muscle pain, headache, chills, fever, and nausea — "are normal signs that your body is building protection," but they subside within a few days. Swollen testicles is nowhere to be found on the CDC's list of potential side effects.
Some fans came to Minaj's defense, insisting that she's not anti-vax and that she's doing her due diligence. Others were outraged and accused her of spreading misinformation.
Reactions To Minaj Doing "Research"
Reactions To Her Cousin's Friend
"I AM A BOARD-CERTIFIED UROLOGIST," Twitter user @AshleyGWinter replied. "The vaccine does not cause orchitis (ie swollen balls). Something else caused that." Other Twitter users suspected that the cousin's friend got a sexually transmitted disease from someone other than his fiancée and was trying to use the vaccine as a cover.
"Chlamydia is a more likely explanation — and may also explain why the relationship ended," Twitter user @florian_krammer responded. "While there is unfortunately no licensed vaccine against Chlamydia yet, there are vaccines against other STDs, like HBV and HPV. Maybe spread that information instead of misinformation." Several other people echoed that sentiment, and while some reported Minaj's tweet for false information, others cracked jokes about what else they can blame on the COVID-19 vaccine.
Minaj's Reactions To Media Coverage
While Minaj didn't address the tweets suggesting that her cousin's friend was dealing with some unrelated medical issues, she did return to the social media platform to call out the media for portraying her as anti-vax. Upon seeing a Daily Beast headline that said she was "worried about swollen testicles," she set the record straight. "Pls show me where I said I'm 'worried about' anything," she tweeted. "Yes. I'm glad you guys get to see how the media REALLY works. I'll have them contacted along with others."
Elsewhere, Minaj called out MSNBC correspondent Joy Ann Reid for claiming that she encouraged her fan base not to get vaccinated on live television. "This is what happens when you're so thirsty to down another black woman (by the request of the white man), that you didn't bother to read all my tweets," Minaj wrote. "'My God SISTER do better' imagine getting ur dumb a** on tv a min after a tweet to spread a false narrative about a black woman."
While it remains unclear whether or not Minaj will get vaccinated, she wrote that like so many of her fans, she may have to get jabbed for work. "A lot of countries won't let ppl work w/o the vaccine," she tweeted. "I'd def recommend they get the vaccine. They have to feed their families. I'm sure I'll b vaccinated as well cuz I have to go on tour."