Nnedi Okorafor's 'Noor' Promises Cyborgs, Africanfuturism, And Plenty Of Adventure
Ahead of the novel's November debut, get an exclusive sneak peek at the cover.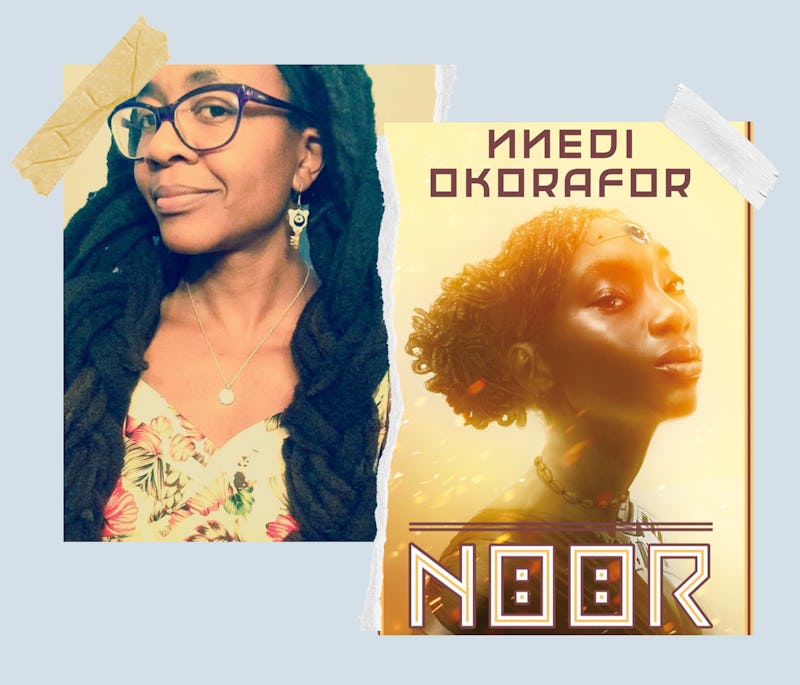 Anyaugo Okorafor/Courtesy
Nnedi Okorafor is a giant in her field. If you're a science fiction fan, you know exactly who the Africanfuturist author is: her 2015 novella, Binti, took home both a Hugo and a Nebula Award; she won another Hugo Award in 2020 for her graphic novel, LaGuardia; her 2010 novel, Who Fears Death, won the World Fantasy Award and is currently in development as an HBO original series, with George R.R. Martin and Tessa Thompson set to produce. And if you're in the know, you're also likely counting the days until Noor, her first novel for adults in six years, hits bookshelves on Nov. 9. Luckily, the book is available for pre-order now — and Bustle could not be happier to reveal its spellbinding cover, below.
Much of Okorafor's work is inspired by her Igbo heritage, and Noor is no different. The Nigeria-set novel centers on Anwuli Okwudili (aka AO), a cybernetically enhanced woman. While she was in the womb, AO's parents decided she was "wrong" and prayed for her passing, but she survived regardless; years later, a car accident further crippled her body. But rather than see herself as others do — as "wrong," as artificial, as uncanny — AO learns to embrace her identity as an augmented woman with disabilities.
When the public's distrust turns violent, AO goes on the lam, teaming up with a herdsman named DNA. But even as renegades racing across the Nigerian desert, AO and DNA are not alone: the world follows them over livestreams, debating the movements of the "wicked woman and mad man" in real time.
Nnedi Okorafor's Noor is out on Nov. 9 from DAW Books and is available for pre-order today.