Olivia Rodrigo's New Song "Deja Vu" Isn't About Joshua Bassett — But Fans Think Otherwise
"Another actress, I hate to think that I was just your type."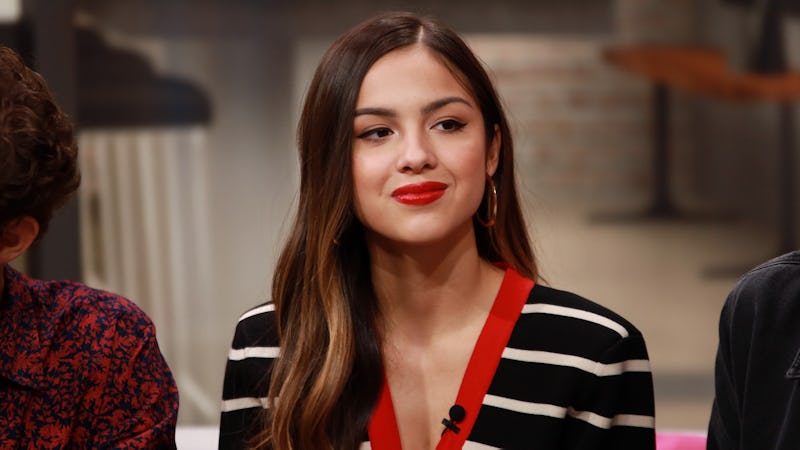 Jason Mendez/Getty Images Entertainment/Getty Images
Olivia Rodrigo is going full speed ahead with new music — thanks to her newly minted drivers license, of course. Rodrigo has unveiled her new single "Deja Vu," the follow-up to her smash debut single "Drivers License" and the latest track from her newly announced debut album. And no, it's not about her High School Musical: The Musical: The Series co-star Joshua Bassett, she says, but that's not stopping fans from thinking otherwise.
In an interview with Apple Music's Zane Lowe, Rodrigo said "Deja Vu" was about people's common experiences with the odd phenomenon, explaining that she's "sort of obsessed" with the concept. "I get déjà vu all the time," she said. "So I thought it would be a cool play on words to use déjà vu as a metaphor for this very universal thing that happens when you break up with someone and they get with somebody else, and [you] see them living the life that you lived. It's just a super universal thing that I think happens to everyone that we just don't really talk about a ton."
While she did write the song immediately after crafting "Drivers License," Rodrigo said there was no specific inspiration. Rather, she had the line "When she's with you, do you get déjà vu?" written on her phone for months, which she expanded into a full song with her collaborator Dan Nigro. "I just have song lyrics written on my notes app for days," she explained. "I was like, 'Oh, I have this line written,' and he really liked it. We kind of wrote it together and kind of created this whole world. And I really love painting pictures with songs."
The song does just that, as Rodrigo waxes poetic, over fuzzy indie-pop synths, about how her former lover eats strawberry ice cream in Malibu and watches reruns of Glee (Brittana forever!) with his new girlfriend. "So when you gonna tell her that we did that too?" she wonders on the chorus. "She thinks it's special, but it's so re-used." Much like "Drivers License," most fans are getting in their feelings, praising Rodrigo's penmanship and the song's cathartic bridge.
However, some listeners are still linking some lyrics back to Bassett and his rumored GF, former Disney Channel actor Sabrina Carpenter, specifically when Rodrigo sings about his new girl being "another actress" like herself. "Let's be honest, we kind of do sound the same," she sings. "Another actress, I hate to think that I was just your type."
Of course, Rodrigo isn't letting the gossip affect her, and is only looking forward. Along with "Deja Vu," the singer announced that her debut album will be released on May 21. "Alsoooooo I f*cked around and made an album," she wrote. "I'm so proud of it." The album is currently labeled *O*R on streaming services, but she promised to unveil its actual title, artwork, and track listing in the coming weeks. Needless to say, buy tissues in advance.