Everything To Know About Outer Banks Season 4
The Pogues' new adventure has just begun.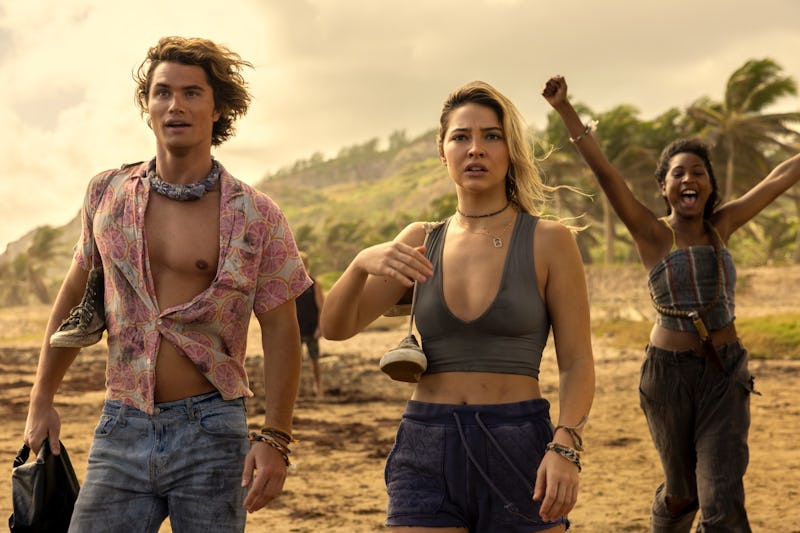 When Outer Banks premiered in April 2020, the creators envisioned a "four-season, maybe five-season show." Now that Netflix has already renewed Outer Banks for Season 4, it appears the adventure is only beginning. In fact, co-showrunner Josh Pate joked that he wants Outer Banks to run for 17 seasons, before getting a bit more practical. "I don't know if I could put a real number on it right now — how long it takes to get to that ending might expand, but we now know the shape of the end of the story," he recently told Entertainment Weekly. "We're going to take it as long as we can, for sure." As fellow co-creator Jonas Pate cracked, "In Season 17, we'll be on Mars."
In the meantime, the Pogues have more earthly treasures to discover. Season 3 opened with the friends washing ashore on a seemingly idyllic desert island that they dubbed "Poguelandia." Of course, the normalcy didn't last for long when a new treasure race had them running for their lives and not knowing who they could trust. But nothing could stand in the way of their hunt for the legendary city of gold, El Dorado.
The Season 3 finale cliffhanger gave fans plenty to ponder as they await a new chapter though. Here's everything to know about the forthcoming Outer Banks Season 4.
The Outer Banks Season 4 Cast
The central Season 3 cast included: Chase Stokes (John B.), Madelyn Cline (Sarah Cameron), Madison Bailey (Kiara), Jonathan Daviss (Pope), Rudy Pankow (JJ), Austin North (Topper), Drew Starkey (Rafe), Carlacia Grant (Cleo), and Charles Esten (Ward Cameron). Also joining them were: Cullen Moss (Shoupe), Julia Antonelli (Wheezie Cameron), Caroline Arapoglou (Rose Cameron), E. Roger Mitchell (Heyward), Charles Halford (Big John), Elizabeth Mitchell (Limbrey), Andy McQueen (Carlos Singh), and Lou Ferrigno Jr. (Ryan).
Though it's currently unclear which cast members are returning, the events of the Season 3 finale suggested that Esten, Halford, McQueen, and Ferrigno are among the actors least likely to be back in the fourth season.
After a February 18 "Poguelandia" fan event in Huntington Beach, California, Cline and Bailey were among the stars to celebrate the Season 4 renewal announcement on Instagram. "Annnd did ya hear? We're renewed! SEASON 4 IS HAPPENING," Bailey wrote, adding, "We did it, Joe," in a hashtag.
The Outer Banks Season 4 Plot
Spoilers ahead! Season 3 ended with a time jump to 18 months after John B and Sarah found El Dorado — but also lost their fathers, Big John and Ward. While the Pogues were being honored for solving the 500-year-old mystery, a stranger approached them with a manuscript from the 1700s and asked if they would help him investigate since he was "too long in the tooth" to do it himself. Who did the captain's log belong to? Edward Teach, aka Blackbeard, a real-life pirate who lived in North Carolina where he and his crew ransacked and pillaged unsuspecting ships off the banks. Fans can likely expect a quest for Blackbeard's treasure to be Season 4's central storyline.
The Outer Banks Season 4 Potential Premiere Date
The Outer Banks release schedule hasn't quite followed a pattern. However, there's generally been about a year to a year and half between seasons, so fans can likely expect a fourth season in 2024. Season 3 began filming in February 2022, ahead of a February 2023 release date, so once production officially gets underway, plan on the episodes dropping about a year later.
This post will be updated as more Outer Banks Season 4 details become available.