There Could Be A Wait For The Second Half Of Outlander Season 7
Starz has offered only a vague Part 2 return date.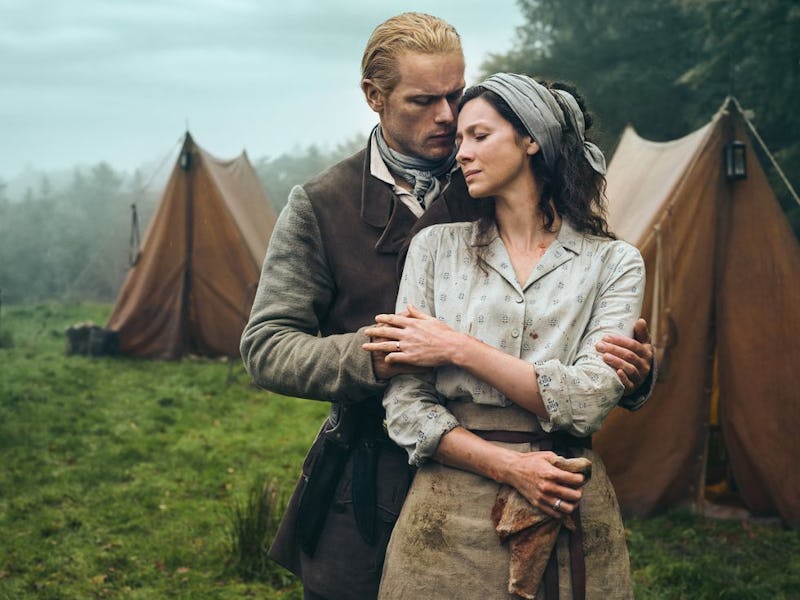 James Minchin/Starz
After surviving the American Revolution, Claire (Caitriona Balfe) and Jamie (Sam Heughan) finally arrived back in Scotland in Outlander Season 7's mid-season finale on Aug. 11. As for how things will go for the time-traveling couple in the homeland they left behind all the way back in Season 3, fans will have a bit of a wait to find out. As of publication, a Starz rep would only confirm that the second half of Outlander Season 7 will air sometime in 2024, but a specific premiere date has yet to be revealed.
The network previously revealed that the drama's seventh season would be split into two parts, each consisting of eight episodes. After all, the team had plenty of author Diana Gabaldon's source material to pack in when COVID shutdowns cut the sixth season short by several episodes. "Season 7 is actually a melding of Books 6, 7, and 8," executive producer Maril Davis explained to TV Guide, referencing A Breath of Snow and Ashes, An Echo in the Bone, and Written in My Own Heart's Blood, respectively. "It is unbelievably supersized, and we did have to change some stuff. We had these four episodes that really close out last season and Book 6. But when you are opening a new season, the energy is different and our trajectory is different. So we kind of had to alter them. Then we worked our way into the next two books."
Starz renewed Outlander for a 10-episode eighth and final season in January, but Davis didn't find out the news until about halfway through Season 7. "So we had already figured out what the story would be and we put everything we had into this one season," she added. "To find out we would get another season was pretty exciting, but these new episodes are still jam packed." She further revealed that Outlander Season 8 will mostly cover the ninth book in Gabaldon's series, Go Tell the Bees That I Am Gone.
Though the flagship series is coming to an end, Starz already ordered a prequel spin-off, Outlander: Blood of My Blood, centered on the love story of Jamie's parents, Ellen MacKenzie and Brian Fraser. "It will explore what lengths a person will go to find love in a time when love is considered a luxury, and when marriages are made strategically, often for political or financial gain," showrunner Matthew B. Roberts teased in a statement. "The title is a nod to Jamie Fraser's marriage vow to Claire and there will be several names and faces that Outlander fans will know and recognize. Jamie and Claire's TV story may be coming to an end with Season 8, but Diana is continuing on with their literary journey in her wonderful book series and is working diligently on Book 10."
However, Outlander Season 8 has been delayed due to the ongoing WGA and SAG-AFTRA strikes, and, though unconfirmed, that could put Part 2 premiere of Season 7 on hold, too.
This post will be updated when Starz announces an Outlander Season 7 return date.