Peaky Blinders Won't Return For Season 7 — But A Movie Is In The Works
There might even be some spin-off series in the future.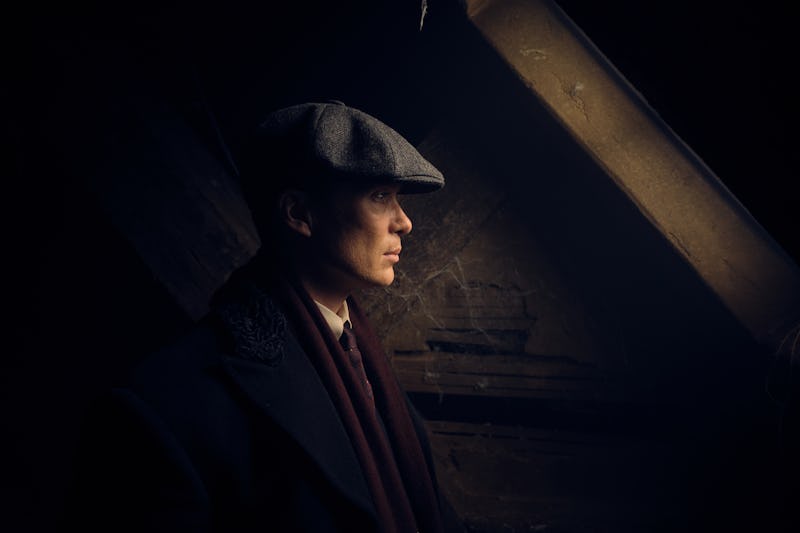 Matt Squire/Netflix
Though BBC One already aired Peaky Blinders Season 6 in the United Kingdom earlier this year, crime boss Tommy Shelby's final TV chapter finally arrived stateside via Netflix on June 10. Though the period crime drama won't return for Season 7, series creator Steven Knight confirmed to Variety that a Peaky Blinders film, which will be set in and filmed in Birmingham, England, is slated to begin production in 2023. "And that will probably be the sort of the end of the road for Peaky Blinders as we know it," he revealed in October 2021, also teasing the possibility of more "shows related" to the original, though he preferred not to use the term spin-off.
Speaking to Digital Spy in February, Knight also revealed more Peaky Blinders movie details, including that Cillian Murphy's Tommy and brother Arthur (Paul Anderson) would be part of it. (It's "impossible to say yet," however, if the characters will live on past the film, he added.) "There are so many people, so many great actors, that we are already, sort of, in conversation with for the film, and for whatever follows," he told the outlet of the project, which is reportedly centered on World War II. "But I think what we want to do is keep surprising people, and keep breaking new talent. Because it's all out there, and there is a sort of consistency — what we're doing is finding really good actors from a working-class sort of background, and telling that story."
In a separate Variety interview in February, Murphy previewed the final season of the show, which premiered in 2013. "I think this is the culmination of the series that hopefully improves upon the last season and makes the most recent one the richest and deepest one that we possibly can," said the Irish actor, who also took on a producer role for Seasons 5 and 6. Following the "really sad" April 2021 death of Helen McCrory, who played his character's Aunt Polly on the show, the cast and crew were "extra committed" to making the final outing special.
"I think the whole series is really in tribute to her and to honor her," Murphy shared. "Her presence and her character's presence are very much still felt in the series, and it is very much part of Tommy's journey in the season."
The Peaky Blinders series finale certainly left the door open for his character to return in the flesh, despite fan speculation that Tommy would die in the end. Either way, Murphy fans will still have plenty of opportunities to see the actor in other projects. Among them is a reunion with The Dark Knight director Christopher Nolan for a starring role in 2023's Oppenheimer, a biopic about Robert Oppenheimer, father of the atomic bomb.
"Every time Chris has called me over the years, I always say yes, no matter what size the font my role is on the poster because I'm such a fan of his work and I love his movies so much," Murphy said. "I can't wait to get back into it and I think it'll be quite special."