Harry Potter Stars & Fans Raise Their Wands For Helen McCrory Following Her Death
"Thank you for lighting the way forward & holding my hand when I needed it."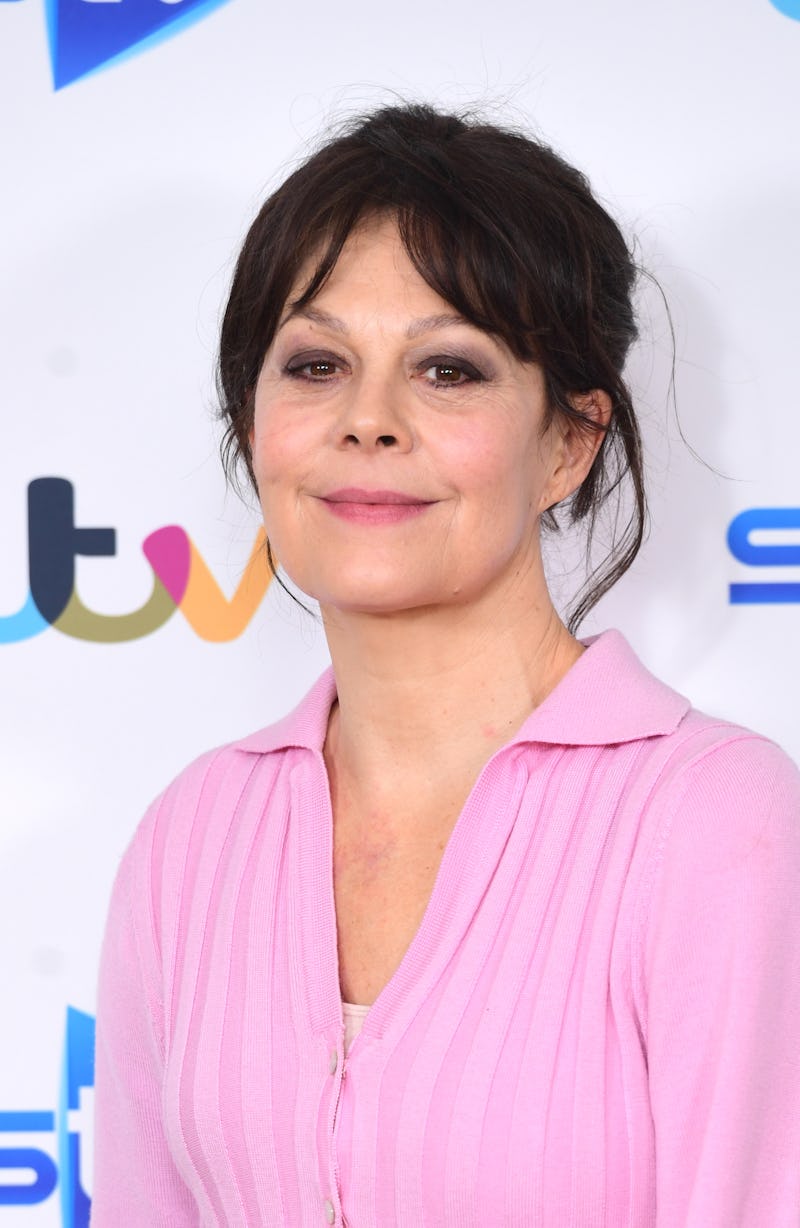 Ian West - PA Images/PA Images/Getty Images
Known for her roles in the Harry Potter franchise, Peaky Blinders, and Skyfall, English actor Helen McCrory has died of cancer at age 52, as confirmed by her husband, actor Damian Lewis, on April 16. "I'm heartbroken to announce that after an heroic battle with cancer, the beautiful and mighty woman that is Helen McCrory has died peacefully at home, surrounded by a wave of love from friends and family," Lewis wrote in a statement posted to his Twitter page. "She died as she lived. Fearlessly. God we love her and know how lucky we are to have had her in our lives. She blazed so brightly. Go now, Little One, into the air, and thank you."
Lewis and McCrory married on July 4, 2007, and together they have two children, a daughter named Manon and a son called Gulliver. McCrory appeared in dozens of films and television series over her three decades of acting, with her most recent projects including British drama series Quiz and Roadkill. Upon the news of her passing, several of McCrory's past colleagues posted memories of her.
Actor Jason Issacs, who played Lucius Malfoy, the husband to McCrory's character Narcissa Malfoy, in the Harry Potter series, posted a tribute to the actress on Instagram. "As continually starstruck as I was on the Harry Potter films, being screen-married to and giggle with the great Helen McCrory will always be a highlight," he wrote. "Her proudest achievement, though, was building and loving the family that was her bedrock. They've lost so much and I send all my love to Damian and the kids."
Tom Felton, the actor who played Draco Malfoy in the Harry Potter franchise, also took to Instagram to remember his co-star. "So sad to say farewell so suddenly. I never took the chance to tell her, but she helped shape me as a person so much," wrote the actor. "She suffered no fools yet had time for everyone. Thank you for lighting the way forward & holding my hand when I needed it."
Evanna Lynch, the actress behind Harry Potter character Luna Lovegood, posted a lengthy, heartfelt message in remembrance of McCrory to her Instagram page. "Can't get my head around this, I'm thinking of Helen McCrory's family and sending them love. Such a beautiful, regal woman," wrote Lynch, noting that the two only met a "handful of times" while filming the series. "If you weren't secretly obsessed with her you just weren't paying attention. I remember googling her all evening after one particular junket to try and learn all about where she'd trained and studied because I wanted to learn how to radiate strength like that."
The ever-controversial Harry Potter author J.K. Rowling tweeted, "I'm devastated to learn of the death of Helen McCrory, an extraordinary actress and a wonderful woman who's left us far too soon." Chris Rankin, who played Percy Weasley, shared, "A sublime talent, and, from the couple of brief moments our paths crossed whilst battling Hogwarts, a very lovely person." The official Wizarding World account also shared their condolences, calling McCrory a "wonderful actor and a very dear friend."
Writer Ben Willbond, who worked with both the actor and her husband on the 2015 British family film Bill, posted a tweet remembering McCrory. "She was so brilliant when she came to work on Bill," wrote Willbond. "Funny, generous, some wicked stories. I was in awe."
Reece Shearsmith, creator of British anthology series Inside No. 9, also shared a tweet reminiscing on his time working with the actor. "She was always immaculate and brilliant," he wrote. "An unfathomable loss. RIP."
Other fans of McCrory's admired her philanthropic work, noting that she continued to participate in charity likely long after her cancer diagnosis. Alongside a video of the actor discussing her charity work, one fan tweeted, "Very few people had any idea what she was clearly going through. An incredible person."
McCrory played the aunt of Cillian Murphy's character in Peaky Blinders, and he paid tribute to her in a statement shared with Variety. He said:
"I am broken-hearted to lose such a dear friend. Helen was a beautiful, caring, funny, compassionate human being. She was also a gifted actor — fearless and magnificent. She elevated and made humane every scene, every character she played. It was a privilege to have worked with this brilliant woman, to have shared so many laughs over the years. I will dearly miss my pal. My love and thoughts are with Damian and her family."
Of course, as expected with its rabid fanbase, many Harry Potter fans took to social media to celebrate the life of McCrory, who played Narcissa Malfoy in three of the series' films: Harry Potter and the Half-Blood Prince, Harry Potter and the Deathly Hallows – Part 1, and Harry Potter and the Deathly Hallows – Part 2. One fan tweeted, "Raise your wands for Helen McCrory... She kept her illness a secret, so the news is a sad shock to the Harry Potter fandom. Our condolences to her husband and two children."
Below, more fans react to McCrory's passing on social media.